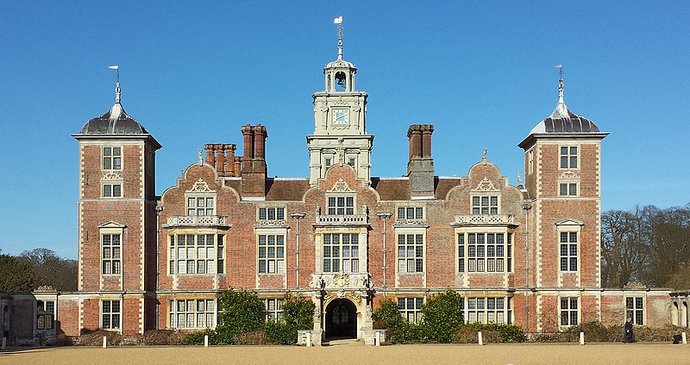 Blickling Hall, near Aylsham, attracts large number of visitors © DeFacto, Wikimedia Commons

The gently undulating landscape is sometimes cheekily referred to as 'upland Norfolk'.
Norfolk's wool country that once was – the north coast hinterland – is a region of small, solid Georgian towns and massive wool-trade churches, grand estates and country houses: an enclosed landscape with lighter soils and fewer hedgerows than further south. The area is bounded, more or less, by the market towns of Aylsham, Holt, Fakenham and East Dereham, although there will inevitably be the odd diversion.
The main rivers here are the Wensum and Bure, which slowly converge as you head east across the county to combine at Breydon Water outside Great Yarmouth.
Visitors tend to rush through this part of the county en route to the Norfolk coast, which is a pity because there's plenty of interest here.
And it's true to say that you'll probably find more of the traditional spirit of north Norfolk away from the coast than at it. Holt is close enough to the fashionable north coast to have its own claim as an alternative base for visiting that region, a reality reflected in its range of smart shops and places to eat. Aylsham is more overlooked, despite the fact that the presence of Blickling Hall just down the road brings in quite a few visitors.
This is a shame as, for my money, it's just as attractive as Holt. Fakenham and East Dereham are a little more humdrum, but both pleasant enough market towns with their own merits. There are some highly appealing villages. Reepham and Cawston have imposing churches, while Salle is just an imposing church without a village. North Elmham has a Norman chapel and the site of East Anglia's former Saxon cathedral, while Little Walsingham, tucked away in lovely rolling countryside, has very much a living pilgrimage tradition. In between are sleepy villages like Heydon and even sleepier ones like, dare I say it, Great Snoring.