The artist J M W Turner, who spent many happy years in Margate, once told the critic John Ruskin: 'The skies over Thanet are the loveliest in all Europe.' Witness the sunlight filtering through the clouds and casting glitter across the sea and you will be hard pressed to disagree. Raffishly louche, artily bohemian and democratic in its many sensory pleasures, Margate epitomises the boom, bust and boom again cycle of Kent's seaside resorts.
Like many of Kent's seaside towns, Margate languished as the new millennium approached and it's still tackling ingrained problems of poverty and deprivation. However, the resort's general revival since the opening of the Turner Contemporary gallery in 2011 has been remarkable, and cheap property prices have tempted many creative and entrepreneurial types to ditch London in favour of a relaxed seaside life. The Old Town and Northdown Road, which runs through the neighbouring suburb of Cliftonville, are both hives of activity, packed with appealing places to eat and drink, boutiques selling vintage jeans and retro light fittings, and small galleries exhibiting works by up-and-coming artists.
What to see and do in Margate
Relax on the beaches
Directly opposite the train station and spanning a gently curved bay is Margate's main beach, which includes a tidal swimming pool. Take in the scene from the Nayland Rock promenade shelter, a Grade II-listed Victorian structure where TS Eliot is believed to have drafted some lines of his poem The Wasteland. For Eliot, who was recovering from a nervous breakdown at the time, Margate Sands was a place where he could connect 'nothing with nothing'. Hopefully, your impressions will be nowhere as near as bleak.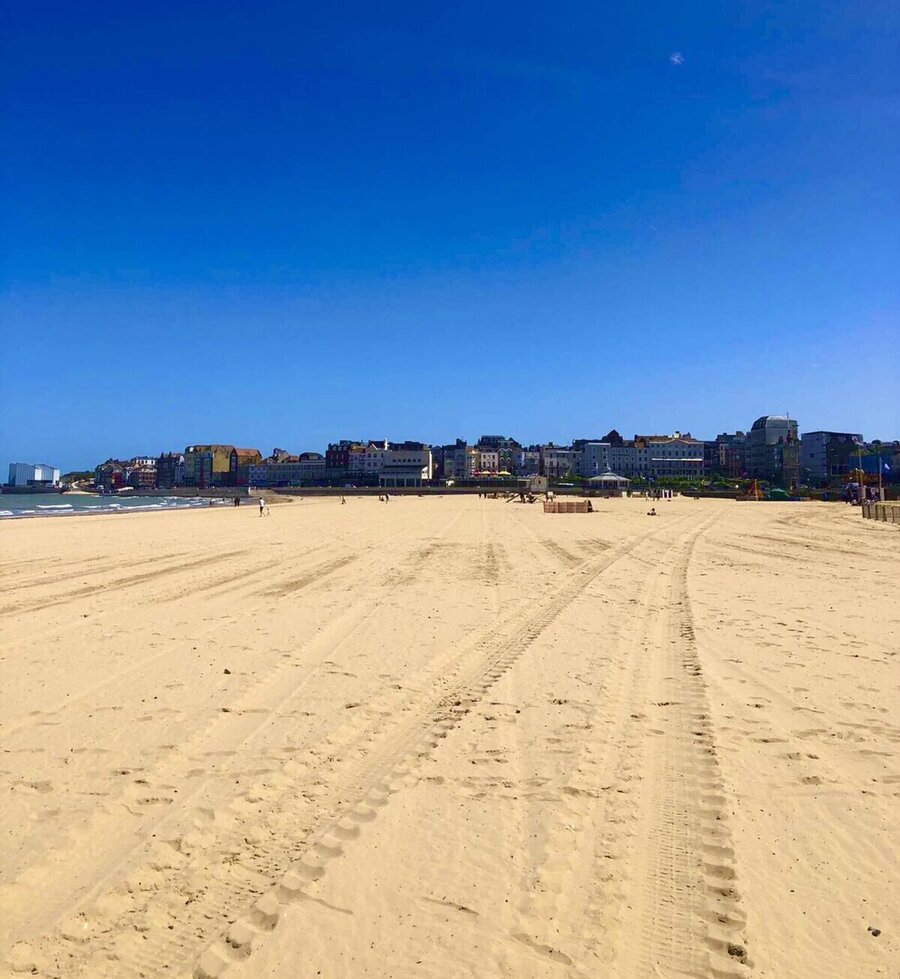 If Margate's Main Sands are too busy for you, alternatives are just short walks away in either direction. Heading west will bring you first to Westbrook Bay, a great family beach that's also patronised by windsurfers and waterskiers. The promenade is lined with bathing huts, a handful of drink and food stalls and an 18-hole minigolf course. Next along are the golden sands at St Mildred's Bay and West Bay, both of which can easily be accessed from Westgate-on-Sea train station.
Explore the town's artworks
Art lovers in search of creative stimulation need only cast their eye around the gently stepped sea defences and across the sands to the geometric form of the Turner Contemporary. Designed by David Chipperfield, this gallery is credited with kickstarting Margate's revival. It takes its name from the celebrated Victorian painter who used to stay at a guesthouse that once stood on the same site. Works by Turner – often ones he completed in and around Margate – are regularly on display in the gallery, sparking a lively artistic conversation with the regularly changing and expertly curated contemporary works also exhibited here.
The gallery's panoramic, sea-facing windows provide an ideal frame for Antony Gormley's Another Time, which stands on Fulsam Rock on the seashore. One in a series of 100 solid cast-iron sculptures by the artist, it has stoically endured Margate's rising and falling tides since 2017 and is scheduled to stay until at least 2030. If the tide is out, walk across the sand and seaweed slathered rocks for a close-up view of this barnacle encrusted figure.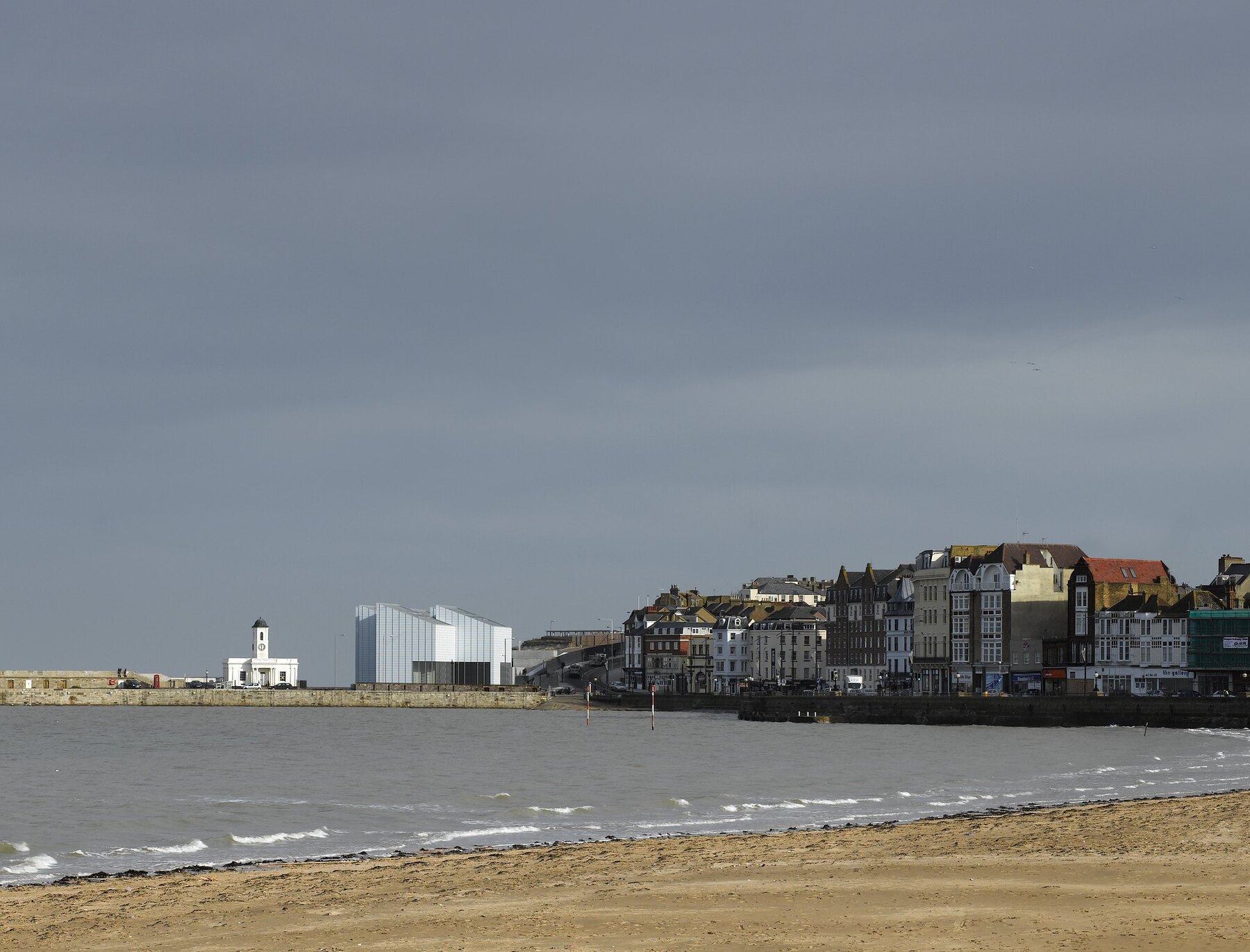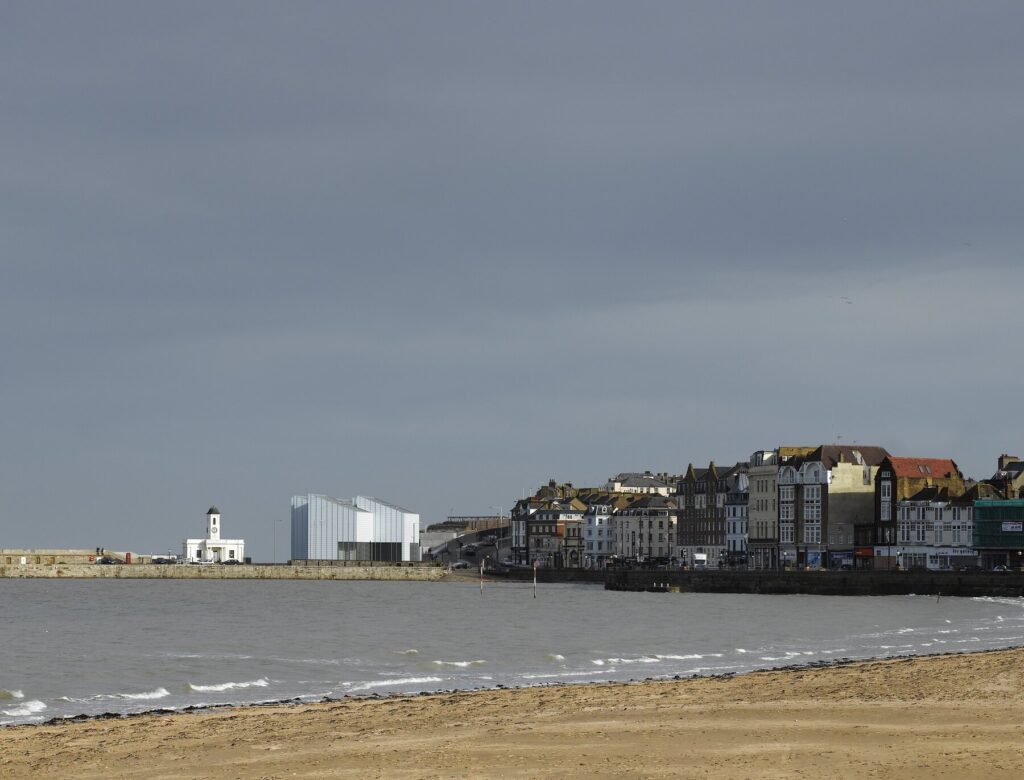 Before heading inland, take a look at a couple of other public artworks. I Never Stopped Loving You is a neon sign by Tracey Emin who grew up in Margate and has returned to live and work in the town. It hangs over the entrance to Droit House, which now houses the tourist information centre but which was once the harbour customs building. At the end of the curving stone pier, known as the Harbour Arm, is a tall, brass sculpture of a lady made from seashells.
Mrs Booth, by Ann Carrington, is a homage to Sophia Booth, the twice-widowed Margate landlady with whom Turner had a long love affair. The Harbour Arm is lined with bars, cafés and galleries and a walk along it to the lighthouse at the end provides wonderful views out to sea and back towards the town.
Stroll through the Old Town
From the Turner Contemporary it's a very short walk into Margate's Old Town, an attractive quarter of tight-knit Georgian and Victorian buildings, most now turned into cafés, restaurants and shops. Here you'll find the town's oldest building, Tudor House, a half-timbered beauty dating back to 1525. The original owners were clearly wealthy as the house sports unusual features for its time, including glazed windows and two chimneys. The house is not often open, but the low surrounding walls permit views across into its Tudor knot garden and box hedge squares.
There's a chance to learn about Margate's history in the Margate Museum which is housed in the old Town Hall, a building that also served as a Victorian police station and magistrates' court. The exhibits cover a broad range of local topics from sea bathing machines and donkeys on the beach to artworks that trace the town's development from a humble fishing village to the holiday resort it is today.
Ride the rollercoasters at Dreamland
Dreamland has been entertaining with its classic fairground rides and amusement arcades for over a century. John Henry Iles spent the equivalent of £15 million in developing the original park, which has gone through several iterations during its lifetime.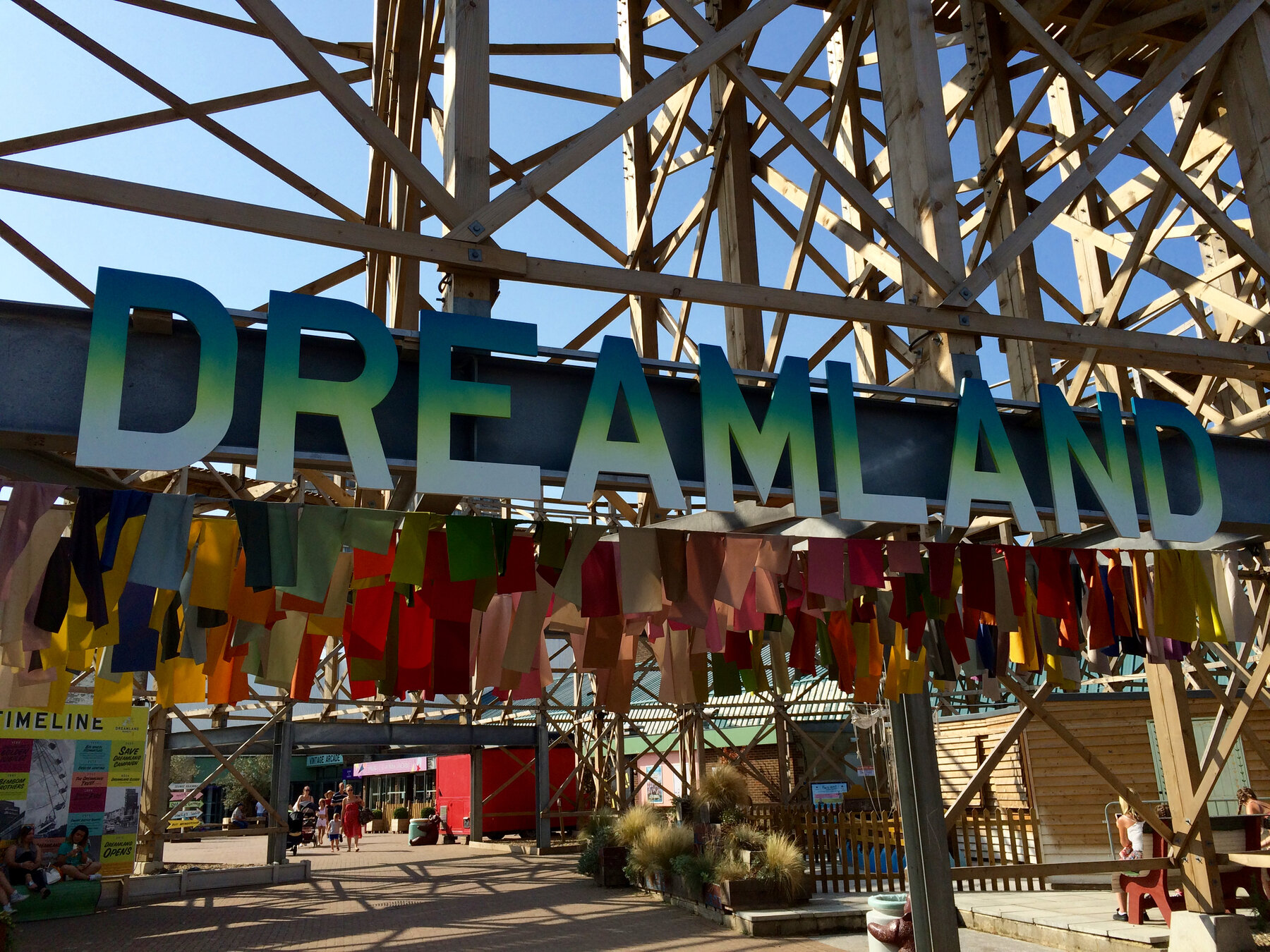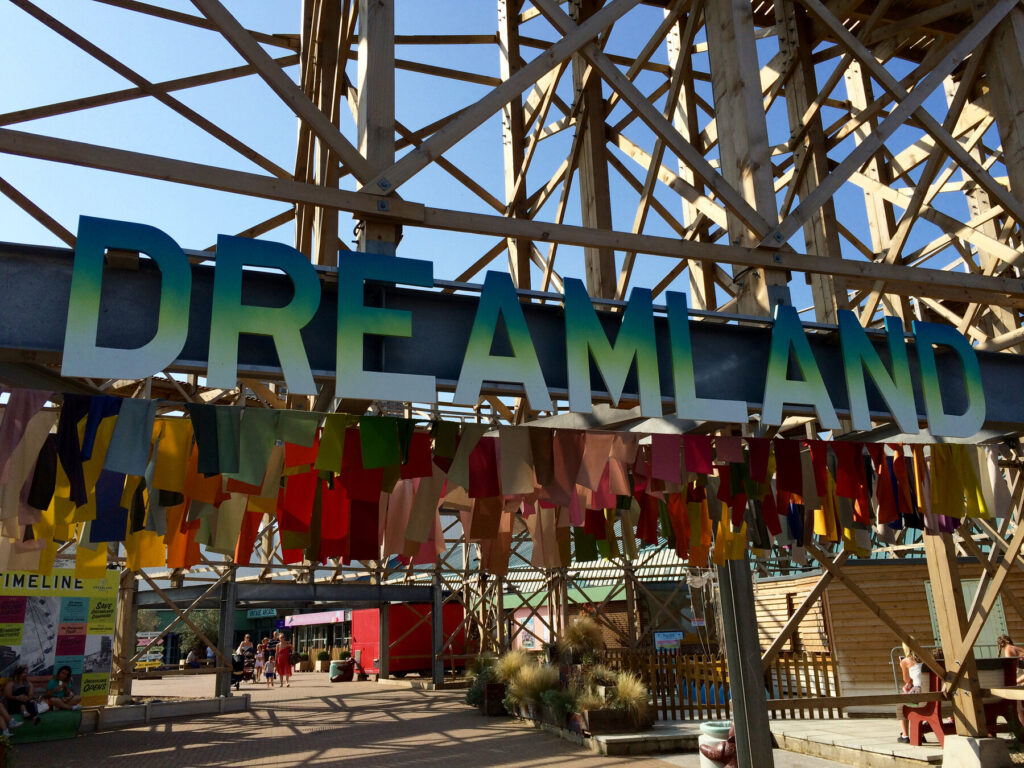 The star of the show remains the Scenic Railway, the UK's oldest rollercoaster, which opened along with the amusement park in 1920. There's also dodgems, waltzers, a ghost train, roller disco and much more. Entry to the park is free with fees for each of the attractions.
Go underground at Margate Caves
The intriguing Margate Caves can be reached by walking up Northdown Road from the Old Town. 'The most surprising discovery of the age!' proclaimed posters promoting this attraction to Victorians as the Vortigen Caves in 1863. Said to date to 454 AD, these underground caverns were in reality an early 18th-century chalk mine that had been covered over and forgotten.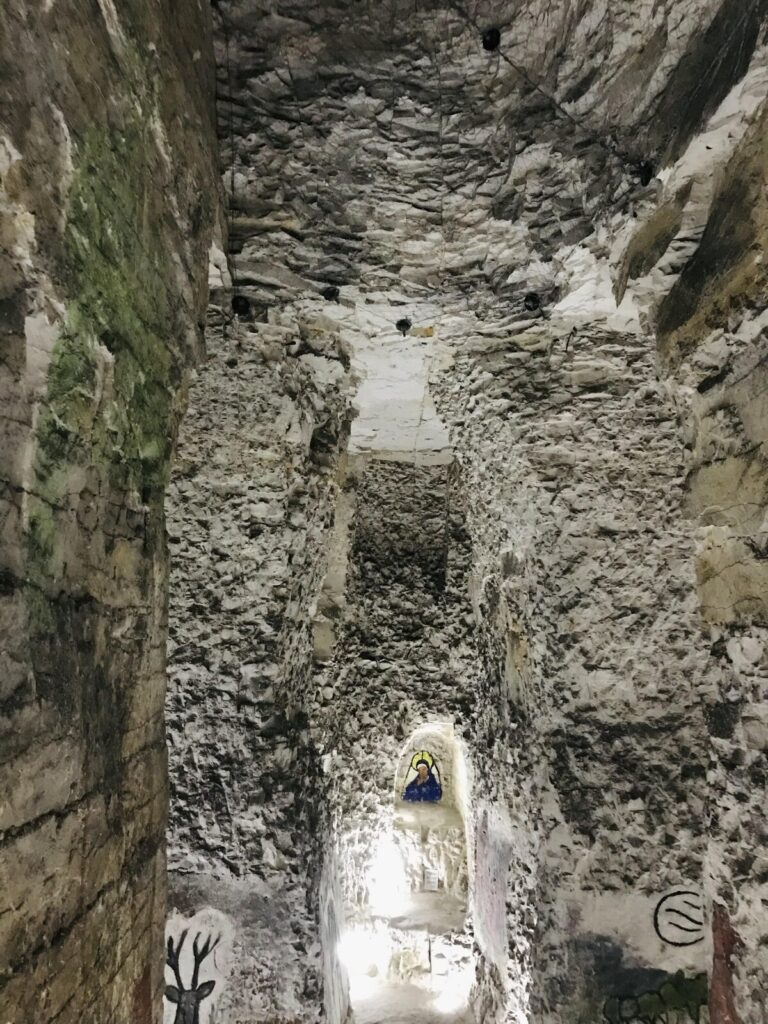 Rediscovered in the early 19th century, their potential as a tourist attraction was given a boost by the addition of colourful paintings of soldiers, wild beasts and a hunting expedition across the towering chalk walls. Local art students added the Virgin Mary and a fluorescent Thanet Giant to these images in the 1950s. The caves closed in 2004 but, following a campaign to have them reopened, they have been made fit as a contemporary attraction – this time with accurate and fascinating historical interpretation in the award-winning visitor centre and café that sits above ground.
Immerse yourself in mystery at Shell Grotto
While the history of the Margate Caves is well documented, mystery swirls around Margate's second subterranean attraction which lies about a ten-minute walk away. There are far more questions than answers about the Shell Grotto which, so the story goes, was discovered by chance in 1835 under the garden of a residential cottage. Smaller and more compact than the Margate Caves, the chalk tunnels and underground rooms here are entirely plastered in decorative patterns and symbols created from seashells.
Was it a rich 18th-century gentleman's secret hobby project or an even older pagan site of worship? No-one knows for sure. Nor can it be explained how some 4.6 million British shells were spirited here to create the elaborate wall designs. Dubbed 'one of the world's wonders' by popular Victorian novelist Marie Corelli, the grotto is perhaps best appreciated as an eye-boggling piece of installation art, rather than as an enigma to be solved.
Where to eat and drink in Margate
Margate's restaurant, bar and café scene is booming. As well as great seafood, including exciting updates on that old seaside staple of fish and chips, there's a globe-trotting mix of cuisines available here, from Cambodian dumplings to South African curries.
Angela's
Book well ahead for this pocket-sized restaurant with a view across to the Turner Contemporary. They offer a daily changing menu of ethically sourced seafood and organic vegetables, including ones from the kitchen garden at Quex Park's Powell-Cotton House.
Beach Buoys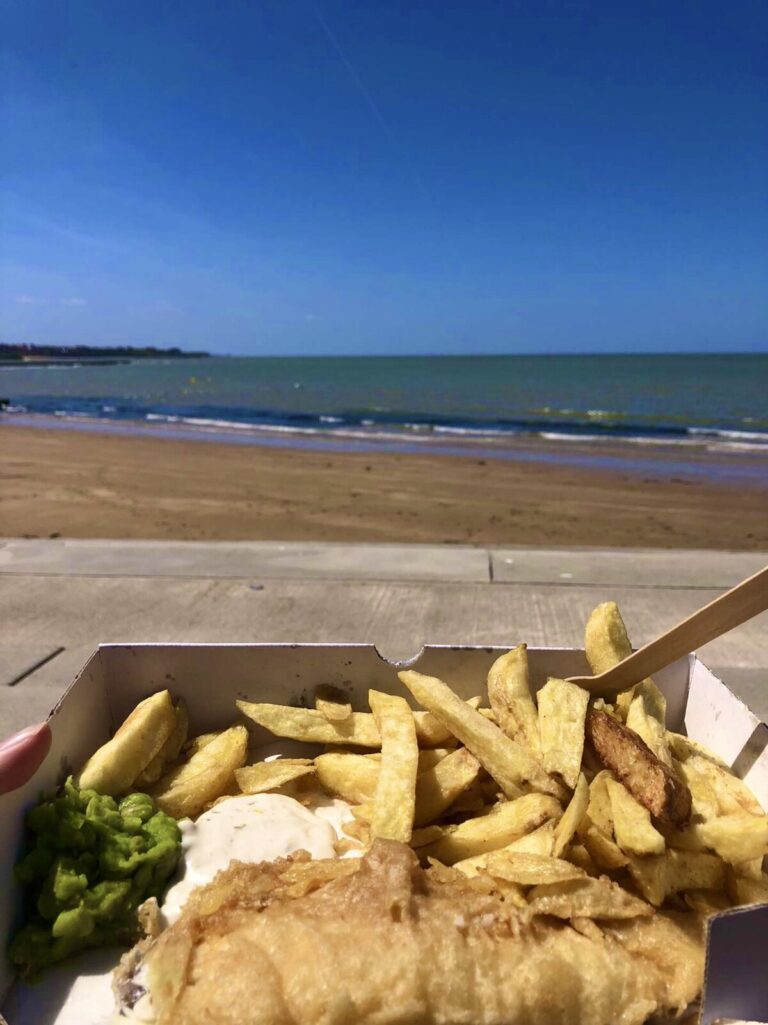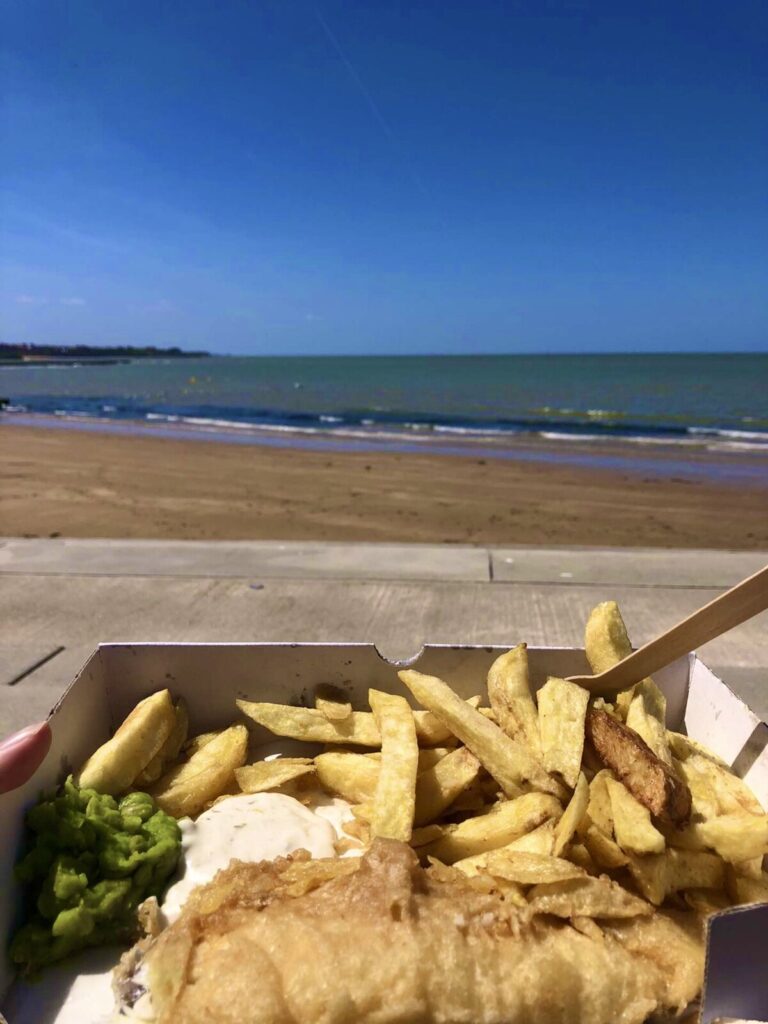 An inspired contemporary take on the fish 'n' chippie. Indulge your deep-fried cravings with a local skate wing or beer-battered banana blossom which is marinated overnight in miso and flakes just like fish. Three choices of chips (proper, skinny and sweet potato), toppings such as crab and yuzu, plus the option of gluten-free batter just add to the appeal.
Fez
Every surface of this eye-catching bar is covered by vintage and retro bits and pieces including a barber's chair from Chicago, a pinball machine table and an old Waltzer ride carriage that's now booth seating. Get chummy with equally characterful locals sipping on pints of real ale, cider and a choice of 35 gins.
Getting there and away
By train
All the main resort towns of Thanet easily accessible by rail – it's by far the best way to reach and travel around this northeast corner of Kent. Direct trains from London St Pancras provide direct connections to Margate (1 hour 28 minutes). For schedules and fares see œsoutheasternrailway.co.uk.
By bus
Stagecoach run bus services along the Loop, a frequent service connecting Margate, Broadstairs and Ramsgate.
By bike
You can circumnavigate the Isle of Thanet, from Reculver to Ramsgate across country, and then back again around the coast via Margate on the 32-mile Viking Coastal Trail (Regional Cycle Network 15). National Cycling Route 1 passes through Sandwich, Deal and Walmer.
---
More information
For more information, see Simon Richmond's guide: