Treeless, windswept and dotted with weathered wooden homes and shingle-stranded fishing boats, Kent's private estate of Dungeness is mistakenly called a desert. There's far too much rain and general biodiversity in this national nature reserve for it to be a true desert but it is nevertheless an extraordinary and unique location.
Sitting atop the largest expanse of shingle in Europe are a pair of lighthouses, a monumental nuclear power station, the cottage and garden of the late film-maker, artist and writer Derek Jarman, and an astonishing array of plants, invertebrates, and birdlife. Featuring as cover art on Pink Floyd's greatest hits album A Collection of Great Dance Songs, and a location in 1970s episodes of Dr Who, Dungeness is spellbinding in its oddness. It's a compelling place to linger, particularly for its sunsets which blaze across the panoramic sky in bands of burnt orange and purple.
What to see and do in Dungeness
Old Lighthouse
The most fun way of arriving here is on the dinky Romney, Hythe and Dymchurch Railway which terminates next to the black-painted Old Lighthouse. Since 1615 eight lighthouses have been erected at Dungeness – five high and three low; this 150ft brick tower, completed in 1904 and in use until 1960, was the fourth of the high ones. From the balcony surrounding the light at the top, reached by 165 concrete steps, you'll get a good view of its successor, jutting up out of the shingle in black and white painted bands.
RSPB Dungeness Reserve
An access track off Dungeness Road leads to the RSPB Dungeness Reserve which covers nearly four square miles of the Dungeness National Nature Reserve. The two-mile long circular main trail starting at the visitor centre goes past six hides from which you may spot, among many other species, cormorants, marsh harriers and, in spring, bitterns.
The RSPB also look after the former sand and gravel pits at Lade, just north of Dungeness, location of the three Denge Sound Mirrors, monumental concrete listening devices from the 1930s. This area can be accessed on foot from Taylor Road, Leonard Road or Seaview Road in Greatstone. Avid birdwatchers may also want to reach out to Dungeness Bird Observatory which keeps a detailed online blog on the region's wildlife (not just the birdlife) and offers dormitory-style accommodation.
Galleries
Providing a brooding backdrop to the landscape is the monolithic nuclear power station, made up of two no-longer-functioning reactors which are in the decades-long process of being decommissioned. Scattered across the shingle are around a hundred homes, many now holiday lets. Some of the buildings are converted railway carriages from the 1920s and include the Dungeness Gallery which occupies three vintage Edwardian carriages and showcases the works of photographer Chris Shore and watercolour artist Helen Taylor. The artist studios of Helen Gillilan is also open for visits, as is that of Paddy Hamilton, a talented painter and printmaker, whose Dungeness Open Studios comprises four quirky, small spaces standing in an attractive shingle garden.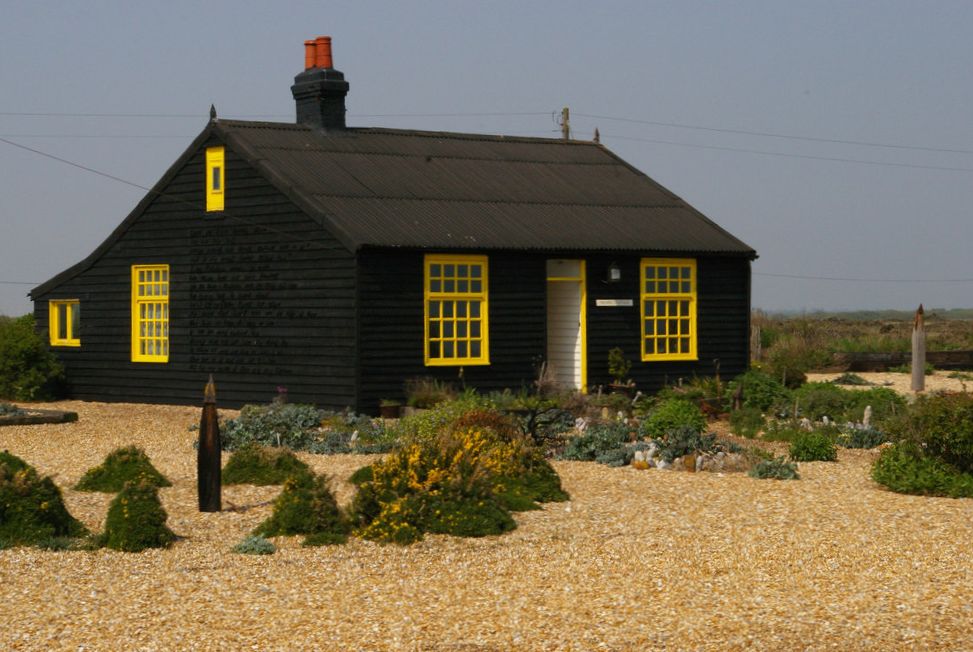 The village's most famous creative resident was film director Derek Jarman, who owned Prospect Cottage, around which he created a remarkable dry garden, as much an art installation as it is a collection of plants. The mingling of hardy grasses, red California poppies, yellow sedum and glaucus sea kale, with enigmatic sculptures crafted from rustic hunks of driftwood, rusting metal and large mottled pebbles is wonderful. The wooden cottage, weatherproofed with black tar, has a sunshine-yellow painted door and window frames.
One wall is covered with raised relief lines, in the style of Jarman's handwriting, from the poem The Sun Rising by John Donne. It's a testament to Jarman's unique vision at Prospect Cottage, that in 2020, 26 years after his death, £3.6 million was raised to buy the cottage for the nation and keep it preserved much as he had left it. Visitors are free to explore the borderless garden which merges with the shingle. Creative Folkestone have been entrusted to take care of the property and open it for small group guided tours and for special events.