The joy of Nithsdale is in the drama of the valleys and gorges of the Nith.
Nithsdale cuts a narrow swathe down the landscape, with the river valley broadening out as you head south towards Dumfries and the Nith estuary. The area is bordered by East Ayrshire and South Lanarkshire to the north, the Glenkens area of Dumfries and Galloway to the west, and Annandale to the east. The River Nith, long known for its excellent salmon and trout fishing, is the longest of the rivers of the Dumfriesshire Dales, running 65 miles from its source in the Carsphairn Hills of East Ayrshire down to the Solway, passing the key towns of Sanquhar, Thornhill and Dumfries en route. The rail line follows the course of the river for much of the way, with stations at Kirkconnel, Sanquhar and Dumfries.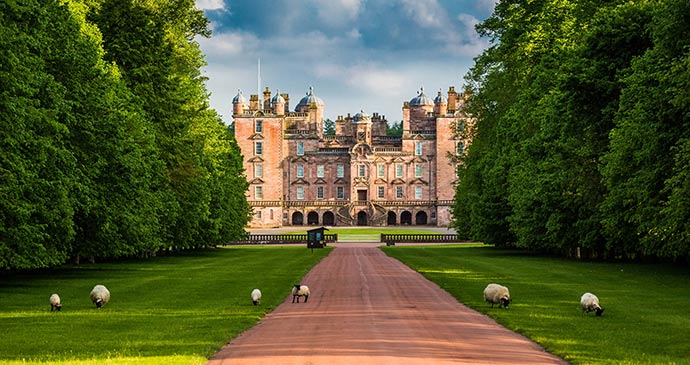 Drumlanrig Castle © Buccleuch
The joy of Nithsdale is in the drama of the valleys and gorges of the Nith, and the magnificence of the passes to the northeast which form two of the main access routes to the area and which are generally regarded as the grandest of the 'southern highlands'. Both Mennock and Dalveen offer breathtaking and moody scenery with high hills dropping sharply to the valleys below. At the top of the Dalveen, the River Clyde rises as not much more than a puddle at the start of its journey to Glasgow. Keep an eye open for wildlife and birds of prey around here. We had a terrific view of a short-eared owl on one trip.
The area is strongly associated with Robert Burns. Afton Water, captured by Burns in his eponymous poem, rises just outside the Dumfries and Galloway boundary in East Ayrshire and joins the Nith at New Cumnock. Burns lived in Nithsdale and travelled its length and breadth during his time as an exciseman, before moving in his final years to Dumfries. Whilst at Ellisland Farm he was at his most productive in terms of his body of work, even if this period highlighted how unsuited he was to being a farmer.