Savouring the tastes of Dumfries & Galloway
Accommodation
Savouring the tastes of Dumfries & Galloway
One of the most noticeable things about the high streets of Dumfries and Galloway is that many still have an independent butcher. This is in keeping with the region's reputation for locally produced meat, but it nonetheless comes as a pleasant surprise in a day when for many people a pre-packed joint from a supermarket is the only option. Greengrocers, too, are not uncommon, and every town has at least one baker. This is very much a part of the world where individuality and distinctiveness hasn't been completely lost in town centres. Castle Douglas in particular is celebrated for its range of independent shops and is the region's official 'Food Town'. It even has its own high street brewery.
Local specialities suggest the region has a sweet tooth.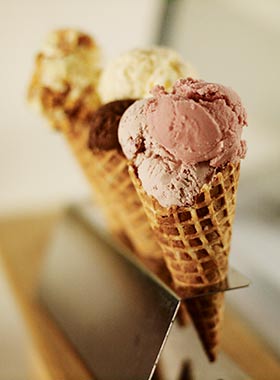 Local specialities suggest the region has a sweet tooth and include Moffat Toffee (available from the eponymous shop in Moffat), Cream o' Galloway ice cream, Galloway Lodge Preserves range of marmalades, jams and jellies, and chocolate from the Cocoabean Company. Locally produced meat and locally caught fish are both widely available, the latter notably from smokehouses in the west of the region.
Farmers' markets are the place to go for a good cross-section of local producers. Markets are held regularly in Moffat, Langholm, Lockerbie, Dumfries, Creetown and Wigtown. Up-to-date details of where and when are posted on the Dumfries and Galloway Farmers' and Community Markets website. Regular stalls at the markets cover an impressively wide spectrum of foods and crafts, from fudge, beer, chillies and cheese to artists, jewellers and soap-makers. There are also a couple of surprising producers (surprising for this part of the world, that is), one is a winery and the other a tea grower.
(Photo: Cream o' Galloway Ice Cream © Cream o' Galloway)
For our authors' selection of recommended places to eat see Slow Travel Dumfries & Galloway.
Accommodation
Annandale and Eskdale
Nithsdale
Dumfries & the Nith Estuary
The Stewartry
The Machars & the Moors
The Rhins
Below we offer a selection of accommodation options from across the area. Naturally this is far from exhaustive. Rather, these are hand-selected places that we have visited ourselves and which we feel fit the Slow ethos of the Dumfries & Galloway guide. None has paid to appear in these listings.
More comprehensive accommodation listings are available at www.visitdumfriesandgalloway.co.uk, www.visitsouthwestscotland.com, or by contacting the Visitor Information Centre in Dumfries 01387 253862.
For the more intrepid traveller wanting to truly get off the beaten path, there are a number of remote bothies across the southern region; go to www.mountainbothies.org.uk/locationmap.asp for more information.
Annandale and Eskdale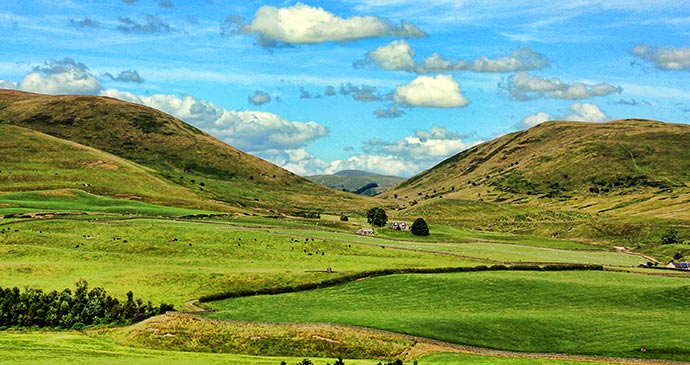 Hotels
The main square in Moffat is lined with fine Georgian buildings, including a number of coaching inns and hotels offering accommodation and food.
Annandale Arms High Street, Moffat DG10 9HF; 01683 220013; www.annandalearmshotel.co.uk. Simon Tweedie and his family moved up to Moffat from the south almost 20 years ago, since when he has done an impressive job of renovating and developing this 250-year old coaching inn in the heart of town. 16 rooms are available, all freshly decorated in neutral tones and all except one ensuite, with modern, gleaming bathrooms. There are fine views from the 2nd floor rooms over the Moffat rooftops. Pets are allowed in the five lower ground floor rooms in what were once the stables, conveniently located next to the private car park at the back of the hotel, which adjoins the gated dog-walking area. Comfortable public spaces include the main reception area, perfect for a cup of coffee and the morning papers, oak-panelled bar and restaurant.
Eskdale Hotel Market Place, Langholm DG13 0JH; 01387 380357; www.eskdalehotel.co.uk. Occupying prime position in the heart of Langholm, the Eskdale offers a friendly welcome. Owner John Noonan has been in the hotel industry all his working life and since acquiring the Eskdale a few years ago has carried out extensive works to achieve a Visit Scotland grading at the top end of three stars. Bedrooms are spacious, brightly decorated and fresh, while public areas are warm and welcoming. Once a temperance hotel, those days are long gone: the cosy bar is open for business and serves tasty food, too. Within the hotel is the Clan Armstrong Museum.
B&Bs and Self-catering
Byreburnfoot Country House B&B and Cottages Canonbie DG14 0XB; 01387 371209; www.byreburnfoot.co.uk. Bill and Lorraine Frew have spent several years creating a haven of peace and tranquillity at Byrneburnfoot, a charming and elegant Victorian house and two beautifully converted cottages located where Dumfries & Galloway meets the Scottish Borders. The house sits up above the River Esk with splendid views to it below, along the old dead-end road from Canonbie. Fishing can be arranged from April to October; the local angling club rents concessions from Buccleuch estates and offers them onwards to accommodation providers and their guests.
There are six beats between here and Langholm. This means Byreburnfoot is busy through the fishing season and is unable to offer short breaks during this period. Everything you might want has been thought of, from outhouses where you can store fishing gear and freezers for your catch through to spare wellies, a flourishing vegetable garden in which guests can have a rummage, and you can even borrow a dog and take it for a walk if you feel like it. The hens are a hardy variety and lay through the winter. Evening meals are available by arrangement.
The two cottages are The Stables (sleeping 6) and the wheelchair-accessible Garden Cottage (sleeps 5), both standing in the gardens next to the house but with their own driveway. A basket of logs is provided for the fire, and once they've gone you can just help yourself to more.
Cauldholm B&B Beattock, Moffat DG10 9QA; 01683 300466; www.moffatcountrysidebedandbreakfast.co.uk. Cauldholm (pronounced 'callum', as in the name) offers a perfect blend of country retreat with easy access to local amenities. Located just 6 miles from Moffat, this is a place to escape to for farmhouse comfort in the hills of Upper Annandale. The farmhouse once belonged to the Earl of Annandale and Shona and Graeme have done a lovely job of renovating it over the past few years. One double en-suite room in the main house is available, plus 'The Bothy', an adjoining converted stone outbuilding with spacious open-plan kitchen/sitting room and two cosy double en-suite bedrooms upstairs.
Décor is contemporary and fresh and a lot of attention has been paid to detail, from biscuits and water in the rooms to handmade patchwork quilts from the ladies of the Quilters' Guild. Whether in the house or bothy, accommodation is on a B&B basis and is very good value. Buddy the black and white cat is in residence but doesn't mind if you bring your dog. This is a particularly good option for walkers as it sits right on the Annandale Way and is just a mile from the Southern Upland Way. Full cooked breakfasts are served in the comfortable south-facing dining room, with meat from the local butchers, eggs from the Cauldholm hens and fresh tomatoes from the greenhouse in season. Wi-Fi, TV, Blueray, books and games all come as part of the package.
Limetree House Guest House Eastgate, Moffat DG10 9AE; 01683 220 001; www.limetreehouse.co.uk. Katherine and Derek Clemmens have been welcoming visitors to their grade B-listed Georgian townhouse in the heart of Moffat since 2001. The house was originally built as a guesthouse at the time when Moffat spa was in its heyday. Visitors would arrive with servants and stay for up to three months. Today there are 6 en-suite guest rooms, all tastefully decorated with contemporary furnishings. On the top floor is a family suite with king size and twin bedrooms and a shared shower room. Guests have their own lounge complete with log burning stove for colder days and breakfast is served in the dining room. Full cooked breakfasts are offered, plus specials such as omelettes and pancakes with maple syrup.
Nether Boreland B&B Boreland, Lockerbie DG11 2LL; 01576 610248; amanda@netherboreland.co.uk; www.chariots.org.uk/BandB.html Award-winning carriage driver Amanda Saville invites you to relax at her home, located on the other side of the quiet road from her stables, in the small village of Boreland. A homey double and twin are available, both ensuite, and there's also a double with a separate bathroom for sole use along the landing. Downstairs there's a comfortable sitting room with open fire. Guests are welcome to book a pleasure drive in the surrounding countryside in a carriage pulled by four horses.
No. 29 Well Street Moffat DG10 9DP; 01683 221905; www.moffatbandb.co.uk. Bradley and Ron have created a home from home which is popular with repeat guests in the heart of Moffat, in what is said to be one of the oldest houses in town located on the popular Well Street with its range of specialist shops. The 4 en-suite rooms are contemporary and cosy, and pets are allowed in the king-size room on the ground floor. Full breakfasts are served in the restful dining room.
Waterside Rooms Dornock Brow House, Dornock, Annan DG12 6SX; 01461 40232; www.thewatersiderooms.co.uk. Nic and Julie Pearse converted their traditional cottage in 2007–08 and since 2012 have been offering guest accommodation in the lower section of the house. There's a small double room with king-size bed, a shower room and a separate sitting room with sofa, desk, Wi-Fi, and TV, plus a tea and coffee area with fridge. Tea, coffee and milk are supplied, plus a welcome bottle of wine. Decor is in calming pastel shades, the views from the neat raised windows are into the garden, out to which a patio door leads from the sitting room.
Breakfast is served upstairs in Nic and Julie's own living area, a gorgeous open plan room with a breath-taking view out over the Solway to Cumbria beyond. In front of the house is a small garden, immediately beyond which is the Solway shoreline. To reach the house you turn off the B721 just as you come into Eastriggs down an inconspicuous lane through a lorry yard. The approach to the house gives little away until you reach the bottom of the lane and suddenly the Solway is spread out before you. It's a unique location, perfect for bird watchers and walkers. 
Campsites and Caravans
Hoddom Castle Caravan Park Hoddom, near Lockerbie DG11 1AS; 01576 300251; www.hoddomcastle.co.uk. Located in the 10,000 acres of ground around the 16th-century Hoddom Castle, this well-equipped caravan site offers all the expected site facilities plus the options of a touch of glamour in Chill Pods or traditional Finnish Kota. The site is leafy and spacious and provides a safe environment for families and children.
Moffat Camping and Caravan Site Hammerlands Moffat DG10 9QL; 01683 220436; www.campingandcaravanningclub.co.uk. The Camping and Caravan Club site at Moffat is well located a couple of minutes' walk from the town centre and right next door to the supermarket. The 180-pitch site sits in the wide valley with views of the surrounding hills, to which there is easy access by car or bike, or on foot. Good facilities, including showers, electric hook-up and washing machines. Pets allowed. Non-club members are welcome but pay a higher charge.
Nithsdale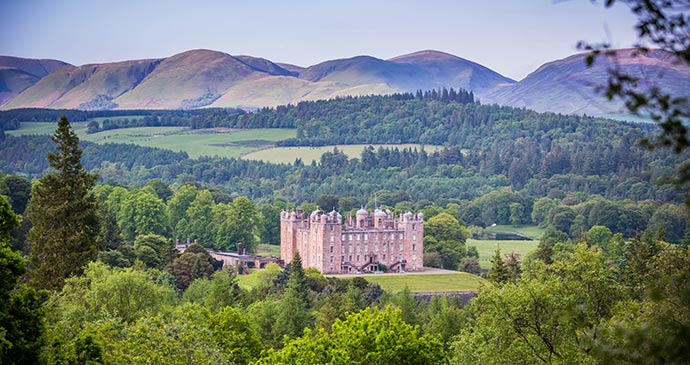 Hotels
Blackaddie Country House Hotel Blackaddie Road, Sanquhar DG4 6JJ; 01659 50270; www.blackaddiehotel.co.uk. Ian McAndrew may not be a household name, but he's up there with the best of them when it comes to fine dining. McAndrew, who trained with Anton Mosimann at the Dorchester Hotel, turned his hand to a range of catering-related businesses before acquiring Blackaddie in 2007. Here in this relatively unexplored part of Upper Nithsdale he has established an elegant, cosy and comfortable retreat for discerning guests (with deep pockets) in search of a rural escape with all the trimmings. It's an ongoing labour of love for McAndrew, who is gradually turning the hotels nine rooms into six larger and considerably more refined ones, complete with sumptuous fabrics and bathrooms to die for. Public rooms include a small library and conservatory with blissful views straight down the River Nith, and an intimate dining room looking out into the gardens with just 6 tables. There are also two self-catering cottages in the grounds (see www.nithriversidecottages.co.uk).
Buccleuch & Queensberry Arms Hotel 112 Drumlanrig Street, Thornhill DG3 5LU; 01848 323 101; www.buccleuchhotel.co.uk. The B&Q (as it is known locally) reopened its public areas in August 2012 and bedrooms in September 2013 after a major re-fit having been acquired by Baron Sweerts de Landas Wyborgh, a local estate owner originally from Holland. The Baron's vision combined with his wife's eye for colour and design (the Baroness was responsible for the interiors) have created a tastefully decorated and comfortably furnished retreat in the centre of Thornhill. Each of the 12 rooms is named after a local estate, with several tributes to Buccleuch lands and heritage: Queensberry, Boughton, Langholm and Bowhill are all here.
There are 10 rooms in the main building and two on the ground floor just outside in a cottage to the rear, one designed for restricted mobility and both suitable for either accommodating your pet or leaving it in the car just outside. All of the rooms are positively airy except for two on the top floor (Blackwood and Capenoch) which are cute and cosy. Top floor rooms at the front have super views to the surrounding hills. All are ensuite and the bathrooms for the larger rooms have some of the largest shower heads we've ever seen. A lot of attention has been paid to detail: toiletries, bedroom chairs, hanging space, local art on the walls, finishings, and comfort have all been uppermost in mind. The B&Q is ̈unusual in that it was originally built as a hotel and opened its doors in 1851 (it was opened by the Duke of Buccleuch of the day), which has perhaps made it easier to ensure its success in offering memorable accommodation in that all of the rooms, from bar and dining room through to the bedrooms, date from an era when the focus was more on quality and space than the return per square foot.
Today the hotel is run by Alasdair Knight, who extends a friendly and personal welcome and who maintains a good relationship with the Drumlanrig estate up the road, from where some of the ingredients for the food in the restaurant are sourced. And, for anyone who likes to bag their own dinner, shooting and fishing at Drumlanrig can be arranged, the latter on the lower and mid-Nithsdale beats. The hotel even has a steel-doored gun room. Bike storage and jet wash facilities are scheduled to be installed at the time of writing. Pick-ups from Lockerbie can be arranged for anyone who doesn't have their own transport.
Trigony House Hotel Closeburn, Thornhill DG3 5EZ; 01848 331211; www.trigonyhotel.co.uk. Trigony has been described by one newspaper as an 'undiscovered treasure' and, while it may not be completely undiscovered any longer, it's still a place to be savoured. Set in 4 acres of woodland and gardens just south of Thornhill and surrounded by glorious countryside, Trigony started life as a shooting lodge for nearby Closeburn Castle but was later adapted and extended, giving it today the air of an Edwardian country house, complete with Japanese oak-panelled hall and Art Deco features. Owner and chef Adam Moore has been here for over 15 years and together with his wife Jan keeps the place running. There are 10 rooms of varying sizes and layout, all ensuite, and special deals are often available (call or check on the website). Adam has a good reputation for producing quality food from locally sourced ingredients and has twice won gold for his cooking from the Scottish Hotel Awards. Pets welcome.
B&Bs
Auchencheyne B&B Moniaive DG3 4EW; 01848 200589; www.auchencheyne.co.uk. Under the same ownership as Three Glens House (see self-catering below), the accommodation at Auchencheyne is offered in a self-contained wing of the Gourlay's splendid 18th-century farmhouse, surrounded by extensive grounds, including Mary Gourlay's wonderful walled vegetable garden (guests are encouraged to select their own produce). The B&B is on 3 storeys, with utility and games room on the ground floor, and three bedrooms split between the upper two floors. 'Eco' is the name of the game here, with power generated by a private mini-hydro scheme in the grounds. Free-range hens ensure a good supply of eggs. There's a tennis court in the grounds and mountain bikes are available for hire.
Scaurbridge House Penpont, Thornhill DG3 4LX; 01848 330152; www.scaurbridgehouse.co.uk Elizabeth Ann Hughes moved to Penpont over 20 years ago and has been welcoming guests to her elegant and characterful home for much of the time she has been here. The house is an 1841 former manse built of rose stone from the nearby hamlet of Keir, located next to Scaur Water, with a delightful garden set to one side at the back. The 5 rooms are spacious, tastefully decorated and furnished with an eclectic mix of carefully selected antiques and more modern pieces. None is ensuite; the house retains its original layout and feels like a real home, so all guests share the two upstairs bathrooms and WC downstairs. Particularly striking are Elizabeth Ann's own large abstract canvases which adorn the sitting room walls.
Elizabeth Ann has specialised in cultured pearls for over ten years and runs a business called Pearls by Appointment. She also travels around the country giving talks on her subject and teaches in community learning and development for adults. She is a generous host and a great cook and baker, producing wonderfully wicked scones, lemon curd roulades and perfect shortbread, which she serves in the large drawing room. Dinner in the Chinoiserie-style black and red dining room is available by request.
Self-catering
See Blackaddie.
See Glenmidge.
Three Glens House Moniaive DG3 4EG; 01848 200589; www.3glens.com. As bespoke, hillside eco-lodges go, they don't get much better than Three Glens. This futuristic luxury hideaway is the culmination of an ambition long held by local estate owner Neil Gourlay to build a house in this beautiful part of Nithsdale. The Gourlays have farmed at nearby Auchencheyne for generations, and in addition to building on their own land, they have made use of home-grown materials wherever possible, from the stone dyke that carries on seamlessly from the outside into the main living space, to the sheep's wool used for insulation.
Huge windows form one wall offering panoramic views across the village of Moniaive and the Glencairn valley. Ground-source underfloor heating provides heat, with additional input when needed from an uber-efficient enormous clay stove – an Austrian kachelofen, while a wind turbine further up the hill generates electricity. Three Glens is a self-catering option where you don't actually do the catering as one of the four bedrooms is occupied by the live-in cook and her husband (the Gourlay's gamekeeper), giving the whole thing the feel of a high-end ski chalet. Needless to say, such unique services don't come cheap. No pets.
Camping and Bothies
Barnsoul Caravan Park Shawhead, Dumfries, DG2 9SQ; 01557 814351; www.barnsoulcaravanpark.co.uk. This 3-star camping and caravan park has a lovely setting on a 25-acre site in the hills 8 miles west of Dumfries, where pods, static caravans and 'Little Lodges' enjoy great views in a quiet location. Both the Pods and Lodges sleep 4 (most comfortably 2 adults and 2 children), with the latter being a mix of converted seating area plus bunk beds. Pods and Lodges come equipped with kettle, toaster, microwave and fridge and have their own firepits. Lying between the 7Stanes centres of Ae, Mabie and Dalbeattie, the site is popular with mountain bikers. The nearest shop is 4½ miles away at Crocketford, where there is also the Galloway Arms pub.
Glenmidge Camping and Self-catering Auldgirth DG2 0SW; 01387 740328; no website but details can be found on various general camping sites. Please call. Glenmidge is a beautiful spot in a hollow in the hills, exceptionally peaceful, and the location of both a popular campsite (Camping and Caravan Club) and The Old Smithy holiday cottage. Owner Hamish Steele likes his bees and sells his honey next to the campsite. The location is convenient for cyclists as it's on the Sustrans national cycle network.
Dumfries and the Nith Estuary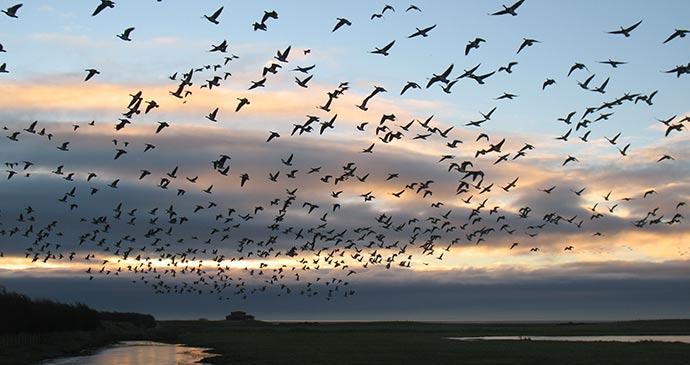 B&Bs
Barr Farmhouse The Barr, Amisfield, Dumfries DG1 3LJ; 01387 711384; www.scottish-cottages.co.uk/southern-scotland/dumfries-galloway/west-barr-holiday-park-west-barr-farmhouse-uk5766. Barr Farmhouse is one of those tucked-away places that if you didn't know it was there, you wouldn't find it. Hidden up a dirt track just a mile or two north of Dumfries, it's not signposted and in fact you only catch a glimpse of it from the road in the winter when the trees are bare, and not at all in the summer.
Orla and Roy Stairmand started offering B&B in 2010 and now have a steady stream of visitors, many coming back for the second or third time to discover more of the area. Orla is originally from Donegal in Ireland, while Roy comes from Dumfries. They offer two rooms; the black and white one is slightly larger. Furnishings are a cosy mix of antiques, pine furniture, paintings by Roy's mother, Phipps illustrations and warm fabrics. Neither room is en suite but each has their own facilities: one in a larger bathroom on a half landing and one in a shower room at the bottom of the stairs. Whichever room is booked first for any given night is allocated the full bathroom. 
Both rooms look out the front of the house with views across farmland to the hills beyond. Breakfast is served in the smart dining room and guests are asked to make their selection the night before from an impressive menu that includes everything from the full works (complete with haggis, black pudding and tattie scones) to cheese, fruit, fish, porridge, pancakes and smoothies. Orla is a great baker and one of the real delights of staying here is the welcoming afternoon tea – with home-baked cakes – that's offered on arrival. 
Glenaldor House 5 Victoria Terrace, Dumfries DG1 1NL; 01387 264248; www.glenaldorhouse.co.uk. Itinerant Dumfries gent David Irving travelled and worked abroad for many years before returning to his home town in 2009 to open Glenaldor House. Set above elegant gardens in a row of imposing mid-19th century houses on a no-through terrace, just a couple of minutes' walk from the train station and 10 minutes' from the centre of town, David offers four en suite rooms, all of them a good size and one in particular positively cavernous. Full breakfasts are offered in the cosy dining room at the back. Décor is bright and fresh in neutral tones. Literary fans are in for a treat as JM Barrie lived in the house next door during his years in Dumfries.
Self-catering
Wildfowl and Wetlands Trust Caerlaverock Eastpark Farm, Caerlaverock DG1 4RS; 01387 770200; see the Caerlaverock section of the WWT website: www.wwt.org.uk. The self-catering accommodation at WWT Caerlaverock is a bit of a well-kept secret. Here at Eastpark Farm the old farmhouse has been renovated and can now sleep up to 14 people. Rooms can be booked individually, in which case you may well find yourself sharing the house with several others, or the whole building can be taken for a group.
There's a good-sized kitchen and sitting room, both suitable for communal living, and rooms are a mix of sizes, some ensuite and some with shared bathroom. What's particularly appealing is that once the centre closes to the public in the evening, you have the whole of WWT Caerlaverock to yourself. Equally as good is the viewing gallery within the house, which offers superb bird- and wildlife watching throughout the day and is, give or take a couple of days each year, for the sole use of house guests. Most evenings there is badger feeding just in front of the viewing area, too. No pets are allowed and a pick-up (via a supermarket if need be) can be arranged from Dumfries station. 
The Stewartry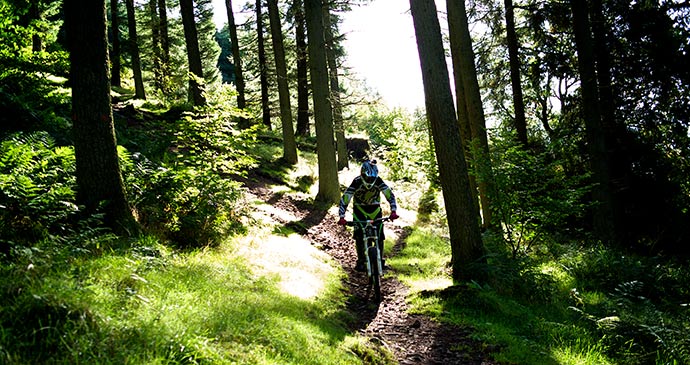 Hotels
Cally Palace Hotel Gatehouse of Fleet DG7 2DL; 01557 814341; www.mcmillanhotels.co.uk/cally-palace-hotel. Dumfries and Galloway's grand old lady hasn't lost her capacity to impress. The pillared 19th-century portico sets the tone, though this particular portico is a later addition to the 18th-century grand mansion built by James Murray. Entering through the main doors the discrete reception desk is tucked to one side, with a flight of steps leading up to the marble-clad foyer. Despite the period grace and elegance, though, the atmosphere is relaxed and informal.
The Cally is part of the locally owned McMillan Hotels group of just four hotels in southern Scotland and offers three grades of rooms, with every one of the 56 rooms ensuite, but all different. Some look out over the golf course, some have balconies, some have views of parkland, and some even have two bathrooms. Public spaces are as you would expect in a building of this calibre, ranging from an airy conservatory room where light lunches are served to the main dining room with resident pianist. Chef Jamie Muirhead has scored an AA rosette for 15 years running and changes the menu daily. Most guests stay on a dinner and B&B basis. Afternoon tea is served in the hotel's most impressive room, the grand bow lounge with its soaring ceiling and gilt ornamentation. There's also an impressive indoor 50-metre swimming pool.
The Selkirk Arms Hotel High Street, Kirkcudbright DG6 4JG; 01557 330402; www.selkirkarmshotel.co.uk. Kirkcudbright's historic Selkirk Arms is now in the ownership, and under the management of, Douglas McDavid and Chris Walker, seasoned Dumfries and Galloway hoteliers, and it shows. This fine old establishment is the stalwart inn and hostelry of the area and is as popular today as it was when it was frequented by Robert Burns in the late 18th century.
Named after the Earl of Selkirk, it offers 17 en-suite rooms at reasonable prices, all freshly turned out. Outside there are a couple of garden rooms in which dogs are allowed. Contemporary styling is complemented by good quality local artworks (for sale) on the walls, a reflection perhaps of the cultural weekends that the hotel organises with local specialists, including art courses and star gazing. Special offers and courses are detailed on the website, and regular videos are posted on YouTube: search for Selkirk Arms or Selkirk Stories. 
The Ship Inn 1 Fleet Street, Gatehouse of Fleet DG7 2HU; 01557 814217 DG7 www.theshipinngatehouse.com. Owner James Stewart has recently refurbished the Ship to create a warm and welcoming hotel with ten bright, lightly decorated en-suite rooms, some standard and others, slightly larger, superior. The Ship is an historic place to where the author Dorothy Sayers came on one of her trips to the area. The location is good, towards the southern end of the main street. Meals are served in the bar and restaurant area. Mr Stewart also owns the Murray Arms Hotel at the opposite end of town, which it is hoped will have an equally successful renovation in due course.
B&Bs
Craigadam Country House Hotel and B&B Near Kirkpatrick Durham, Castle Douglas DG7 3HU; 01556 650233; www.craigadam.com. If it weren't for Celia and Richard Pickup, you wouldn't be reading this guide. They have a lot to answer for, for it was while staying at Craigadam that we decided to move to Dumfries and Galloway. Needless to say, it's somewhere that holds a special place in our affections. Set in the rolling hills of eastern Galloway, Craigadam is a traditional farmhouse and working farm and estate, ideally located to reach many of the region's top attractions, with Dumfries, Castle Douglas, Kirkcudbright and the coast all within 30 minutes' drive.
This is no ordinary B&B but combines the best of local hospitality with a country house hotel atmosphere. Celia and Richard throw open their charming and comfortable house for guests' enjoyment, from the seven themed bedrooms (most set around a courtyard and all ensuite) to the elegant drawing room and gorgeous wood-panelled dining room. They are welcoming, relaxed and convivial hosts who have perfected the art of entertaining and have built an enviable reputation for the quality of their cooking. Breakfasts are sumptuous and dinner, if you choose to have it, may well have you asking Celia for her recipes. 
Douglas House 63 Queen Street, Castle Douglas DG7 1HS; 01556 503262; www.douglas-house.com. With a background and training in hotel management, Linda Marshall knows how to run a first rate B&B. Originally from Moniaive in Nithsdale, she and her husband took over Douglas House in 2012, updated and refurbished it, and now offer 4 en suite rooms, including one on the ground floor with easy access. Immaculately presented and tastefully decorated throughout, this makes an ideal base for exploring the area. Linda's breakfasts have won a Visit Scotland award and include all the usual choices made from local ingredients plus extras such as smoked salmon and haddock. Free Wi-Fi throughout.
Self-catering
Galloway Activity Centre Loch Ken, Parton DG7 3NQ; 01556 502011; www.lochken.co.uk. You don't need to be enrolled in acivities to stay at the Galloway Activity Centre. There's a wide choice of accommodation: lochside cabins, yurts, tepee, camping, bunkhouse… but the most innovative of all are the two 'ecobothies', Swedish-style eco-modular units designed by Sam Booth (as featured on George Clarke's Amazing Spaces) decked out in funky furnishings and located privately looking out over the loch a short stroll from the main activity block. Power comes from solar panels, heat from a multifuel burner, cooking with calor gas. There's even a wood-fired hot tub out on the deck, the perfect place to soak away the hours with a glass of something cool beneath the starry and ever-so-dark Galloway sky.
Gelston Castle Holidays Gelston, Castle Douglas DG7 1SW; 01556 502211; www.gelstoncastle.com. To stay at Gelston is to get to know a charming and historic part of Dumfries and Galloway. The Gelston estate runs to some 4,500 acres, which since 1973 has been owned by the Scott family. Alexander and Lucinda Scott live in, and run, the northern part of the estate around Gelston Castle, a ruined 19th-century building with an interesting history. There is a choice of four cottages sleeping two to seven in a courtyard setting adjacent to the main house, plus another cottage a few miles to the south, and all guests have free run of the grounds and gardens, plus use of a tennis court and outdoor heated pool.
Needless to say, Gelston is very popular with repeat visitors, some of whom have been coming here for nigh on 30 years. The Scotts' ethical approach to farming, environmental issues and life in general makes for interesting reading. What's more, they practise what they preach, not least in the installation of an absolute humdinger of a state-of-the-art log-fired boiler (ask to see it!) which is fuelled with wood from the estate. See their website for more details, plus information on sporting and cultural courses.
Glenlee Holiday Houses Glenlee New Galloway DG7 3SF; 01644 430212; www.glenlee-holidays.co.uk. The Glenlee estate north of New Galloway has been in the Agnew family for three generations and sits in the magnificent landscape between New Galloway and St Johns Town of Dalry. Five self-catering cottages are available, converted from the old home farm buildings and set around a courtyard in a quiet wooded glen conveniently located for access to some of the area's most popular attractions.
The cottages have a traditional feel and are more basic in their furnishings and decor than some others but nonetheless all come with the full range of kitchen appliances. Glenlee is a comfortable option for a family break, walkers who want access to glorious countryside, and anyone interested in discovering the many delights of the Glenkens region. From the door there is a lovely woodland walk past a couple of waterfalls and some fine specimen trees, plus the chance of spotting barn owls, red squirrels and deer.
Orroland Holiday Cottages Orroland, Dundrennan, Kirkcudbright DG6 4QS; 01557 607707; www.orroland.com. Tucked between hill and shore on the coast road from Auchencairn to Kirkcudbright, the Orroland estate feels like a well-kept secret you'd be reluctant to share. Home to the Kennedy family for over 40 years, today it is run by son Robert and his wife Melinda, who have worked hard to achieve their aim of creating the feel of a 'magical world' away from the stresses of every-day life.
Orroland offers all the ingredients of a good old-fashioned country holiday and is the sort of place where children (and adults) can happily indulge in some Famous Five-type antics and no-one would bat an eyelid. (Indeed, it is positively encouraged.) The extensive grounds include a curious snail-shell type mound (echoes of landscape architect Charles Jencks) to run up and down, fishing loch and pavilion, a woodland walk leading down to a lovely private bay, where a beach hut sits on the rocky shore, and an interesting fern garden in development.
The attention to detail in both the grounds and accommodation is second to none and the Kennedy's passion for what they do is clearly evident. Three cottages are available, each standing on its own, accommodating from six to 14 people (discounts available for couples and smaller groups). Log fires, central heating, inviting sofas and armchairs, comfortable beds and warm colours combine with reassuring touches such as emergency candles to make this feel like a real home from home. For peace, privacy, comfort and convenience, Orroland ticks all the boxes.
The Grange Kirkcudbright DG6 4XG; 01557 330519; www.cottageguide.co.uk/gallovidia. Staying at The Grange is a little like stepping back in time to a private party in a Victorian country house. Located 2½ miles south of Kirkcudbright, The Grange dates from the mid-19th century and is attractively positioned in grounds of 4 acres with views across the fields to the waters of the Solway Firth where they flow into Kirkcudbright harbour.
This is an accommodation option with a difference, for the two 'flats' that are offered here (one sleeping 6, the other sleeping 4) are simply open suites of rooms on the first and second floors of the house, all accessed by the same stairway. This makes for a potentially sociable experience in which you may find yourself rubbing shoulders with the guests from above (or below) on the landing. The Grange was built as the Factor's House for St Mary's Isle Estate and Donald Henry bought it from the estate in the 1960s. His wife Marian is always on hand to welcome you and is a mine of local information. Guests are free to roam the grounds and to use the tennis court which is marked out on the lawn in front of the house. Croquet and BBQ are also available, and there are splendid coastal walks to be enjoyed from the doorstep.
Campsites and Caravans
Loch Ken Holiday Park Parton Castle Douglas DG7 3NE; 01644 470282; www.lochkenholidaypark.co.uk. The Brysons have been farming in this area since the end of the 19th century and in the 1960s set up what is now a well-established holiday park in a delightful setting on the shores of Loch Ken. Still owned and run by the family, it has a four-star rating from Visit Scotland and is affiliated to the Camping and Caravan Club. In addition to static caravans, there is space for tourers and a field large enough to take up to 100 tents for campers. Kayak hire, pedaloes and row boats are available for hire, or you can bring your own boat and moor it off the bank.
Lochside Caravan and Camping Lochside Park, Castle Douglas DG7 1EZ; 01556 503806; www.dumgal.gov.uk (click on 'Leisure Facilities' and then 'Tourism and Visitor Attractions'). Very pleasantly located site next to Carlingwark Loch at the southern end of the town's main street. There are 108 caravan stands and a separate tent area. Open seasonally. Electric hook-ups and shower blocks, plus plenty to entertain the kids in neighbouring Lochside Park.
Sandgreen Caravan Park Sandgreen, Gatehouse of Fleet DG7 2DU; 01557 814351; www.sandgreencaravanpark.co.uk. The park at Sandgreen is not only privately owned, but also hosts caravans and lodges which themselves are, in the main, privately owned. However, there are two caravans available for hire. What makes this site so good is its location, right on the (also privately owned) Sandgreen beach, a perfect stretch of sand on Fleet Bay. Swimming, sailing and rock-pooling are the order of the day and to ensure safety the beach is demarcated into three areas with power boats separated from sail boats separated from swimmers.
The Machars and Moors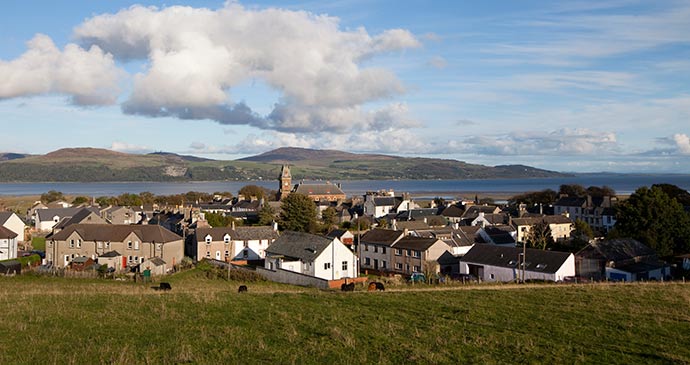 Hotels
Kirroughtree House Newton Stewart DG8 6AN; 01671 402 141; kirroughtreecountryhouse.com. Set on a hill above Newton Stewart, Kirroughtree House occupies an imposing country house built in 1719 by Patrick Heron, a wealthy cattle trader, in whose family it remained until the late 19th century. Over the following 50 years or so it was in private hands and then requisitioned as an officers mess during World War II, before becoming a hotel in 1947. For many years it was owned by local hoteliers the McMillans, before being acquired by an Australian couple in more recent times.
There are 17 spacious rooms, all traditionally decorated with rich heavy fabrics and thick carpets, and the best of which comes with a private sitting room. The superb wood-panelled staircase dominates the entrance hall, from the foot of which extends a large and comfortably furnished lounge, perfect for book reading, dozing off or afternoon teas around the fire. Outside there are 80 acres of grounds and a golf course nearby.
The Steam Packet Inn Harbour Row, Isle of Whithorn, Dumfries & Galloway, DG8 8LL; 01988 500334; steampacketinn@btconnect.com; www.thesteampacketinn.biz. This award winning family-run hotel and restaurant has a cracking setting right on the harbour of the Isle of Whithorn. Rooms have views looking out over the bay and cliffs, perfect for sitting a while with a book before trying some of the fresh seafood in the restaurant.
Whithorn House Hotel St Johns Street, Whithorn DG8 8PE; 01988 501081; www.whithornhouse.com. Molly and Brian Harrison moved up from Cheshire to open the Whithorn House and have invested enormous amounts of time, energy and imagination into making this one of the most elegant and comfortable boutique hotels in Dumfries and Galloway. With only nine bedrooms, all ensuite, this is somewhere to come and relax away from the crowds.
All rooms are a good size, all furnished with taste and flair, and there's even a wood-burning stove in one of the bathrooms. Rooms to the back have wonderful views across the fields to Wig Bay. Public areas include the delightful tea room, a place to come for snacks and indulgent afternoon treats, and also a whisky lounge and snug. The location is convenient, a short stroll along to the centre of Whithorn and within easy reach of the many attractions of the southern Machars.
B&Bs
Glaisnock Café and Guest House 20 South Main Street, Wigtown, DG8 9EH; 01988 402249; www.glaisnock.co.uk. Carl and Stephanie Davis moved up from Birmingham in 2013 to find a different pace of life and now own and run the Glaisnock Café and Guest House. It's a small, friendly place on the market square, with just two rooms, both double (one can be converted to a family room if required with an additional single) and ensuite. Breakfast is included and other meals, including packed lunches, are available thanks to the café downstairs. Bikes can be stored and there is space to dry equipment in wet weather.
Hillcrest House Maidland Place, Station Road, Wigtown DG8 9EU; 01988 402018; www.hillcrest-wigtown.co.uk. Deborah and Andrew Firth moved up to Wigtown from Sussex more than ten years ago and have created a charming small hotel in their late 19th-century house. Their six rooms are all large and ensuite, decorated in strong bold colours with period finishing and a touch of Chinoiserie reflecting tastes borne of time spent in Asia. Friendly and welcoming, this is a comfortable place to retreat to, with a sitting room for guests where you just want to curl up on the sofa in front of the fire.
Self-catering
Cairnharrow Cairnhouse Farm, Newton Stewart DG8 9TH; 01988 403217; www.cottageguide.co.uk/8914. Conveniently located midway between Newton Stewart and Wigtown, Cairnharrow is a modern bungalow set on the edge of woodland on Cairnhouse Farm, a 400-acre working stock-rearing farm. Lynne and Colin Craig built Cairnharrow in 2007 and have kept it in pristine condition. Spacious accommodation sleeping six, all mod cons and a wonderful view across the Cree estuary make this a comfortable and memorable base from which to explore the area.
The Pend, George Street, Whithorn DG8 8NS. Privately owned with the bookings handled by National Trust for Scotland; 0131 458 0305; www.pend-house.com. For self-catering accommodation with an historical twist, the 14th-century Pend is a great find right in the centre of Whithorn. This former gatehouse to the monastery is full of interest such as a fine stone fireplace with witching mark in the downstairs sitting room, and full coat of armour in the upstairs one. Oozing character, the main bedroom above the archway of the Pend has a four-poster carved with green man emblems at the head, while the other bedroom has old-fashioned box-beds. Traditional low-beamed ceilings are complemented by modern comforts: underfloor heating, large wood burner and comfy armchairs. It's quirky and lots of fun.
The Rhins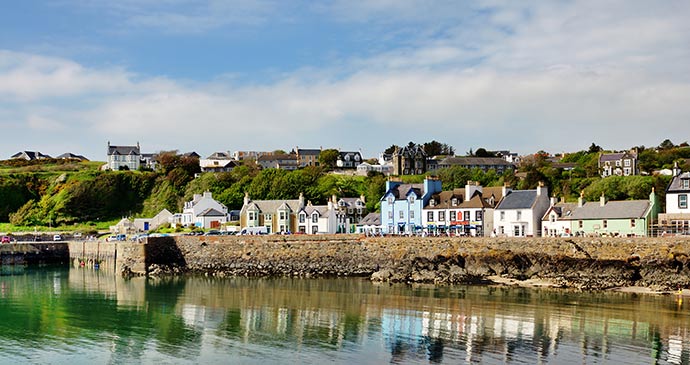 Hotels
Corsewall Lighthouse Hotel Corsewall Point, Kirkcolm, Stranraer DG9 0QG; 01776 853220; www.lighthousehotel.co.uk. Corsewall has a great location on the northwest coast of the Rhins with views to Ayrshire, Arran, the Mull of Kintyre and across to Ireland, not to mention the shipping channels in which the ferries and boats ply back and forth. The hotel has a mix of six rooms in the main lighthouse building and three suites located separately a short walk away. The Ballantrae and Stevenson suites are newer than the rest of the hotel and offer comfortable furnishings, neutral shades and well-maintained fixtures and fittings. The small dining room is popular with locals but seating preference is always given to residents and there's an enticing public balcony on which to sit and gaze out to sea over a glass of wine.
Knockinaam Lodge Portpatrick DG9 9AD; 01776 810471; www.knockinaamlodge.com. For sheer unadulterated indulgent luxury, Knockinaam comes high in our recommendations for accommodation not just in the Rhins, but Dumfries and Galloway as a whole. This is a boutique country house hotel par excellence with prices to match. Knockinaam is the only hotel in Dumfries and Galloway that's a member of Connoisseur's Scotland and the only one in the region with a Michelin Star. Located near Portpatrick in 30 acres of grounds on a private bay at the end of a downhill track, privacy is assured.
The Victorian house sits at the head of an immaculate lawn that runs down to the beach. In the mid-19th century there was a village here, Port o' Spittal, which consisted of 86 people in 12 houses, but the village was demolished and in its place a hunting lodge was built by the then owners, the Hunter Blairs, a local Galloway family to this day. There's been a fair bit of history played out here since: Churchill came for a meeting with Eisenhower during World War II having arrived by sea plane on Loch Ryan. The two great statesmen met in the panelled drawing room and guests can book the bedroom in which he slept. John Buchan also stayed here while writing The 39 Steps and used the house as a model for the one to which Richard Hannay flees.
David Ibbotson acquired the hotel around 12 years ago and with his colleagues at Connoisseur's Scotland, tailor-made tours can be arranged, including anything from a flight in a sea plane to a speedboat tour around the Isle of Man to see the basking sharks. He's an easy-going chap who makes a point of welcoming or meeting guests personally. His background is in hotel management, but also includes early stints as barman, restaurant worker and even windsurfing instructor – not that windsurfing is on the cards at Knockinaam. The hotel also has its own vegetable garden, which provides most of the produce for the kitchen. There's a small bar with a large selection of whiskies (around 160) and a delightful morning room with fireplace with fine sea views. Rooms and bathrooms are spacious, all with fine views of gardens and/or the sea. There are ten bedrooms in total.
The Michelin-starred restaurant is open to non-residents but booking is essential, especially for dinner and for full afternoon tea (though not for a light afternoon tea of tea and scone). There's a Sunday lunch special offer, but again booking is essential.
B&B
Rickwood House Hotel Heugh Road, Portpatrick DG9 8TD; 01776 810270; www.portpatrick.me.uk. There are six spacious, bright, well-decorated rooms at Rickwood House, which is also the family home of Maggie and Fred Findlay, who moved here in 2000 having lived for many years slightly further north in Glasgow. They're a friendly and welcoming couple who have put in a lot of time to create a warm and comfortable B&B/small hotel experience which has earned four stars from Visit Scotland.
Attention to detail is obvious throughout, from Maggie's collection of Highland stoneware to carefully chosen colour schemes. Breakfast is served in the dining room and from here and the guest lounge conservatory there are views across the town and out to sea. Bedrooms at the front share these views, while those at the side look out into the garden. All rooms have flat-screen TVs and are ensuite with well-appointed facilities, while a combination of solar panels and biomass boiler ensure plentiful heat and hot water.
The house itself is Edwardian, built in 1902 by the Orr Ewing family (who are still owners of the surrounding Dunskey estate) for their factor, and was owned by the estate up until the 1950s. Maggie can tell the tale of its full history and is also a mine of information about the local area, from places to visit to restaurants for all occasions. Dogs are welcome. Breakfast is included (try the Kiwi Special) and packed lunches and evening meals (five nights a week) are available by request. There's also an ongoing supply of Maggie's excellent shortbread (recipe available), for which donations are invited for Save the Children. (Guests to Rickwood have raised several hundred pounds a year through their shortbread consumption.) There are even spare rucksacks and walking accessories to hand in case you've forgotten your own.
Self-catering
Kirklauchline Holiday Cottage Stoneykirk, Portpatrick DG9 9EE; 07824 770968; www.portpatrickholidaycottage.co.uk. For comfortable seclusion within easy reach of local amenites, Kirklauchline Cottage ticks all of the boxes. This 150-year old Galloway crofter's cottage has been lovingly renovated and kitted out by owners Alison and Dave Smith who live in the north Rhins. Alison is a veritable mine of local information and a champion of Rhins life, with reliable recommendations for just about anything you could want. An open plan sitting and dining area in the middle of the cottage is flanked by wood-burning stoves at either end beyond which lie the kitchen and bathroom in one direction and the restful twin and double bedrooms in the other.
This is a sun-filled country idyll in the summer and a toasty escape pad in the winter. Decor is tasteful and stylish, furnishings cosy and comfortable. Views to the front look out to the North Channel, to the rear across the fields, and on a still day you can enjoy complete silence. There's only one other house beyond the cottage, so if you're looking for a retreat, this is an ideal spot. Portpatrick is just ten minutes' drive to the north, Stranraer 15 minutes, while it's 35 minutes down to the Mull or around the same up to Corsewall lighthouse.
Lighthouse Holiday Cottages The Mull of Galloway Trust, The Mull of Galloway Lighthouse, Drummore, Stranraer DG9 9HP; 01776 980090; www.lighthouseholidaycottages.co.uk. Holiday cottage locations don't come much more iconic than this. These three cottages form part of the lighthouse complex at the Mull of Galloway Lighthouse at Scotland's most southerly point. Handy for shops and amenities they may not be, but then if you're the sort of person who wants to come here, that's not what you'll be looking for.
The location is first class for getting away from it all, for superb views, birdwatching, wildlife spotting, walks, fresh air and generally escaping. Do be aware that the chances are there will be other people around as the lighthouse is open to the public, but with views to die for from many of the rooms, sandy bays nearby and thousands of acres of countryside to explore, you can easily lose yourself in vast vistas, cosy coves and  hidden hills.
There are three cottages: Puffin and Kittiwake both sleep six, while the smaller Lighthouse Keeper's Cottage sleeps four. All cottages have all mod cons and central heating, and Puffin and Kittwake both have log burners too. Decor is in neutral colours with warm fabrics and rugs throughout. The nearest public transport is the bus stop at Drummore 5 miles away: if you are going to stay at the lighthouse and are arriving by bus, let them know when you book and a lift can be organised.
Campsites and Caravans
New England Bay Caravan Club Site Port Logan, Drummore DG9 9NX; 01776 860275; www.caravanclub.co.uk. New England Bay runs down the east side of the southern Rhins a few miles north of Drummore. It's a bonny spot and the site here is peaceful despite the proximity of the main coastal road. The pitching areas have sea views and there's easy access to the safe, clean beach on your doorstep. You don't have to be a member of the Caravan Club to stay on one of their sites, but there is an additional charge for non-members.
The site at New England Bay is for caravans, motorhomes and trailer tenters but not campers. Full details on the Caravan Club website and note that, although the correct official address gives both Port Logan and Drummore, the site is actually in neither, sitting on the opposite side of the peninsula from Port Logan a couple of miles away and around four miles north of Drummore.