An ancient seaside town at the heart of the Jurassic Coast and prime fossil-hunting territory. Lyme is one of the UK's most popular beach resorts.
Somehow Lyme Regis doesn't look real: with its rows of houses of every shape and size huddled together along the seafront beneath open fields and woodland, it looks more like a painting in a children's book, or perhaps a model town. You might half expect to see an oversized adult bending down peering through the windows of the cottages.
Lyme Regis snuggles up against the Dorset/Devon border, on the River Lim. The Jurassic blue-grey cliffs on either side of the town are filled with layers of fossils, making the beaches of Lyme Regis excellent for fossil hunting. The narrow, twisting (and in parts steep) streets lead down through the town to the attractive seafront and the manmade harbour protected by the ancient breakwater known as The Cobb.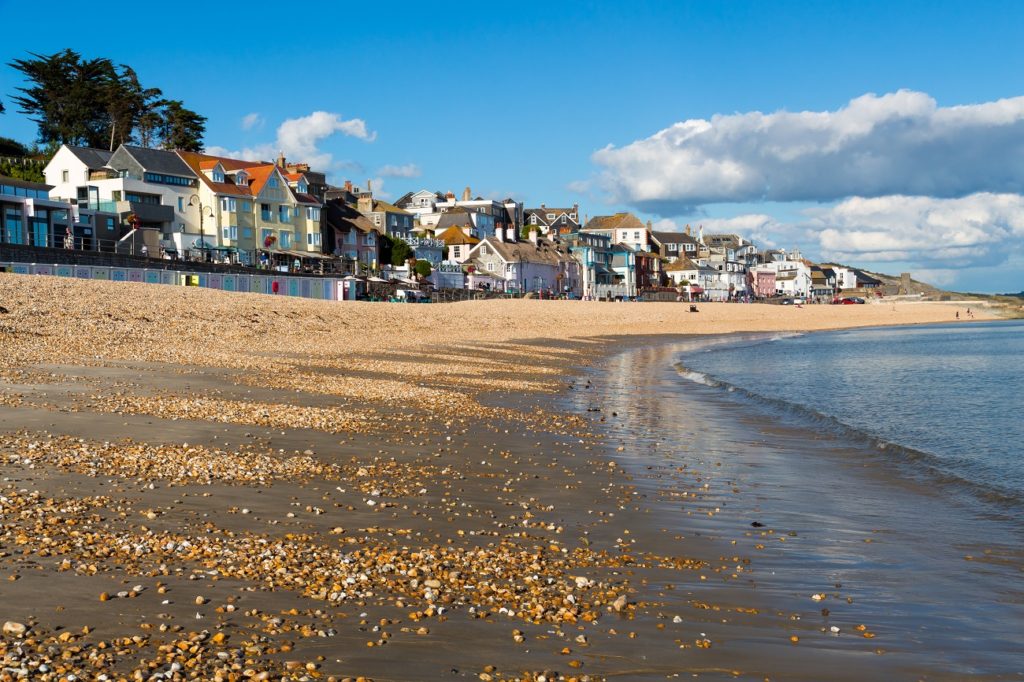 The town is best explored on foot as the centre is compact, packed with small shops, eateries and art galleries, and there is little room for cars. At the northern end of the seafront you will find the tourist information centre, which, as well as the usual brochures on accommodation, places to eat and activities can provide tide times – essential if you plan to go fossil hunting.
The Cobb
Lyme Regis is perhaps at its most enchanting viewed from The Cobb at sunset, when the sun illuminates the hills above the harbour and you can see the geological layers within the cliffs, stacked like a deck of cards. Sheltering behind the breakwater is a colourful array of fishing and pleasure boats.
The Cobb has been protecting the harbour and the town from erosion since the 13th century. It was originally made from huge boulders inside oak walls and detached from the land at high tide. It was joined to the land in 1756 and rebuilt in Portland stone in the 1820s, as the gently tilting serpentine wall that you see today.
Fossil hunting
Made from soft clay layered with a few hard bands of limestone that formed on the bottom of the sea during the early Jurassic period, some 190 million years ago, the grey cliffs of the Lyme Regis area regularly offer up some valuable clues about life on earth in geological ages past.
The Jurassic fossils within the cliffs are derived from sea creatures that lived when dinosaurs roamed the land. Landslides and waves cause fossils to fall from the cliffs on to the beaches below, making them prime fossil-hunting territory.