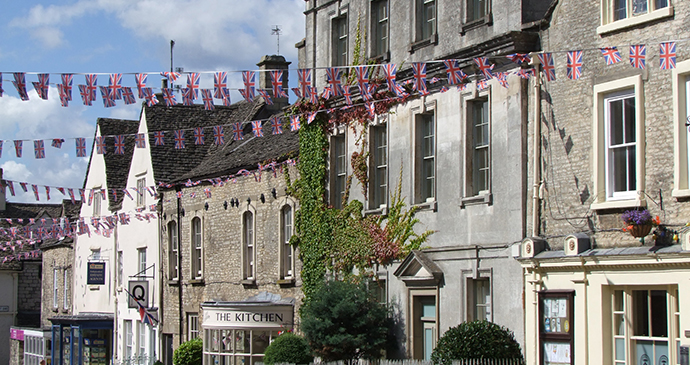 Bunting across the street in Minchinhampton © Caroline Mills
The area of the Five Valleys is unique in Britain. The whole landscape is bizarre and intriguing.
While the northern and eastern areas of the Cotswolds are cosy, gentle and lay claim to soft undulations, the southern Cotswolds are rugged, raw and wild. Sharp escarpments and gorge-like river valleys twist and bend with absurd frequency, funnelling cold winds and trapping fog. In between the contorted valleys and giant beech woods, high ground amasses creating rough commons, superb for bracing walks and views.
There's an edgier feel to the area too. Where the softer wolds of the northern Cotswolds belie their rural heritage of rearing sheep and selling wool with the odd farmstead and squire's manor house dotted across the countryside, here is the corresponding industrial landscape. Cloth mills, originally powered by the area's fast-running waters, lined the valley floors and the steep escarpments meant that builders had nowhere to go but up. Consequently, the houses of the workforce cling limpet-like to the valley sides.
Having skirted around Cheltenham, the western escarpment continues to run south from Crickley Hill towards Stroud and then on towards Dursley until it reaches the graceful city of Bath. This section of the escarpment has some of the most dramatic views in the Cotswolds, over the Severn Valley and into Wales.
In the hinterland, the area around Stroud is known as the Five Valleys. Synonymous with the cloth industry, each of the five valleys follows small streams; to the east there are further valleys, unconnected to the cloth industry, that are completely dry. There are no giant rivers here. North of Stroud is the Painswick Valley, its western ridge making up a part of the main Cotswold escarpment. Northeast is the Slad Valley, made famous by the author Laurie Lee, who lived there for much of his life.
To the east is the Frome Valley, otherwise known as Golden Valley when it edges ever closer towards Stroud and, like a northerly spur from it, the Toadsmoor Valley. Running due south of Stroud is the Nailsworth Valley. At first it is as steep as its neighbours but gradually the land begins to flatten and the odd barbed spur escapes, such as at Woodchester to the west and towards Avening and Tetbury to the east.
The area of the Five Valleys is unique in Britain. The whole landscape is bizarre and intriguing. I love visiting – and yet I'm glad to escape to the high ground of Minchinhampton and Rodborough commons or to stand on top of the escarpment and breathe in great gulps of air.