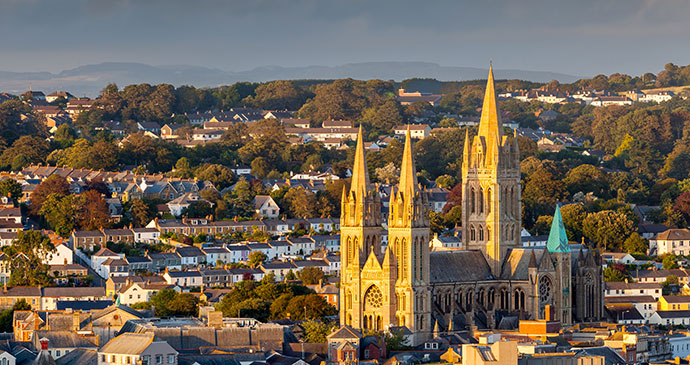 A view over the city reveals the impressive Victorian architecture of Truro Cathedral © Ian Woolcock, Shutterstock
There's a heady mix of culture here, encompassing music and the visual arts, gardens and regional cuisine.
From Truro to Falmouth by river, there is not one inch of unloveliness, the estuary shores designated in their entirety an Area of Outstanding Natural Beauty. Herons, silent and still observe the water, egrets gather in oak trees and oystercatchers sweep down to the muddy banks at low tide. And the sorrowful cry of the curlew echoes around the tidal creeks, epitomising the soft, green loneliness of these very special hidden places.
Although it's common to refer to the whole estuary as the Fal, the Fal is just one of several rivers that flow into the deep, wooded ria (meaning a flooded estuarine valley) below Truro, where the Allen and Kenwyn flow into the Truro River. The Truro is joined by the Tresillian at Malpas, and it's not until further downriver that the Fal cuts in from the east. On the west bank, the Carnon and Kennal join in at Restronguet Creek and the Penryn River merges with the generous embrace of Falmouth harbour. Here, with the sea in sight, the estuary widens hugely and becomes known as the Carrick Roads, narrowing only marginally where Falmouth and St Mawes face each other across a yacht-filled mile of sea. It's a busy estuary, populated not only by sailing boats and passenger ferries, but also towering container ships, heading to the deep moorings above the King Harry ferry, where they sit out the lean times, surrounded by dense oak woods, absurdly out of place beside the red-sailed oyster boats, dredging the riverbed the traditional way, through the autumn and winter months.
The western banks of the estuary are the busiest, with a student population at Falmouth and Penryn contributing to the youthful, arty buzz that distinguishes both these towns from other Cornish harbours. There's a heady mix of culture here, encompassing music and the visual arts, gardens and regional cuisine that erupts into a summer-long series of festivals against the backdrop of the river. While not so much goes on across the water, the Roseland Peninsula has an idyllic waterfront, both riverine and coastal, fringed with sandy, secluded beaches, busy harbours, bright with yachts and dinghies – and some of the smartest hotels in the county. Inland, it's quietly pastoral and dotted with wellheeled little villages, farms and harbours all the way down to its remote, southernmost tip at St Anthony Head.