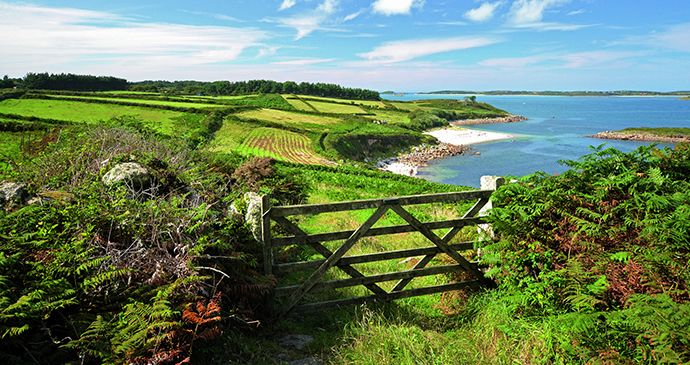 A stroll around St Mary's reveals breathtaking beauty at every turn © S Hughes, Visit Isles of Scilly
The islands are startlingly beautiful, with beaches that have an almost tropical quality.
In many ways, life on the Isles of Scilly is an unselfconscious example of what the Slow concept is all about. Local culture and tradition, landscape, seascape, history and natural history are given affectionate respect here; people take time to enjoy what makes their islands so special. Traffic jams, chain stores and fast-food outlets belong to another world; everyone seems to have time to pause for a chat, leaning on the garden gate or over the shop counter. Children are able to roam and explore freely and safely, while wrinklier visitors remark that 'this is what Cornwall used to be like, 60 years ago'. And everywhere you go, you sense an enviably easy and relaxed sense of community among the 2,000 residents and a willingness to share their good-natured, rat-racelessness with visitors, too.
Nevertheless, on a recent visit, I felt Scilly was going through a transitional phase, perhaps brought about by declining numbers of both residents and visitors of the Harold and Mary Wilson generation and a more 21st-century approach to what the islands have to offer: watersports – including the ultimate ÖTILLÖ challenge in interisland sea swimming and running, coasteering, snorkelling with seals, paddleboarding – and yoga on pristine white beaches. ('Why go all the way to Sri Lanka, when it's all here?' I heard one woman say.) There's also been a perceptible upgrade in accommodation at all levels, combined with a new generation of cafés and restaurants that make simple and imaginative use of the highest-quality local ingredients. The entrancing landscape, however, has not changed. Five inhabited islands, 51 uninhabited islands and dozens of jagged rocks and deadly reefs make up the Scilly archipelago, 28 miles southwest of Land's End. But what you see are merely the hilltops of a submerged landmass, lost to an encroaching sea around a thousand years ago. Ancient field boundaries and Bronze Age settlements lie beneath the translucent waters that separate Bryher, Samson, Tresco, St Martin's and St Mary's (a deep channel has always set St Agnes apart) and, for a brief period during the extreme low tides of the spring equinox, it's possible to paddle between Bryher and Tresco.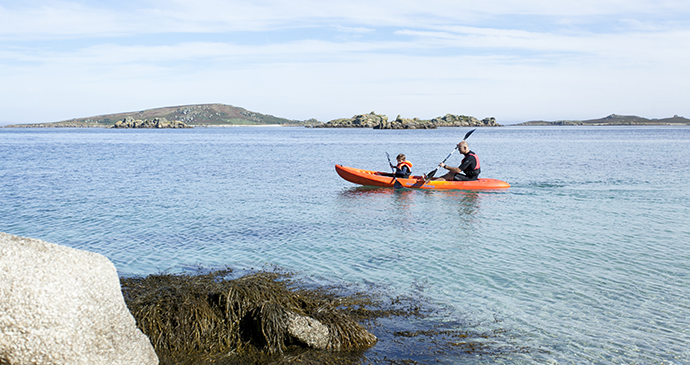 Kayaking around Tresco forms part of the 21st-century approach to travelling around the Isles of Scilly © James Darling
The islands are startlingly beautiful, with beaches that have an almost tropical quality – a turquoise sea, crystal clear and cool as jade, washes into shallow bays of sparkling white sand; spiky, succulent, showy subtropical plants flourish casually in gardens and waysides. And yet, on shores where the Atlantic crashes into the archipelago, the rock-strewn seascape is more Hebridean than Caribbean. Evidence of human occupation is not overwhelming – there are no big hotels or holiday villages – houses and cottages appear randomly among the lush vegetation or cluster around the curve of a harbour. Above the shoreline, chains of drystone walls coated in hairy lichen form a jigsaw of tiny fields, scattered across the sheltered, leeward slopes. Many, since the near-collapse of flower and potato farming, are abandoned to drifts of wild flowers, though some are still lined with sweet-scented narcissi or vegetables; elsewhere you might chance upon a couple of cows or a goat. On higher, exposed ground, it's all granite and gorse and cushions of heather and ling. Permissive footpaths thread across and around the islands – and while it's not difficult to get momentarily disorientated, it's impossible to get seriously lost. Walking on Scilly is quite unlike walking on the mainland: maps aren't really needed and in any case (with Tresco being a notable exception), waymarked routes and signs bearing place names don't exist. The fun lies in exploring, rather than notching up miles of path, in discovering the distinctive character of each island and in enjoying the pauses for the heart-stopping views across the misty recessions of the archipelago.
St Mary's, the largest of the inhabited islands, is the hub for all these adventures: flights from the mainland arrive here and the ferry from Penzance ties up at Town Quay, next to the busy inter-island boats. It's the only island with anything resembling a town, and most of the residential and holiday accommodation is to be found here. There's also a variety of holiday accommodation to be found on the Off Islands – as the four other inhabited islands are known – each containing a loosely linked hamlet or two, where populations dwindle to a weather-beaten core in the winter. The uninhabited islands, many little more than a fist or spike of granite rising above the water, others with beaches and relics of past human occupation, are home to countless breeding populations of seabirds and seals. Each of the five inhabited islands has its own very distinct character, and it's funny how so many visitors end up with a partisan feeling for one island in particular. 'It was always St Martin's for me,' says the island's baker; 'the people, the beaches, the starry night skies.' An elderly passenger on the ferry sighed, 'Bryher. For the solitude and the birds. I have to go every year, even if just for a day.' His wife chips in, 'St Mary's isn't appreciated enough outside Hugh Town: I love walking Up Country through the nature reserves to Pelistry Bay.' A giggling six-year-old says, 'I love camping at Troytown Farm [on St Agnes] because it's next to the beach and there are cows and ice cream.' And, 'We're third generation Tresco,' I overheard one woman say with pride – she was a holiday visitor, not a resident.