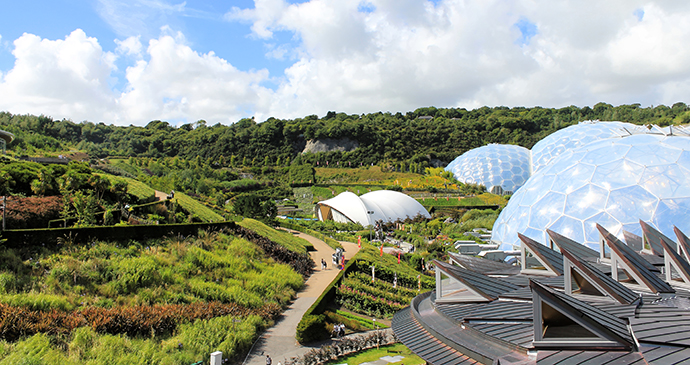 The impressive biomes of the Eden Project © Anna Jastrzebska, Shutterstock
Even by Cornwall's extraordinary standards of contrasts, you would be hard put to find a greater divergence in the landscape than in the few miles that separate the wooded, watery world of the Fowey, its towns and villages steeped in medieval history, from the almost lunar landscape of the clay pits above St Austell. Slow explorers will relish the individual characters of both – and gardeners (to whom the concept of Slow comes as readily as planting trees, I suspect), will discover here some of the most inventive and creative gardens in Cornwall, enjoying a brave, windswept garden on the cliffs of Polruan as much as a dazzling display of summer perennials in the Hidden Valley Gardens, or the ambitious Eden biomes and magnolia-filled slopes of Caerhays.
Industrial heritage is never far from view in Cornwall, but here the exploitation and export of china clay is current and active and still shaping the landscape. Rivers and streams run milky white around St Austell, cargo ships slip through the yachts and pleasure craft at Fowey to load up just out of sight at Carn Point; the conical white spoil heaps from the clay pits grow and change shape on the horizon. Cornish Alps, indeed!
Discover here some of the most inventive and creative gardens in Cornwall.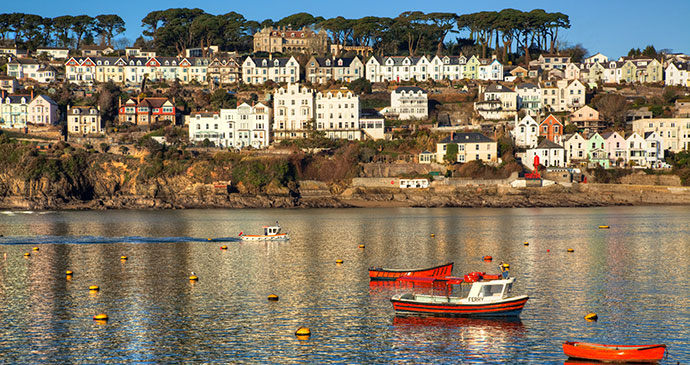 Fowey is one of Cornwall's prettiest coastal towns © Gordon Bell, Shutterstock
This region has some wonderful opportunities to take to the water: paddling a canoe up Lerryn Creek, in the wake of Kenneth Grahame, riding the little passenger ferries from Polruan to Fowey and Fowey to Mevagissey and swimming in the turquoise sea at Lantic Bay. It also encouraged me to start rereading Daphne du Maurier, whose lyrical descriptions of the Cornish coast around Fowey had first enthralled me as a teenager. Walking in her footsteps above the beach at Polridmouth or gazing across the water to Bodinnick from the chain ferry animated my reading, and gave added allure to an already romantic landscape. The great thing about this stretch of the Cornish coast and estuary is that you don't need your own yacht to experience the thrill of seeing the land from the magically altered perspective of the sea. Returning to Fowey on the ferry from Mevagissey, I scanned the trees behind the red and white stripes of the Gribbin Daymark, hoping to glimpse the rooftops of Menabilly, the house that had been the inspiration for Manderlay in Rebecca. Then, like the novelist, cruising around the coast on Ysdragil, I saw 'the clay-hills hard and white on the western skyline. Then the slope of the Gribbin peninsula… bracken-covered, green, and beyond it, hull-down between its coverage of trees, two chimney tops and the grey roof of Menabilly.'