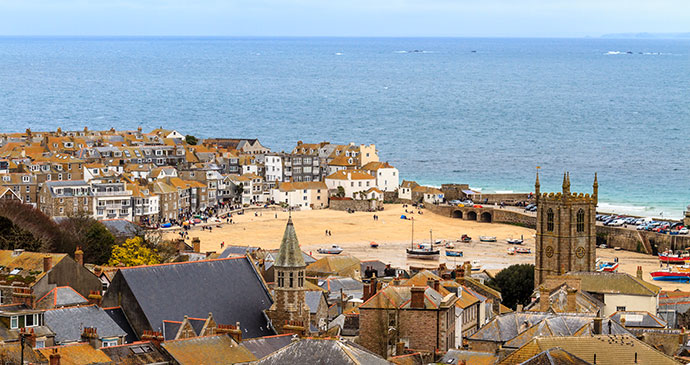 The town of St Ives rises behind its working harbour and sandy beaches © Bertl123, Shutterstock
A peninsula at the end of a peninsula: small wonder that Penwith feels remote from the rest of Cornwall, let alone the rest of the country. Driving down the long A30 can be a grim affair, but that first, almost unreal glimpse of St Michael's Mount and the wide blue sweep of Mount's Bay never fails to lift the spirits, creating the feeling that some kind of threshold is about to be crossed to a wilder, older, more mysterious part of Cornwall. Penzance, which dominates the bay and makes a kind of gateway to the peninsula, has a special character entirely in keeping with its position. It's no surprise that so many artists, writers, archaeologists and historians – as well as a healthy smattering of good old-fashioned eccentrics – have found their way down here over the years. As my Cornish neighbour likes to say, with enigmatic knowingness: 'shake the stocking and all the nuts will gather in the toe'.
The eating is good in Penwith. Fish and crab from Newlyn and St Ives rarely come fresher to the fishmonger's slab.
From the summit of Chapel Carn Brea you get a feel for a good chunk of Penwith and its history, as well as its siren appeal to artists. Approached from the narrow, twisting road between Crows-an-Wra and the Land's End airport, this hill is a far from strenuous climb, but the visual reward suggests you've scaled something much bigger. You can perch at the summit on a ruined Bronze Age burial chamber and think you're on an island, for on a clear day, sea and sky dominate for as far as you can swivel your head. The Isles of Scilly are a smudge on a horizon punctuated by ponderous tankers; smaller fishing vessels plough briskly through the white-capped swell; and waves which have travelled the Atlantic dash against the Longships lighthouse, enveloping it in dramatic clouds of foaming spray. Away to the east, St Michael's Mount is palely visible through a gap in the hills, and northwest beyond the offshore twin peaks of the Brisons, there's a glimpse of Cape Cornwall, believed for centuries to be the real Land's End.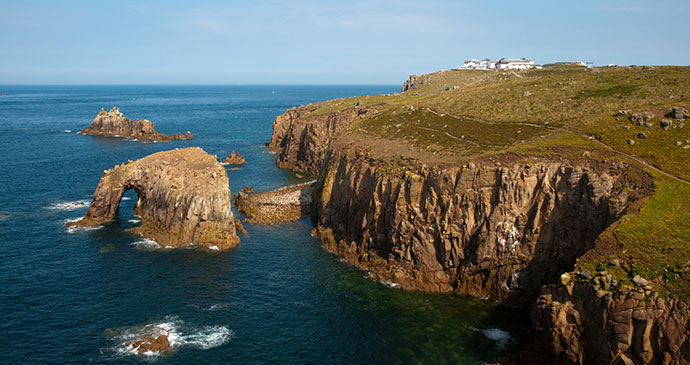 A view over the rugged cliffs at Britain's most south westerly point, Land's End © stocker1970, Shutterstock
At your feet, to the south and west, lies a green patchwork of fields and farms, bounded by hedges of wind-sculpted gorse and hawthorn; there are very few trees. Villages linked by ancient roads and tracks and the landmark church towers of St Buryan and Sennen are just discernible in the folded landscape where Davies Gilbert's rhymes, composed of nothing more than names of hamlets and farms, still echo down the lanes:
Vellandrucha, Cracka, Cudna,
Truzemenhall, Chun, Crowzenwra;
Bans, Burnnhal, Brane, Bosfranken,
Treeve, Trewidden, Try, Trembah.
Turn northwards, however, and Penwith Moor looms on the horizon, littered with prehistoric sites and abandoned tin mines, its craggy hilltop carns rising abruptly above the jagged north coast. There's a wild beauty here in the rough, windswept moors and cliffs, which is easy enough to appreciate when the sun is shining, but when the drenching clouds roll in, it can all feel rather raw and bleak. It's fortunate for many that St Ives, with its cosy and picturesque streets and alleyways, cosmopolitan galleries and lively, art-filled culture, is part of the north coast scenery too.
The eating is good in Penwith. Fish and crab from Newlyn and St Ives rarely come fresher to the fishmonger's slab; local dairies produce fabulous ice creams and farmers' markets start the season with astonishingly early potatoes and Cornish asparagus. After years of decline, craft cider is making a strong comeback in Penwith and many real ale enthusiasts claim that their favourite pint ever is to be found at the Star in Crowlas, where it is brewed on the premises.