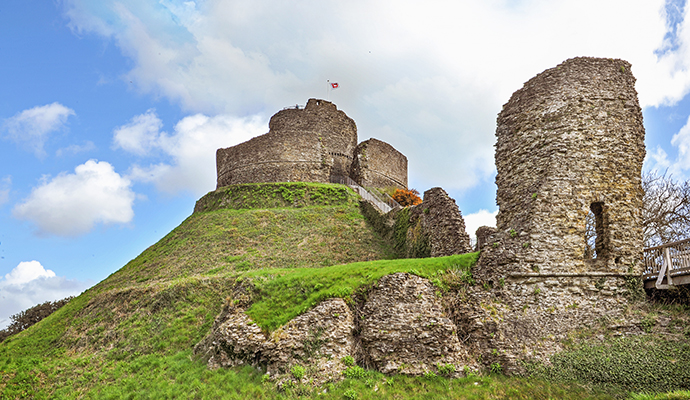 The dramatic silhouette of Launceston Castle dominates the skyline as you approach the town © Judita Jurkenaite, Shutterstock
Northeast Cornwall is one of the least well-known parts of the county but the rewards for Slow explorers are rich.
Geographically, Cornwall does not lend itself to neat chapter divisions, but Launceston, perched with strategic precision, just on the Cornish side of the Tamar, and right beside the main arterial road through the county, is a good place to start exploring the wild northeast coast and its gentler, rural hinterland.
If you exclude the tourist honeypots of Bude, Boscastle and Tintagel, northeast Cornwall is one of the least well-known parts of the county, but the rewards for Slow explorers are rich and worth savouring. It's truly a land of contrast: here are some of the most unspoilt rural farmscapes in the West Country, grazed by chubby Ruby Red cattle and dotted about with orchards, woods, and fields bounded by streams and narrow lanes, while the coast, for miles south of the Devon border, is terrifyingly ragged and perilous. Vicious reefs of razor-backed rocks jut into the sea and black beaches emerge at low tide beneath formidable cliffs. The coast path rears and plunges with exhilarating – or daunting – gusto, testing walkers to the extreme; yet I love the fact that a mile or two inland, among the dipping hills, visitors on wheels can meander and potter along sheltered lanes designed for donkey carts, stopping in villages with names that hail from the Anglo-Saxon side of the Tamar – Stratton, Marhamchurch, Week St Mary – or ramble between some of the most leafily sequestered churches in the county, many having carved oak pew ends of exceptional quality.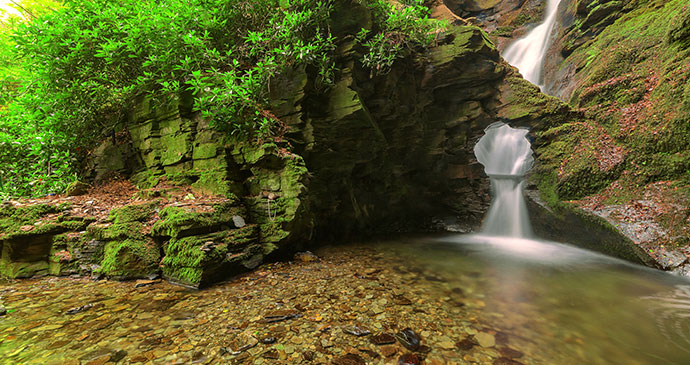 St Nectan's Glen © Andy Fox Photography, Shutterstock
Travelling westwards, gaps in the cliffs open up and a tiny harbour or beach squeezes in among a scramble of cottages. Experienced boardmasters ride the dangerous surf, their vans and V-Dubs camped along the clifftops. Around Bude, where the surf at last rolls safely on to wide, sandy beaches, the natural drama of the coast seems to draw breath before embarking on another roller-coaster ride, rich in appeal to geologists, through Crackington Haven and Boscastle, rising to a wildly romantic crescendo at Tintagel. For me, however, the romantic coastline of Arthurian legend is eclipsed, just a mile short of Tintagel at the head of St Nectan's Glen, where a 60-foot waterfall descends, through a halo of granite and foliage to a sequence of shallow rock pools and falls of staggering beauty and spiritual significance to latter-day Arthurians, pilgrims and healers alike.
Relics of Cornwall's gritty industrial past are never far from view wherever you find yourself on the peninsula, but just inland from Tintagel, Britain's oldest and largest slate quarry at Delabole remains in robust health and offers a rival identity to a region stamped everywhere with the image and legend of Arthur.