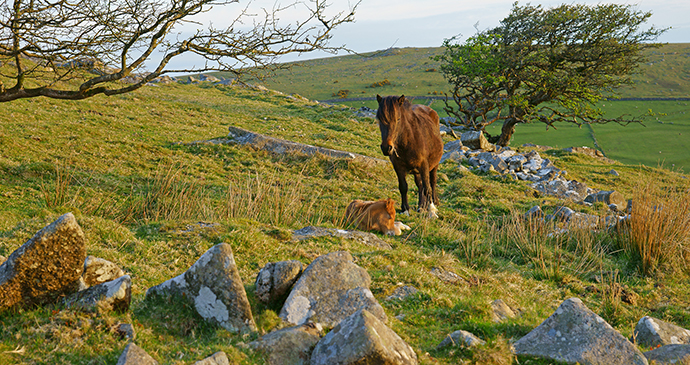 A mare guards her sleeping foal on Bodmin Moor © PJ photography, Shutterstock
This is where Cornwall hides some of its best treasures, generously revealed to those choosing to take the Slow approach.
'Cornwall is like a frame without a picture', say those who believe that Cornwall's coast is everything. It has to be one of the silliest platitudes ever uttered.
If your only perception of Bodmin Moor is a rather bleak stretch of granite moorland – often obscured by fog – sliced in half from east to west by the A30, then think again. This is where Cornwall hides some of its best treasures, generously revealed to those choosing to take the Slow approach. What I particularly enjoy about this area are the exciting contrasts of landscape, culture and people within such a small area. On the east side of the Moor, I have camped by the troutfilled River Inny at Tregillis Farm, discussing Steiner agriculture with the new tenant farmers, while just 20-odd miles away, west of Bodmin, I have found myself on the sunny slopes of the Camel Valley vineyards, a glass of award-winning Cornish Brut in my hand. Yet just a few minutes before, or so it seemed, I had been stumbling over the rainswept summit of Rough Tor, looking down over the haunting emptiness of Davidstow Moor. There had been a lusty performance of Twelfth Night in a tented, outdoor theatre at Upton Cross, and rambling beside the River Fowey, where it rushed and tumbled through beech woods just a half-hour bike ride from the uncanny stillness of Dozmary Pool. There was dazzling stained glass in St Neot, and desolate holy wells in muddy fields; not least, there were two of the best pubs encountered on my travels.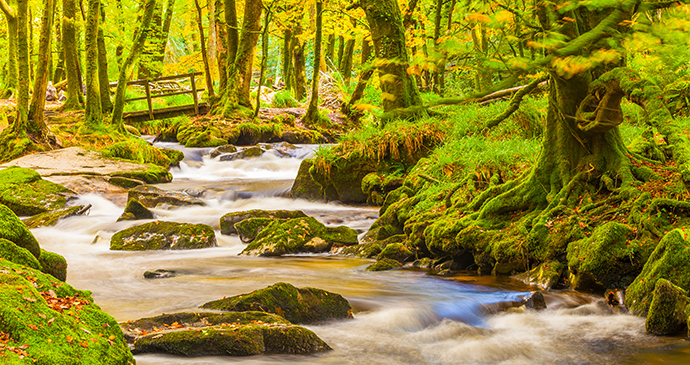 The young River Fowey tumbles over granite boulders at Golitha Falls, Bodmin Moor © Ian Woolcock, Shutterstock
In places, you can't help but be reminded of Dartmoor, whose higher peaks loom on the eastern horizon. Goatish sheep, shaggy cattle and wild ponies graze among gorse and relics of the copper- and tin-mining industries; Neolithic standing stones litter the landscape. Bodmin is perhaps Dartmoor's more condensed cousin, but less visited and most definitely less gentrified. An air of self-sufficient remoteness clings like mist in Bodmin's hidden valleys and to the barren slopes of its highest peaks, Brown Willy and Rough Tor.
Village and farm shops are not a lifestyle option on Bodmin: they are vital lifelines for the rural community, and their precarious existence owes much to the support of visitors.