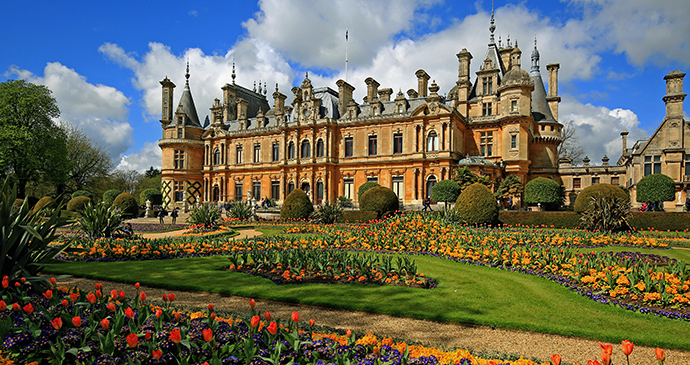 Waddesdon Manor is the best known of all England's Rothschild houses © Paula French, Shutterstock
The relative openness of the scenery can't help but be refreshing.
Leaving Oxfordshire for Buckinghamshire brings you into the Vale of Aylesbury, which rolls even more gently than the Chilterns and is even less crowded – the only Vale towns are Aylesbury, Buckingham and Winslow. The relative openness of the scenery can't help but be refreshing. The occasional country smell serves as a reminder that there are plenty of working farms round here. It isn't, strictly speaking, the Chilterns; but visiting the Chilterns and not the Vale of Aylesbury would be like moving into a new house without getting to know your neighbours. We've divided the Vale into four sub-sections: the southwest corner; the central southern area around the county town Aylesbury; the northwest, up to and just beyond Buckingham; and the northeast, including a trip over the notional Vale boundary to Leighton Buzzard. There are several historic houses to enjoy, including two of the most extravagant in the southeast of England and maybe England itself – Waddesdon Manor and Stowe – and others in private hands which are just as fascinating, if smaller. The many literary links include the world's leading wildlife hospital, which takes its name from a Beatrix Potter character, and a clue to the origins of a village from Tolkien's Middle Earth.