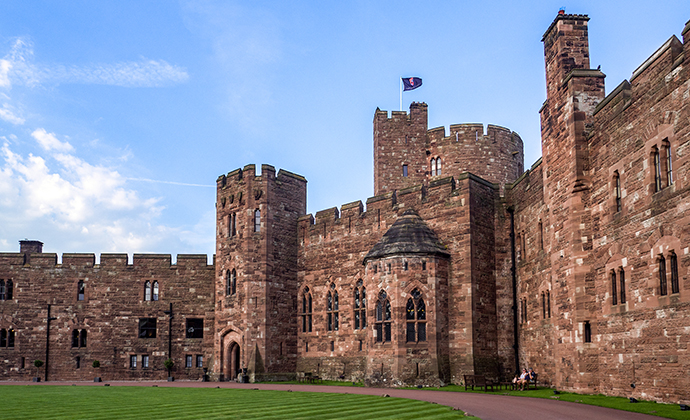 Peckforton Castle is well positioned atop a high ridge © Philip Bird LRPS CPAGB, Shutterstock
Great walking and cycling with panoramic views is guaranteed in the hills of Sandstone Ridge, with forts and ancient villages to explore.
South Cheshire runs from the outskirts of Chester to Nantwich, via the borders of Wales and Shropshire and the southern folds of the Sandstone Ridge. It is a swathe of the county that bears few of the scars of industry, despite salt-making and tanning taking place here and there. Instead, its fertile pastures have long been favoured by dairy and wheat farming. Through the fields and meadows of South Cheshire course rivers that once propelled the waterwheels of long-gone mills and canals that carried goods to and from Shropshire and north Wales, their banks and towpaths now providing pleasant places for peaceful walks.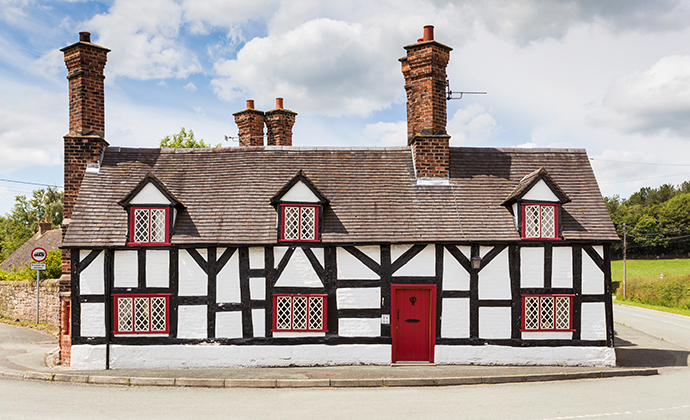 Beeston is a quaint village with a population of just 200 or so © Joe Wainwright Photography
In this area, you'll begin to sense the power of the Norman Earls of Chester, who presided over the county, as well as the influence of the great Cheshire families who established themselves after the dissolution of the monasteries or from the spoils of the English Civil War. Malbank, Tollemache, Grosvenor, Cholmondeley, Wilbraham and Cotton are among the names you will constantly come across in these parts. They left their mark in the shape of castles, country houses and churches, which subsequent generations have constantly tinkered with, creating irresistible puzzles for history-lovers. Though quiet today, the border with Wales reveals remnants of age-old defences, such as at Malpas, a reminder that this was once a heavily patrolled frontline, while the turmoil of the English Civil War is evidenced in places, from an annual re-enactment of a battle at Nantwich to the ruination of the castle on Beeston Crag. The latter is one of two showstopping castles on the Sandstone Ridge, which rises abruptly from the plain to offer some of the county's best walking, through woods and heaths, emerging on outcrops from which not only Cheshire but surrounding counties can be surveyed. Down in the valley, the villages and market towns provide more historic eye candy, yet there is plenty of contemporary interest here, too, with busy calendars of events and attractions to satisfy young and old, plus recommendable places to eat and drink.