This corner of Cheshire, bumping up against the Pennines, gets gradually wilder the further inland you head. To the west of the Macclesfield Canal it's still gently rolling and pastoral, while to the east things get more extreme.
Here, lush green fields and grazing cattle give way to dark wild moors and wind-whipped sheep; pretty villages of half-timbered cottages are replaced with isolated farmsteads of millstone grit; and instead of hedgerows, there are dry stone walls running across the hilltops.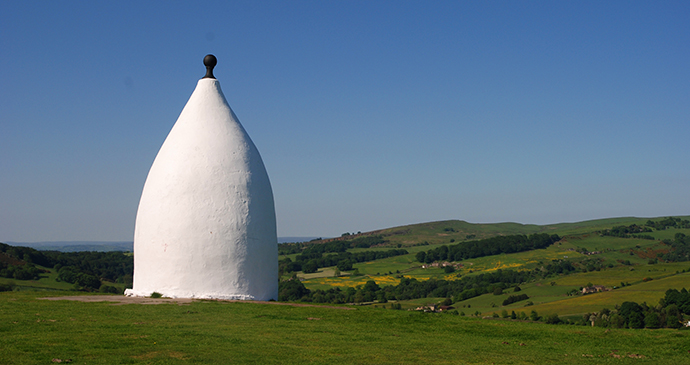 Much of this wilder countryside is part of the Peak District National Park – a fact that may surprise the many who assume the park is contained within the Derbyshire borders. Cheshire's chunk may not be as well-known as the rest but it deserves recognition, including, as it does, one of the county's grandest stately homes (Lyme) in the north and one of its prettiest rivers (the Dane) in the south.
A hilltop town with a lively monthly market and interesting museums telling the tale of its silk-industry heritage, Macclesfield is a good base for exploring the Cheshire Peak District.
In between, there are glorious views from the roads and footpaths that wind across the moors – including the dramatic A537 Cat and Fiddle road between Macclesfield and Buxton – so whether you're travelling by car, bike or on foot, take it slowly and factor in plenty of time to just stop, stare and soak up the peace of this sparsely populated region.
The commercial hub of the area is Macclesfield, where a handful of interesting museums tell tales of the silk trade that made the town's fortunes and left it with a stock of attractive Georgian buildings. In the valleys round about, former small mill or mining towns and villages are now considered desirable places to live, with spruced-up workers' cottages and glorious walking countryside on their doorsteps. Start exploring and you'll find some lovely stately homes and little-known ancient monuments, unusual churches and specialist museums, along with delicious ice cream, great micro-breweries, a large heronry and Cheshire's highest hills.