The Anderton Boat Lift is a truly impressive feat of Victorian engineering © Marketing Cheshire
The green heart of Cheshire, pocked with meres and mosses, is also a handy jump-off point for the nearby salt towns of Middlewich and Northwich.
The Cheshire Plain has two tales to tell. To the east, it is the story of Britain's salt industry, from its rise during Roman times to its continuing importance for the chemical plants that toil here. Tour this area and you will soon appreciate the effect that the precious mineral has had, good and ill, on the landscape and its people, and how it set the foundations for today's thriving communities, which the rash of modern housing estates and fast roads suggest continue to expand. Northwich and Middlewich were known as Condate and Salinae to the Romans, who built roads and forts and exploited the lakes of brine beneath the soil, an industry that consolidated in this area once rock salt was discovered in the 17th century. Discover salt's role in powering the pioneering transport network on a narrowboat trip along the Trent and Mersey Canal, or on its towpaths, following in the hoof prints of the horses that drew the heavily laden barges. Where the canal meets the Weaver Navigation, get a close-up look at a feat of high Victorian engineering that connected the two waterways with a ride on the Anderton Boat Lift. At the museums at Weaver Hall and Lion Salt Works unpick the details of how salt shaped society and sharply defined the fortunes of the locals, rich and poor. Then follow the newly laid paths around the once weak and poisoned wastelands that are successfully being returned to nature at the Northwich Woodlands and Winsford Flashes.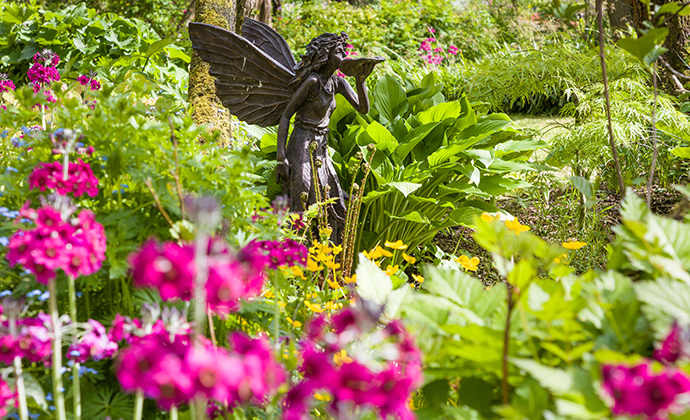 This part of the county is home to some of the region's loveliest gardens, like here at Stoneyford Cottage ©  Joe Wainwright Photography
To the west, the heart of the plain is the story of nature, dominated by the Sandstone Ridge, which ripples through the land on its passage northwest, and Delamere Forest, a great gulp of green pockmarked by meres and mosses created at the dawn of time. Delve into this remnant of the ancient Mara and Mondrem forests to discover where Iron Age man built hill forts, feudal lords hunted for game, and today's conservationists wrestle with maintaining healthy yet relevant ancient woodland so that it can flourish while also providing a place to enjoy being outdoors. Climb on foot or use pedal power to reach its highest point for a show-stopping panorama of the surrounding counties and dip beneath its leafy canopy to discover a quaking bog or go in search of the Gruffalo. At the forest's edges, step through the gates of some of Cheshire's loveliest gardens, such as those at Abbeywood and Stoneyford Cottage, and discover the hidden history of Little Switzerland and its fruit farms.