Kalgoorlie has a reputation among West Australians as an anachronism, a time-capsule frontier town where mining is king, lady luck is queen, the law is somewhat hazy and anything goes. But beneath the rough-and-tumble veneer of WA's largest Outback town lies an understated cosmopolitan vibe, apparent through its dynamic embrace of flamboyant architecture, fine galleries and some excellent restaurants – all that mining money has to be spent somewhere!
The City of Kalgoorlie-Boulder formed from the merging of the twin cities of Kalgoorlie and Boulder into one unified local government area in 1989 (locally referred to as just Kalgoorlie). The two towns are one seamless area and it is indistinguishable where Kalgoorlie ends and Boulder begins. Together, they form the fifth-biggest centre in WA with a population of about 30,000.
What to see and do in Kalgoorlie-Boulder
Gold sights
The Kalgoorlie Heart of Gold Discovery Tour is a great starting point to the 'Golden Mile' and understanding Kalgoorlie's history. Available as an app, this self-guided walking tour (2km; about 1hr) takes you around 11 sites in the Kalgoorlie CBD (all but three are on Hannan Street), starting with the gold bar replica at the Market Arcade and finishing at the Museum of the Goldfields.
Super Pit & Lookout
Kalgoorlie's signature attraction is recognised country-wide. This is one of the biggest mines in Australia – almost 28,350kg of gold are mined out of the 500m-deep pit annually. The viewing platform is on Outram Street, just off the Goldfields Highway, and staring down into this neatly terraced abyss and seeing its haulage vehicles – gargantuan up close, but which look like insects in the Super Pit's massive expanse – is an unforgettable experience. You can also check mine operator KCGM's website for when blast times are and view a blast (a detonation to break apart rock, making it easier to remove) from the lookout.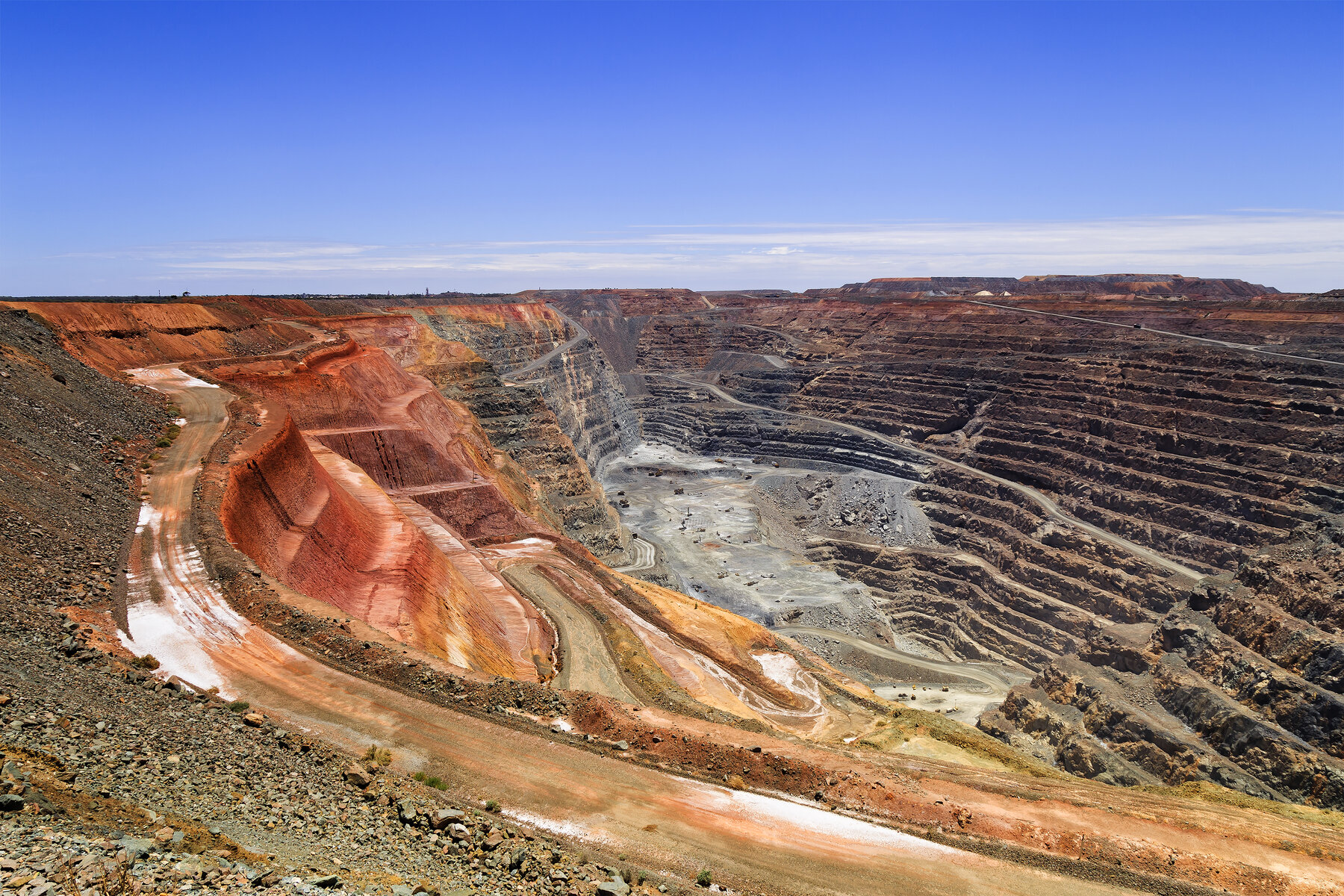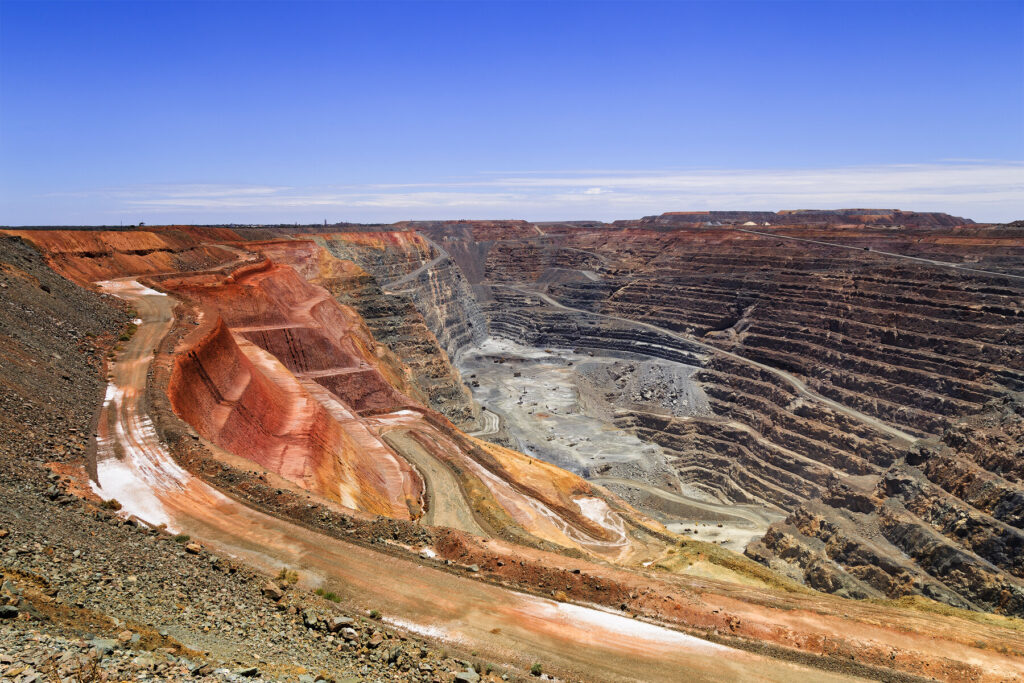 The Super Pit is one attraction where it pays to invest a bit more and book a guided tour to see the workings inside the pit itself. Kalgoorlie Tours & Charters is recommended and authorised by KCGM; they offer 1½- and 2½-hour tours that travel on the same access roads as the dump trucks, show you the old mine shafts and offer excellent vantage points of modern mining machinery and operations. As this is a working gold mine, there are safety requirements in place to be able to take the tour, including wearing appropriate clothing.
Hannans North Tourist Mine
Originally one of the first mines in the Goldfields in 1893, this is no longer a working mine like the Super Pit but instead a must-see interactive tourist experience, enjoyable for both adults and kids. Visitors can mine their own gold, clamber aboard a haul truck and even visit the underground refuge chamber, designed to keep miners alive in the event of disaster. Period buildings have also been relocated here and there is a set-up where you can experience life at an 1890s prospector's campsite. Gold-pour demonstrations usually occur during school holidays – call to verify times.
Museum of the Goldfields
The Kalgoorlie branch of the Western Australia Museum, this is a good place to learn about the region's mining history. Home to the state's largest collection of gold bars and nuggets, it also chronicles how Kalgoorlie's Outback geography – often the first stop for travellers coming west – has impacted the state's development. Permanent exhibitions include a relocated miner's cottage, opulent period-era mining office boardrooms and a Heritage-listed hotel that has been remodeled to contain exhibits and galleries. The main gallery traces the Gold Rush's influence on the area. The Gold Vault has a display of nuggets and holds half of the state's gold collection.
Kalgoorlie
Hannan Street
A great walk to do in conjunction with Heart of Gold Discovery Tour, the Heartwalk is a collection of over 60 public art murals by local artists. Jason Dimer's Kgungka Thurtu (Sister Girl) dot painting, in honour of his deceased younger sister, is a personal favourite, as is Brenton See's Freedom in Red, an ode to the spectacular flora and fauna of the Goldfields bush. A map (and kids' activity sheets) can be downloaded from the website, and many of the murals are along Hannan Street.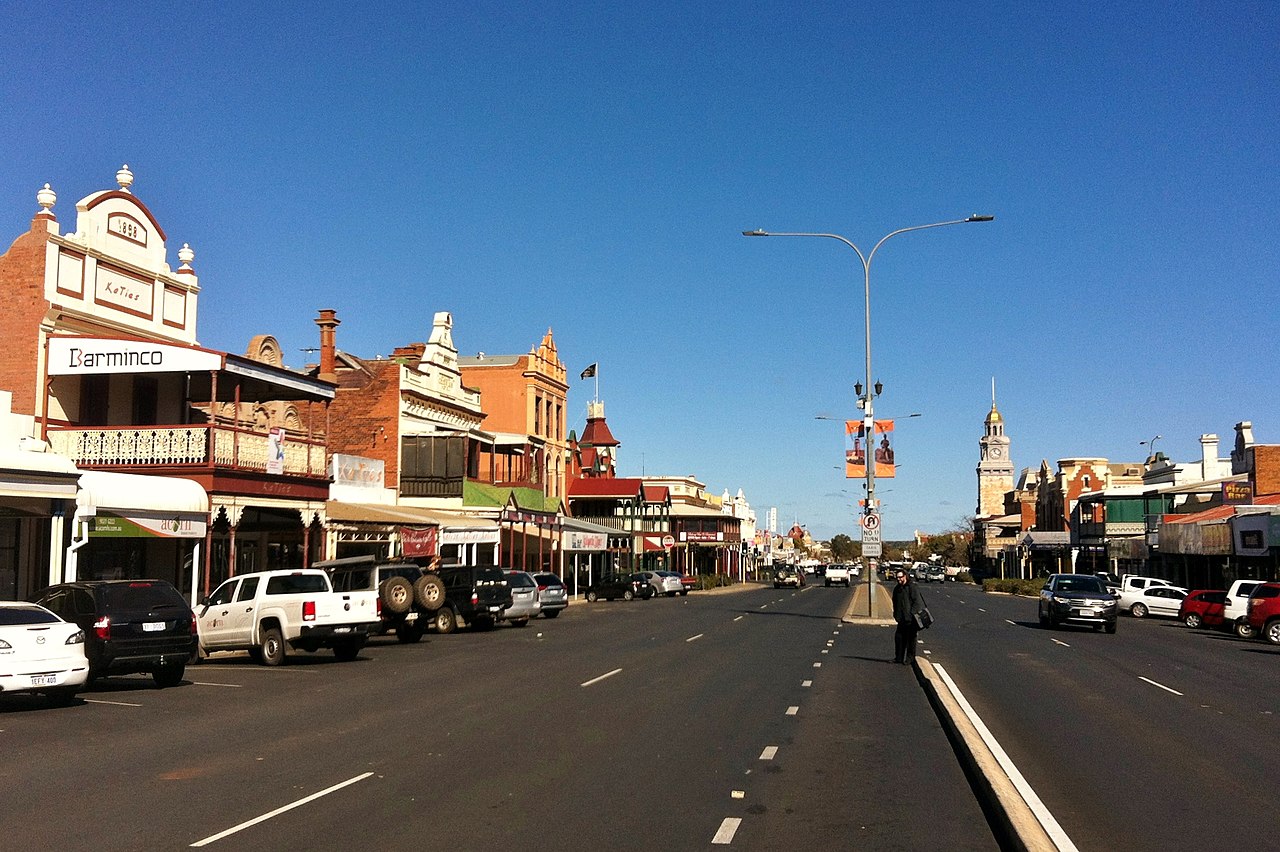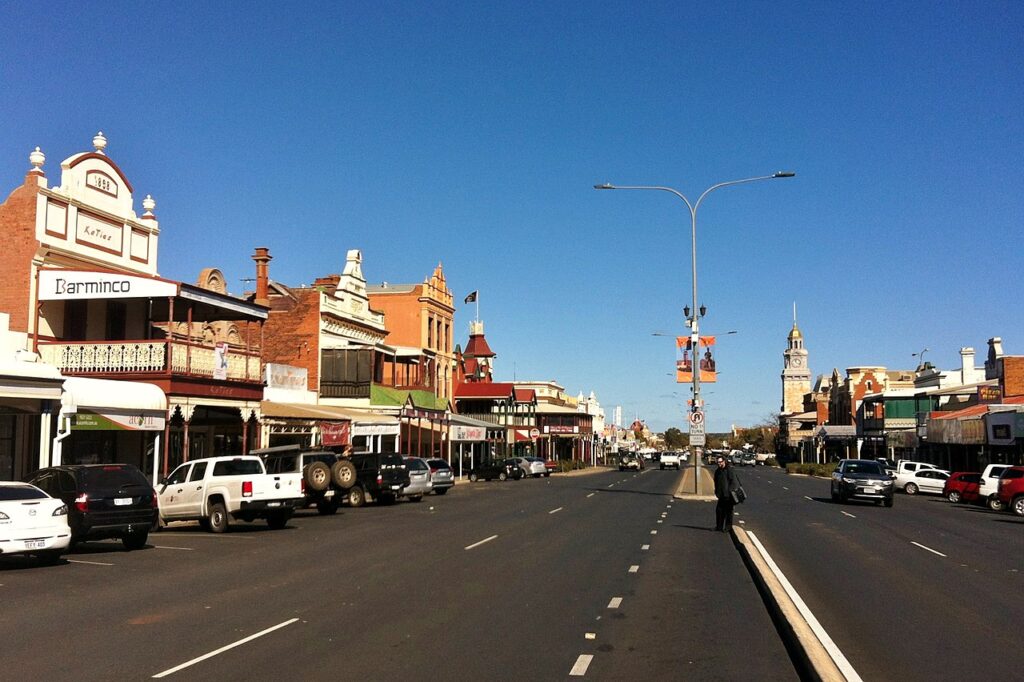 Elsewhere on Hannan Street is the Government Precinct, a Heritage-listed complex of buildings all designed by the same architect, J H Grainger, and consisting of the Old Post Office, Warden's Court, Mines Department and Courthouse. In 2013, they were amalgamated and restored into a contemporary new courthouse, at a cost of nearly A$42 million. One of the notable features of this precinct is the stately and still-functioning clock tower, built from soft pink stone and topped with a gold dome. Unfortunately, views are only from the outside looking up – it is not open to the public.
Kalgoorlie Town Hall
Continuing south along Hannan Street, you'll reach Kalgoorlie Town Hall. Though a notch below that in Boulder, it is still a very impressive sight – the powder-pink edifice of this Heritage-listed building is one of Hannan Street's most beloved local landmarks. Built as a catch-all in 1908 with theatre, council chambers and municipal offices, the upstairs foyer now hosts a local Sporting Hall of Fame. The inside foyer also has a commemorative statue of prospector Paddy Hannan.
Signpost Goldfields Racing Museum
On the grounds of the Kalgoorlie-Boulder Racing Club, this museum showcases many exhibits from horse racing including a restored hansom cab, old 'photo finish' equipment used by judges, and Melbourne Cup memorabilia. The club's website includes information about the track and a calendar of upcoming races.
Hammond Park
Just 2km north of the CBD, this park offers a peaceful retreat from the city nestled in the middle of the Outback. The ponds attract a number of local birds and you'll also spot peacocks roaming around. The grounds feature a miniature Bavarian Castle, and also a children's playground. Adjacent to the park is the dog-friendly Kalgoorlie Arboretum, set on 26ha of native bush representative of the Great Western Woodlands and featuring bushwalks through the eucalyptus; there's also a picnic area and small dam that attracts birds like red wattlebirds and mistletoe birds.
Boulder
Boulder Town Hall
The main reason to visit this part of town is to admire the magnificent, Heritage-listed Boulder Town Hall. Built in 1908, this Federation Free Classical-style building captures the spirit of the turn-of-the-century Goldfields and is truly eye-catching, with its white clock tower and verandas contrasting against the red bricks. Inside, cast-iron pillars support an elevated horseshoe-shaped seating veranda with ornate balustrade. Over the decades the hall has hosted numerous musical performances, including Victorian opera singer Dame Nellie Melba.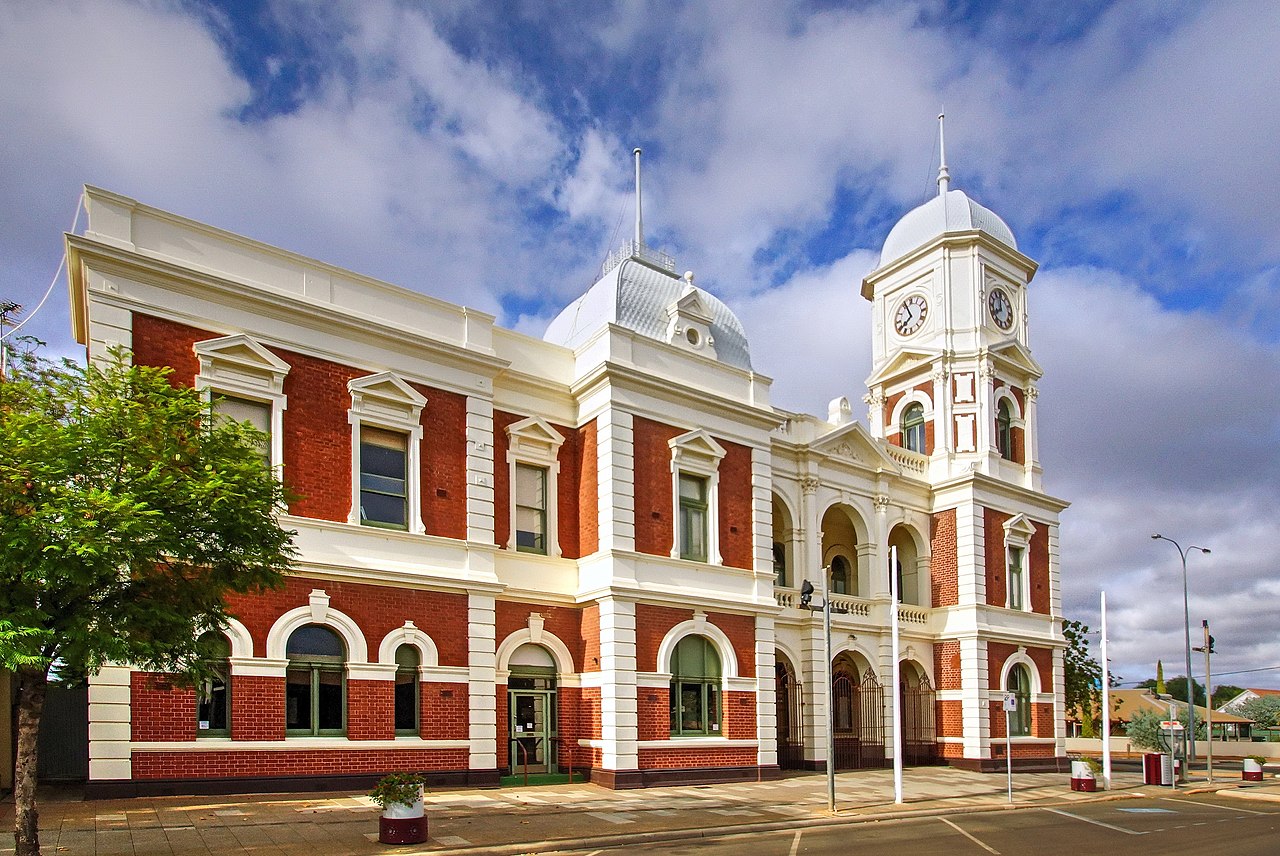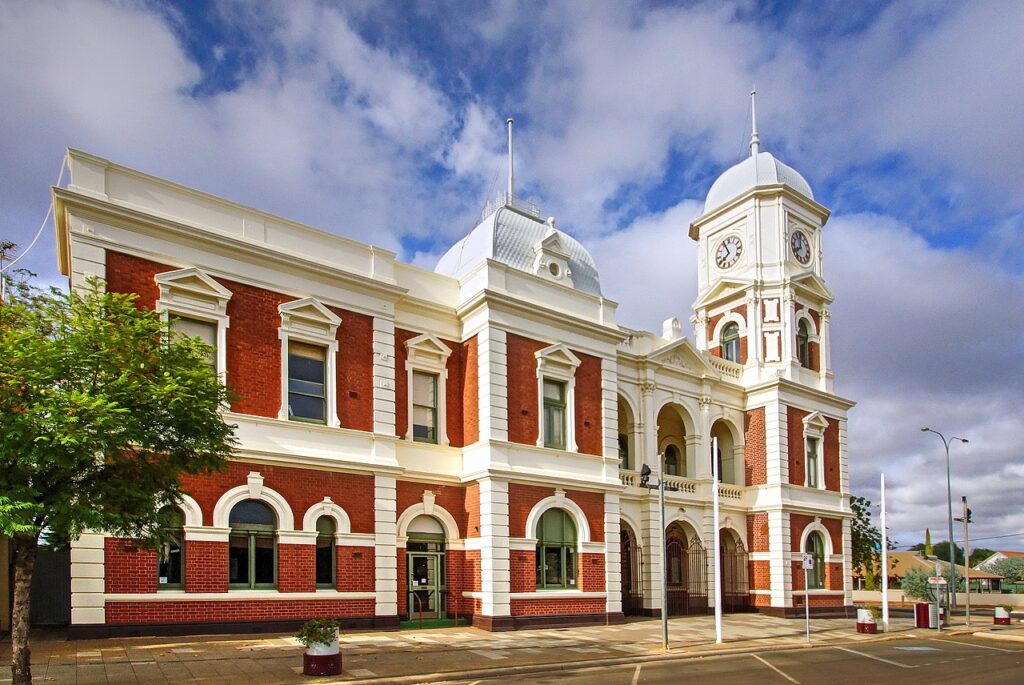 Inside the theatre is the Goatcher Curtain, considered a priceless work of art – one of the last working stage curtains in the country, it was painted by Philip Goatcher with a depiction of the Bay of Naples and Mount Vesuvius. It gets lowered on Tuesdays, Wednesdays, Thursdays and Boulder Market Days. The Town Hall also contains the Local History Archive and the Goldfields War Museum which covers the involvement of local residents in wars from the Boer War to the 21st century, though artefacts, documents and images.
Travel to Kalgoorlie-Boulder
Kalgoorlie is the terminus of the Great Eastern Highway, 600km/7 hours from Perth. It forms a T-junction with the Goldfields Highway, which travels south to Norseman (190km/2 hours) and Esperance (400km/4 hours) and north to Leonora (235km/2½ hours) and Wiluna (530km/5½ hours).
Transwa's Prospector train connects Kalgoorlie and Perth (7hrs; from $93), while Transwa coaches run to Esperance three times per week (5hrs; from A$63).
Qantas and Virgin Australia offer flights to Perth from Kalgoorlie-Boulder Airport (1hr), about 5km southwest of the Kalgoorlie CBD directly to the west of Burt Street in Boulder. You will need to take a taxi into town as there's no public bus, but it's a short enough trip.