The varying, often seemingly incompatible strands of modern Uzbek identity are all entwined here, and to understand both where Uzbekistan has come from and where it is going, you need to visit.
Too frequently passed over in favour of the Silk Road's UNESCO stars, Tashkent is a vibrant crucible of historic architecture and Islam, Soviet town planning and propaganda and 21st-century nation building. A stone's throw from the capital in Tashkent and Syr Darya viloyati (provinces), the Syr Darya River carves up the steppe and cultivated lands. To the northeast of the city, the Ugam-Chatkal National Park, with its alpine meadows and mountain forests, is a welcome natural haven among the mines, factories and infrastructure projects that are driving the Uzbek economy forwards.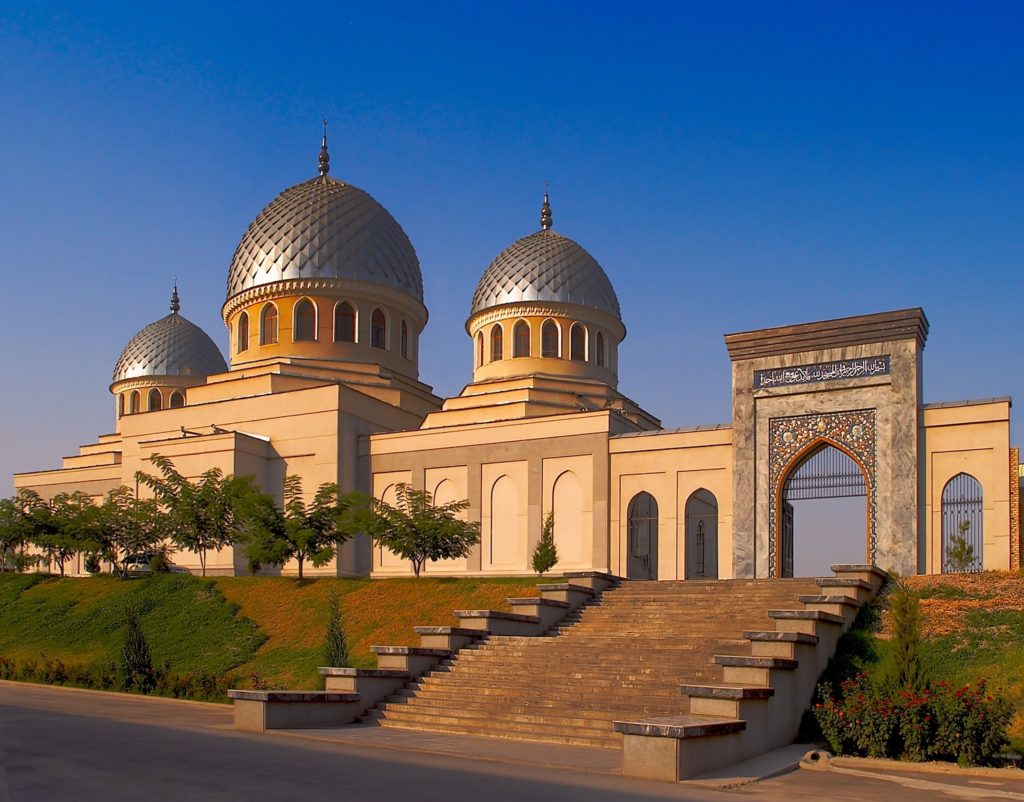 Tashkent morphs and expands with every new generation. With an official population of 2.5 million (although some estimates place it as high as 4.45 million), it is far and away the largest city in central Asia: only Kabul comes anywhere close. A stroll through any bazaar reveals the ethnic diversity of its people, with not only Uzbeks, Tajiks and Russians but also Crimean Tatars, Koreans, Bukharan Jews and other unexpected minorities each contributing to the city's cultural smorgasbord.Though first impressions may be of chaos, concrete and cars, a stroll through the backstreets of the Old City or a rummage through Chorsu Bazaar reveal an older, slower way of life that continues to underpin modernity.
Best things to see and do in Tashkent
Hazrat Imam Complex
Northeast of Chorsu Bazaar is the historical spiritual heart of Tashkent, a glimpse of what much of the city must have been like before it was levelled by the 1966 earthquake or replaced with Soviet concrete. At its heart is Hazrat Imam Square (sometimes also written as Khast Imom Square).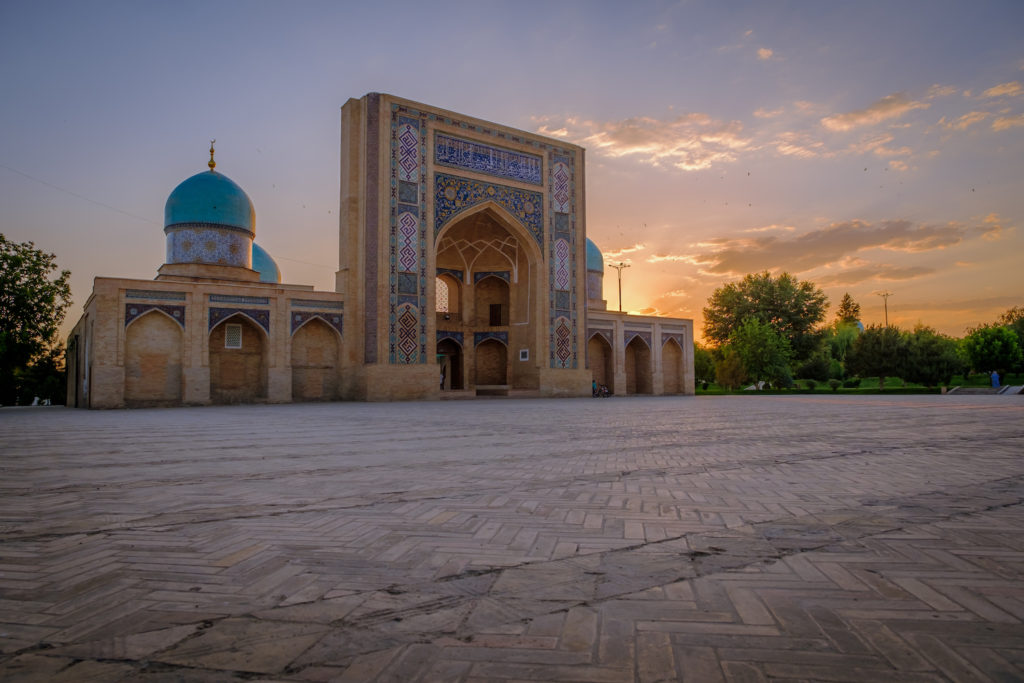 Between here and the main road is the Hazrat Imam Mosque, constructed in just four months in 2007 on the instruction of President Karimov. Then the largest mosque in the city, it was an expensive undertaking: the sandalwood columns came from India, the dark-green marble is Turkish, and the interior of the blue-tiled domes is decorated with genuine gold leaf.
Amir Timur Square
The heart of the modern city, Amir Timur Square is a lush, green space with plenty of flowers and fountains, laid out in the 1870s. Roads radiate from here to the north, east and south of Tashkent, and the city's most important buildings, both political and cultural, are concentrated on the square and in the immediate vicinity.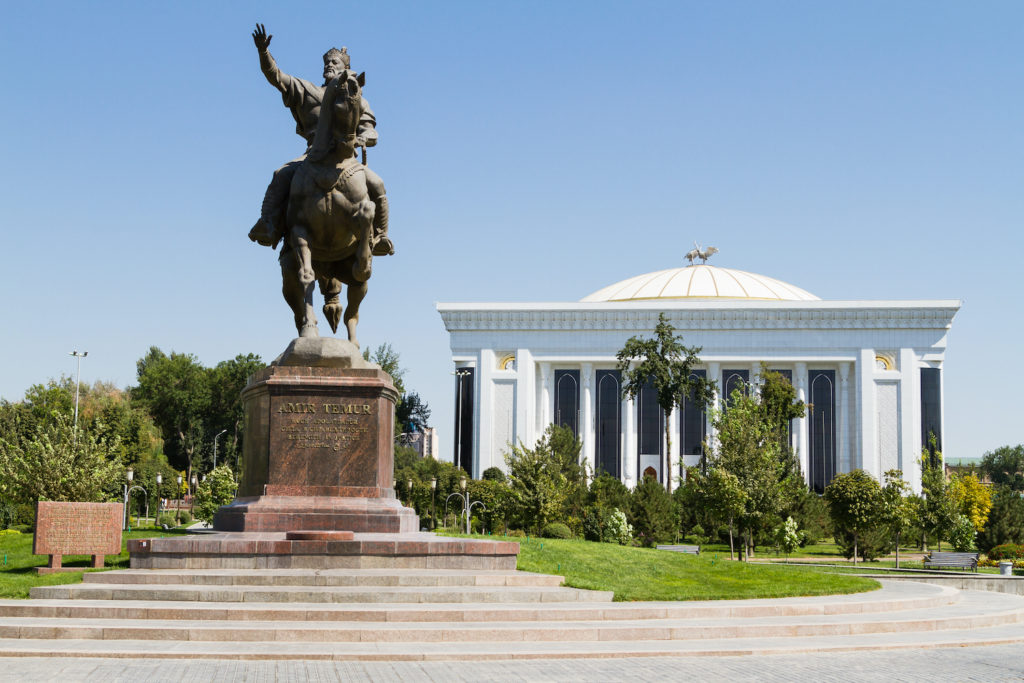 A large statue of Timur himself, sitting astride his horse and proclaiming 'strength is in justice', is the square's current centrepiece, but he is simply the latest in a long line of former residents: General von Kaufmann, Lenin, Stalin and Karl Marx all occupied this spot before him. This particular statue, a 7m-high bronze by sculptor Ilhom Jabarov weighs in at 30 tonnes and is one of three erected in Uzbekistan to commemorate the 660th anniversary of Timur's birth.
Minor Mosque
Uzbekistan's largest mosque (not minor at all), opened in 2014, sits amid broad promenades by the embankment of the Ankhor Canal, a few hundred metres west of the Minor metro station, making it a popular spot for evening strolls and people watching.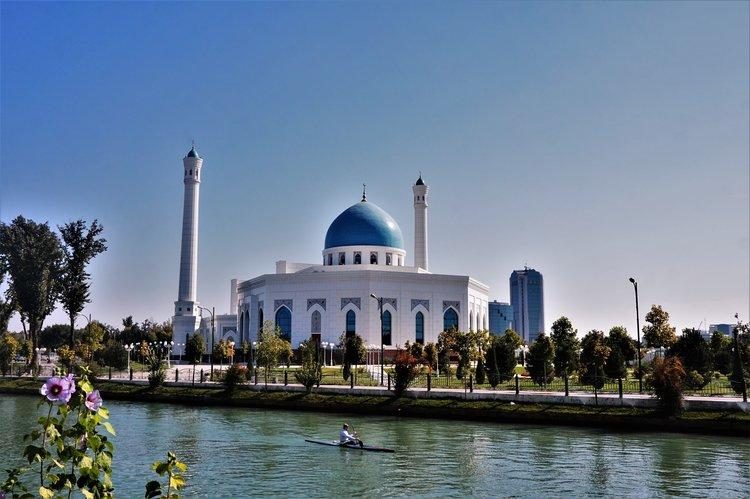 It's in traditional style but with far more white marble; the main hall with its gold-plated mihrab sits beneath a turquoise dome and the open front section brings its total capacity to over 2,400 people.
Getting to Tashkent
Tashkent's Islam Karimov International Airport, Uzbekistan's main aviation hub, is in Tashkent's southern suburbs, around 6km from Amir Timur Square. Facilities are somewhat dated – there's no ATM and the only exchange counter is before the immigration booths (to the right).
Tashkent's main railway station is south of the city centre on Turkiston, served by the Toshkent metro station. While it is possible to arrive in Uzbekistan by rail from Russia, Kazakhstan, Tajikistan or Turkmenistan, it is not a journey for the faint hearted or time-poor. Far more useful are Uzbekistan's domestic rail links, the latest fares and timetables for which are detailed here.