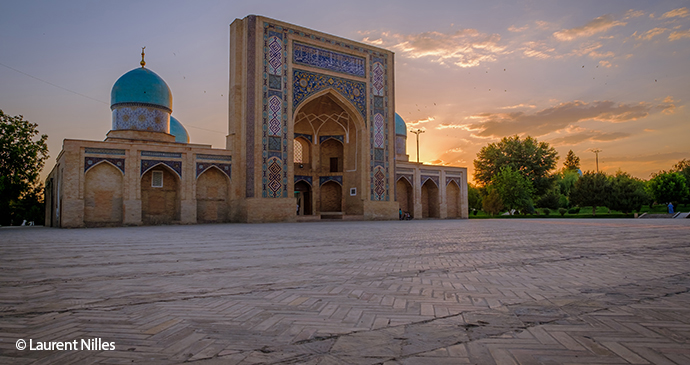 The 16th-century Barak-Khan Madrasa at Tashkent's Hazrat Imam Complex, one of the Uzbek capital's major sights © Laurent Nilles, @societyofexploration
The varying, often seemingly incompatible strands of modern Uzbek identity are all entwined here, and to understand both where Uzbekistan has come from and where it is going, you need to visit.
Too frequently passed over in favour of the Silk Road's UNESCO stars, Tashkent is a vibrant crucible of historic architecture and Islam, Soviet town planning and propaganda and 21st-century nation building. A stone's throw from the capital in Tashkent and Syr Darya viloyati (provinces), the Syr Darya River carves up the steppe and cultivated lands. To the northeast of the city, the Ugam-Chatkal National Park, with its alpine meadows and mountain forests, is a welcome natural haven among the mines, factories and infrastructure projects that are driving the Uzbek economy forwards.
Tashkent morphs and expands with every new generation. With an official population of 2.5 million (although some estimates place it as high as 4.45 million), it is far and away the largest city in central Asia: only Kabul comes anywhere close. A stroll through any bazaar reveals the ethnic diversity of its people, with not only Uzbeks, Tajiks and Russians but also Crimean Tatars, Koreans, Bukharan Jews and other unexpected minorities each contributing to the city's cultural smorgasbord.Though first impressions may be of chaos, concrete and cars, a stroll through the backstreets of the Old City or a rummage through Chorsu Bazaar reveal an older, slower way of life that continues to underpin modernity.