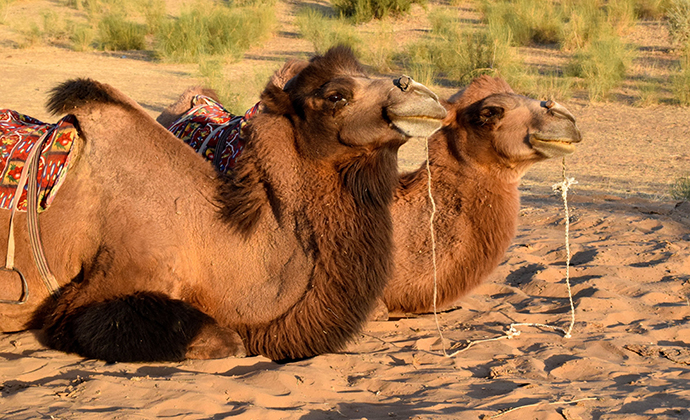 Get to know your Bactrian camel while riding across the sands of the Kyzylkum Desert © Maximum Exposure Productions
The best camel treks are around Nurata in the Kyzylkum Desert, where you can ride across the dunes well away from roads and human habitation.
Named after its red sand, it is the world's 15th-largest desert, and spreads across northern Uzbekistan and up into neighbouring Kazakhstan. Between March and May, and September and October, you can trek a circuit on foot or by camel from the village of Yangi Kazgan, just west of Lake Aidarkul; camel treks of two days or more include accommodation in the camel-hair yurts belonging to local Kazakh nomads. Expect to enjoy the best of local hospitality, from homemade bread dipped in still-steaming camel milk, to hunks of camel meat. Beds are made up on the floor from piles of rainbow-coloured blankets and rugs, and you'll often sleep cheek-by-jowl with other guests. You'll never forget the experience, and certainly won't get cold at night.
You can arrange camel trekking through a tour company or, alternatively, by approaching the camel camps directly. The first two camps to be opened, both inland from the west end of the lake near Kushkuduk and providing a high level of service, were Sputnik Camel Camp and the nearby Yangi Kazgan Yurt Camp. A couple of newer options, located close to the lake at Eski Dungalok, are Aidar Yurt Camp and Qizilqum Safari, which have permanent yurts on concrete bases, good wash blocks, electricity and hot water; a local musician usually plays by a campfire (followed by a noisy party if there's an Uzbek group staying – beware). The latest addition, on the south shore of the lake near Uchum, is Oxus Adventure Eco-Resort, which has wooden cabins as well as yurts. In all of these cases you'll pay about US$40 per person per day for accommodation, meals and a short camel ride (where you will be led, at least to begin with). The local Bactrian camels are far more comfortable to ride than Arabian dromedaries, although it's all relative. Don't expect to get too fond of your mount; camels are surprisingly hard creatures to love when you get up close and personal. Wet wipes will undoubtedly come in handy.