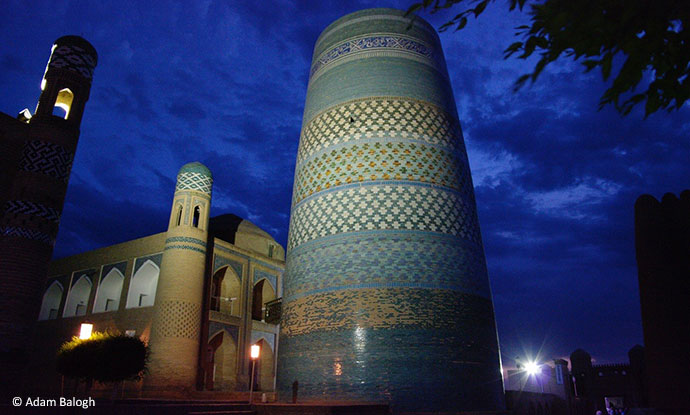 Khiva's stumpiest minaret – the Kalta Minor © Adam Balogh
This UNESCO-listed museum city is akin to a film set, with the local population sidelined in order to preserve the historic building and manicured scene to tourists.
It is rare to come across an entire city that is a museum. Though Bukhara is packed with remarkable sites it is still nonetheless a living, working city. Khiva, however, is more akin to a film set, the local population, rightly or wrongly, sidelined in order to preserve historic buildings and present a manicured scene to tourists.
Whatever you feel about such a policy, Khiva remains one of the greatest cities on the Silk Road: the Ichon Qala in particular is a labyrinth of madrasas and mosques, minarets and trading domes that, at least on the surface of it, look just as they would have done at the end of the 19th century before Soviet town planners, demolition crews and modernist architects got their hands on Uzbekistan. On a cold winter's evening, after the wedding parties have departed and the few tourists are enjoying their supper, you can be entirely alone with the ghosts of the past, wandering the narrow streets and soaking up the atmosphere. Which decade, indeed which century, you care to imagine yourself in is entirely up to you.