It is rare to come across an entire city that is a museum. Though Bukhara is packed with remarkable sites it is still nonetheless a living, working city. Khiva, however, is more akin to a film set, the local population, rightly or wrongly, sidelined in order to preserve historic buildings and present a manicured scene to tourists.
Whatever you feel about such a policy, Khiva remains one of the greatest cities on the Silk Road: the Ichon Qala in particular is a labyrinth of madrasas and mosques, minarets and trading domes that, at least on the surface of it, look just as they would have done at the end of the 19th century before Soviet town planners, demolition crews and modernist architects got their hands on Uzbekistan.
On a cold winter's evening, after the wedding parties have departed and the few tourists are enjoying their supper, you can be entirely alone with the ghosts of the past, wandering the narrow streets and soaking up the atmosphere. Which decade, indeed which century, you care to imagine yourself in is entirely up to you.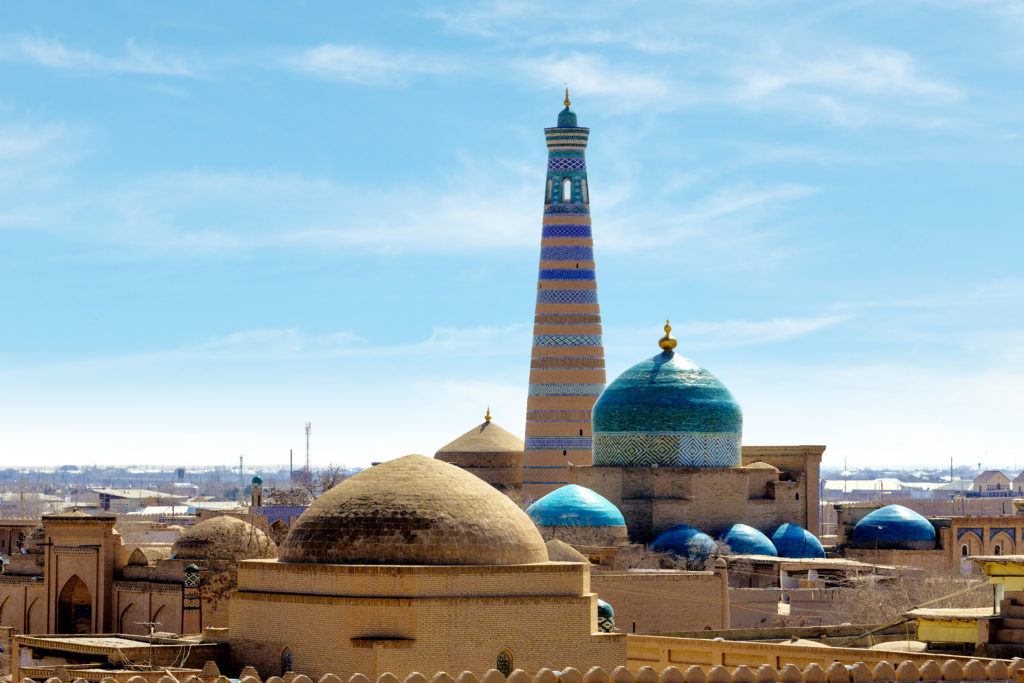 Archaeological digs in the Ichon Qala during the 1980s and early 90s uncovered a wealth of material as much as 7m below the modern ground level, and the earliest finds from these excavations suggest that the town was first inhabited between the 6th and 5th centuries bc. Legend has it that the city was founded long before this, however, as Shem, son of Noah, is said to have first marked out the city's walls.
The best things to see and do in Khiva
Ichon Qala
The heart of the Museum City, the Ichon Qala seems like a time warp. Listed as a UNESCO World Heritage Site since 1990, it is devoid of cars in its central areas, and with most of the modern infrastructure hidden from view, if you wake up and get out early, or take a walk late in the evening once the crowds have gone, then you'll capture a glimpse of Khiva in a bygone age, albeit rather cleaner.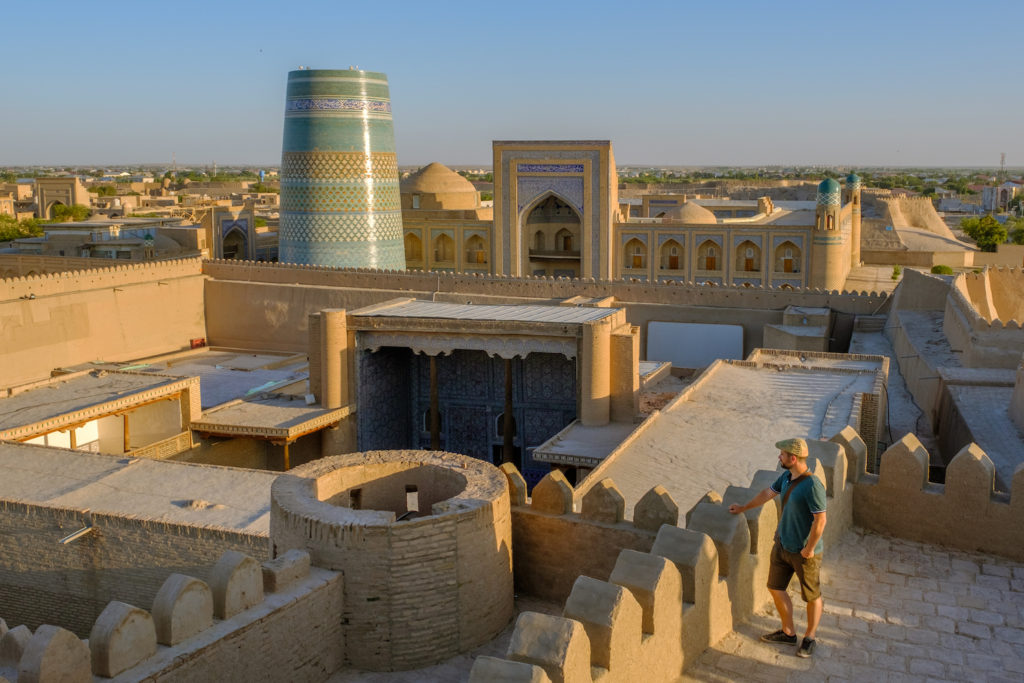 The density of sites, in particular the madrasas, means you're unlikely to be able to take everything in, and regular refreshment breaks will certainly be in order. We've tried to provide a list here of the most important sites, though as seemingly every building has a story to tell, there's no doubt you'll chance upon plenty of others as well.
City walls
The crenellated city walls were Khiva's first line of defence from medieval raiders. Some 2.2km (1.4 miles) surround the city centre, and at their most impressive point they are 10m high and 8m thick.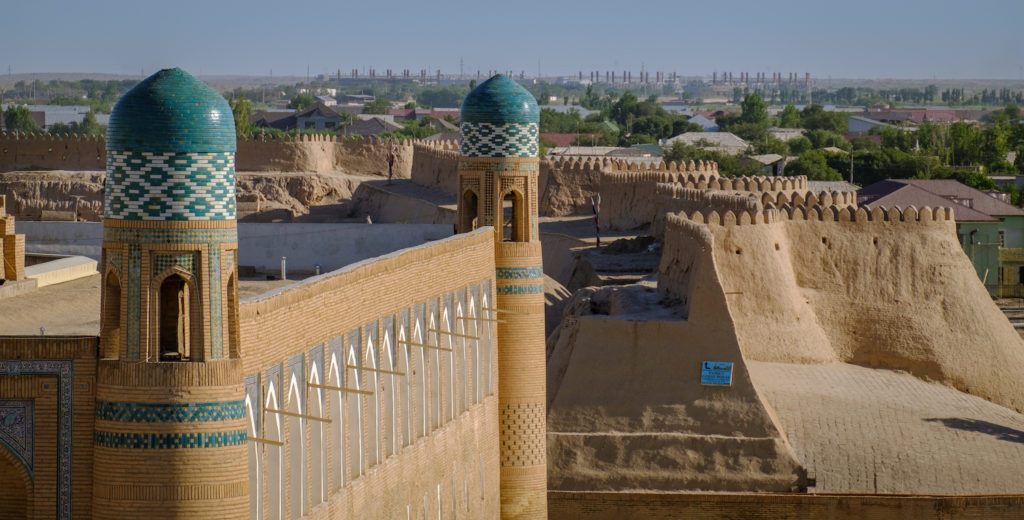 Built from adobe mud bricks, the oldest remaining sections of the walls date from the 5th century AD, though much of what you see is of far later (17th century) construction. Four substantial gateways allowed access through the walls; the sentries posted here would have been heavily armed, and closely monitored everyone and everything entering and leaving the city.
Islam Khoja Madrasa
At the start of the 20th century there were 65 madrasas in Khiva, 54 of them within the city walls. In many ways, madrasas are to Khiva as university colleges are to Oxford or Cambridge – being higher education institutions where teachers and students lived and worked together. As such, the city was a hotbed for religious education and religious debate, and its wealthier residents bid to outdo each other by building larger, richer and more elaborate madrasas.
The striking turquoise Islam Khoja Madrasa is a surprisingly late construction: it was completed only in 1908. Its founder, Islam Khoja, was grand vizier to the khan and an active educationalist. He introduced several educational reforms, endowed schools and hospitals, and his pièce de résistance is this building.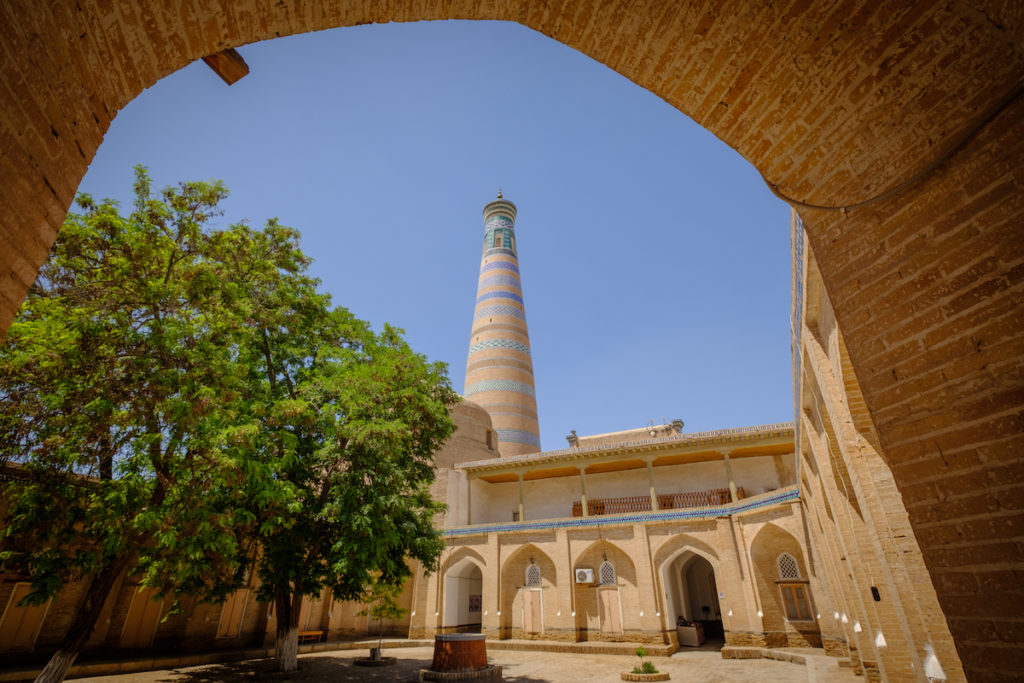 Sadly, the completion of the project is tied up in tragedy: Islam Khoja was assassinated in 1913 and the madrasa's architect was buried alive by Emir Isfandiyar Khan as a potential witness to the murder.
The 42 rooms of the madrasa now house the Museum of Applied Arts. Though the selection of artefacts is not of such high quality as in similar museums in Tashkent and Bukhara, there are still some interesting examples of royal costume, metalwork, leather goods, tiles and carved marble.
Kalta Minar
Fourteen minarets have survived in the centre of Khiva. They were constructed so that the muezzin might climb the stairs to call the faithful to prayer five times each day, his voice carrying on the breeze across the city.
Every postcard of Khiva seems to be illustrated with a photo of the Kalta Minar. This stumpy, but still eye-catching, green-and-turquoise landmark was intended to be the tallest minaret in central Asia: its patron, Muhammad Amin Khan, planned for it to be at least 70m tall, allegedly so that you could see Bukhara from the top. Sadly, it was not to be. Muhammad was murdered (page 263) before the minaret was complete and the architect responsible for the project fled.
Getting to Khiva
Urgench is the regional transport hub, and wherever in Uzbekistan you are coming from, you will pass through there. However, in 2018, trains began running from Tashkent, Samarkand, Bukhara and Urgench to Khiva's new station, about 1km east of the Old Town.
From Urgench to Khiva it is just 35km, and by car it takes just 30–40 minutes. You will pay around US$12 for a taxi, and US$2 for a seat in a shared taxi or minibus. You can pick these up from Beruni in Urgench; they drop you at the North Gate of Khiva's Old Town.