Meaning 'the crossroads', Chorsu Bazaar is the commercial heart of Tashkent and has been for hundreds of years. Originally open to the air (as parts of it still are today), the maze of covered stalls was largely cleared away in the mid 20th century. In their place Soviet architects designed and built vast mosaic-covered domes, blue & turquoise space bubbles that still protect merchants and their goods from the elements and give the bazaar's skyline its distinctive shape.
Each dome or area of the market houses a different type of merchandise: take a stroll around the dried fruit and nut stands if you want to try plenty of free samples but beware of the dried cheese balls: they're something of an acquired taste. If you have the time to hunt, almost everything is for sale here: plastic Chinese household goods battle for attention with hand-painted ceramics and fox fur hats, almost-antique nick-nacks, dried fruits and imported car parts in varying states of decay.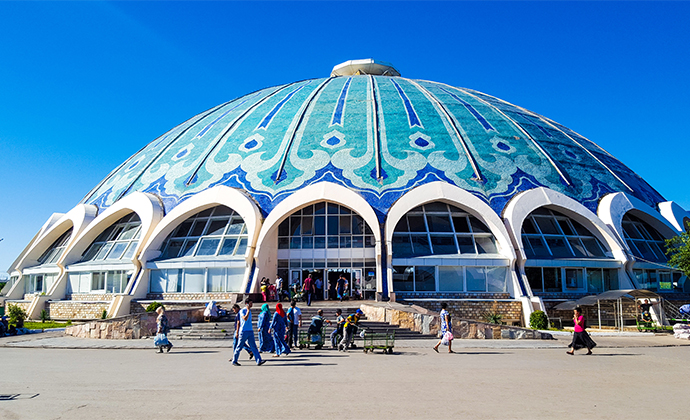 You can of course buy a trailer-load of watermelons and 300 plastic buckets, but the real delight comes in spending an hour or three exploring the trading domes, drinking bowls of fragrant black tea, smelling the shashlik grilling and engaging in an animated, good-natured haggle for a bag of salted pistachios and a fresh, pink pomegranate. Come here for some well-placed souvenirs, including a wide selection of ceramics, and the best people-watching in Tashkent.
The market is liveliest first thing in the morning when the wholesale deliveries are made, and the cheap chai and kebab stalls provide ample sustenance while you watch the world go by. Come here to get a feel for 'real' Tashkent and an echo of Silk Road trade in centuries past.