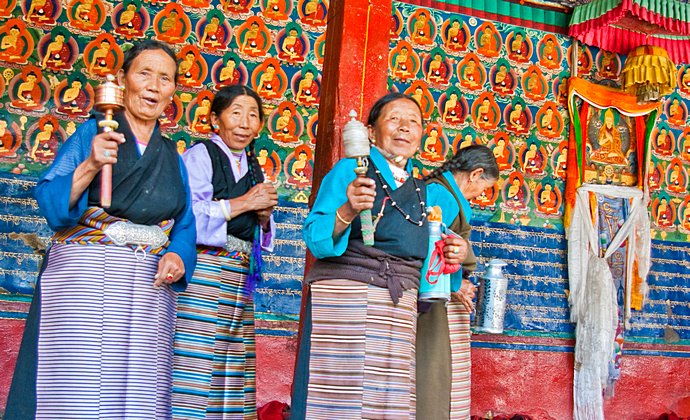 Tashilhunpo Monastery, the traditional seat of successive Panchen Lamas, draws many pilgrims © Antoine Taveneaux CC-BY-SA
Tashilhunpo Monastery at Shigatse offers well-preserved temple architecture with some very impressive statuary.
The Tashilhunpo is the seat of the Panchen Lama, a topic that raises blood pressures on all sides. The monastery is highly sensitive because of the controversy surrounding the 11th Panchen Lama. Pictures of the Chinese-appointed 11th Panchen Lama abound as icons at the monastery, but that's about all you'll see of him – he is sequestered in Beijing, supposedly for reasons of education. However, in 2016, he was conscripted to conduct a Kalachakra Empowerment in Shigatse – a ritual that is more often associated with the Dalai Lama. Obviously, Beijing is trying to boost the profile of China's chosen Panchen Lama. The Dalai Lama's choice of Panchen Lama has been missing in action since 1995, along with his entire family.
There are monk-stooges hanging about: take care what you do or say here. Tashilhunpo is immense, a monastic city with temples, assembly halls, living quarters and administrative offices. At its height, it housed up to 5,000 monks. Today, the figure is probably closer to 700.