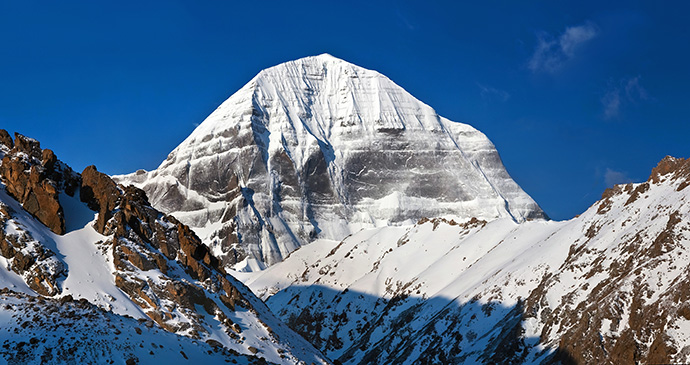 Mount Kailash is a 6,638m peak in western Tibet © Zzvet, Shutterstock
The trek around the sacred mountain of Kailash Kora is Tibet's top pilgrimage draw. Among the pilgrims, Tibetans from many different nomad groups sport a fascinating array of costumes.
The circuit around the sacred mountain is known as the Kailash kora. Tibetans complete the circuit in one long day, starting before dawn and finishing after nightfall. Unless you are super-humanoid, don't attempt this at altitude. The minimum time for most Westerners to complete the circuit would be two days. Most allow three to four days. If you have a tent and want to dawdle, taking in the landscape at a leisurely pace, plan on five days or more. An annoying Y180 fee is levied for the Kailash kora for each trekker. There is a checkpoint about 250m past Darchen to check your ticket – if you don't have a ticket, you can buy one there. Porters for the trek can be arranged through a government office for about Y260 a day, or Y780 for the three-day trek. Trekkers should tip the porter at least Y100 at the conclusion of the trek.
What price for accumulating merit? There are rumours of a fast track for doing this: there is ominous talk of the Chinese building a motor road around Kailash, presumably with a toll gate.
In group-tour arrangements, porters or yaks (or both) are deployed to carry camping gear and guest duffle bags. The group tours sleep in tents close to monastery guesthouses. Previously, individuals could stay in the monastery guesthouses on the kora, but that option seems to have closed down. Don't expect much in the way of food on the circuit, although there may be some teahouse tents along the way. Sometimes the gompa guesthouses sell noodles. A clean water supply is essential, so take water bottles and filtering devices (water can also be boiled).
Fellow hikers at Kailash are mainly Indian and Tibetan pilgrims. The Tibetans come from as far away as Kham, usually arriving by 'pilgrim truck'. Tibetan pilgrims comprise many different nomad groups with a fascinating array of costumes, particularly the women. Women coat their faces in tocha – a cosmetic made of concentrated buttermilk or roots – to protect the skin from dryness and UV rays. Indian pilgrims come as part of a lottery system run by the Delhi government, in operation since the early 1980s. Each year, up to 10,000 Hindus from all parts of India apply. Finalists are chosen and, after fitness tests, this number is whittled down to about a thousand. Hindu pilgrims are allowed ten days in Tibet. Travelling in groups of around 35, the lucky lottery winners walk across Lipu Lek pass where they are met by Chinese guides and the sacred circuit of their dreams gets under way. However, these lottery pilgrims are dwarfed in number by those wealthier Indian pilgrims who reach Kailash as part of 4×4 convoys.