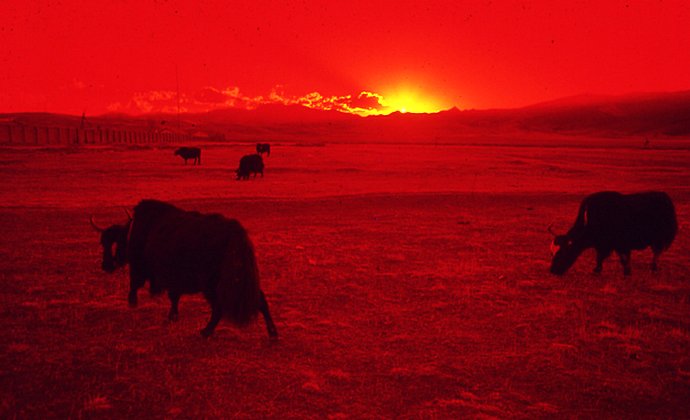 The Litang area is characterised by beautiful grasslands © Pablomielniezuk CC-BY-SA
The grasslands around Litang and Tagong offer a chance to see the fast-disappearing Tibetan nomad culture.
Litang is a town with a dusty high street lined with bland Chinese shops and small businesses. It is best used as a launching pad to visit the nearby grasslands and see nomad herders. Club together with other travellers and rent a minivan for the day for Y500 or so.
Litang's claim to fame is the annual horse-racing festival, which takes place on nearby grasslands in the first week of August. It was started up by Chinese officials to boost tourism, with fixed dates from 1 to 7 August. On 1 August 2007, a nomad called Rungye Adak snatched the microphone at centre stage and delivered a short speech about nomad grazing problems, about freedom of religion, and about the return of the Dalai Lama. He was promptly arrested and sentenced to eight years in jail. The festival was suspended for ten years but resumed in August 2017. This is the biggest horseracing festival in the region; there may be other smaller festivals in nearby grasslands.
Around the town, Litang Gompa is worth the visit. Litang was a hotbed of resistance to Chinese rule, and the monastery was bombed and strafed by Chinese planes in 1956. It has since been rebuilt and is fairly active. On the outskirts of town at a hilly spot is a sky burial site. Some hotels drive guests over to witness the ceremony (assuming there is a body that day), charging Y100 for each tourist. This macabre form of profit-making needs to be discouraged out of respect for the Tibetans. You can hike to the spot yourself, or can arrange to have your driver get there in the morning before going out on a day trip to the grasslands. Do not attempt to take photographs at the sky burial site.
Going from Litang to Tagong, you're on Highway G318, the southern and most-used overland route between Chengdu and Lhasa. Numerous high passes and steep drops into valley bottoms make this a very challenging highway no matter which direction you head from Litang. Some 18km east out of Litang you have the option of a shortcut north via Xinlong to Ganzi in the northwest corner of Sichuan. The main highway east twists up into high country, culminating in a 4,487m pass before a wild descent into a forested valley and the city of Yajiang on the Yalong River, a major tributary of the Yangtse. A climb over a 4,475m pass brings you to a highway junction in a wide valley just before Xinduqiao, a trading town. The northern branch of the Sichuan–Tibet Highway branches off here; turn on to it for Tagong, just a short 33km jaunt north up the valley, which narrows to a little gorge before opening on to the Tagong Grasslands.
The gorgeous setting at 3,750m and a handful of Westerner-friendly guesthouses and restaurants have made Tagong a traveller's centre, though it's small scale. The temple is well worth a visit with three main chapels full of Tibetan artwork, a chorten field behind, and a kora lined with prayer wheels. The Tagong area has many good walks among the high, grassy hills to temples, a stupa and viewpoints. If your timing is right (end of summer on lunar calendar) you might catch the annual horse-racing festival of Tagong, which is staged on grasslands about 40 minutes' drive away. And that could be also the time that the annual Cham dancing is staged in the courtyard of the beautiful temple at the centre of Tagong.