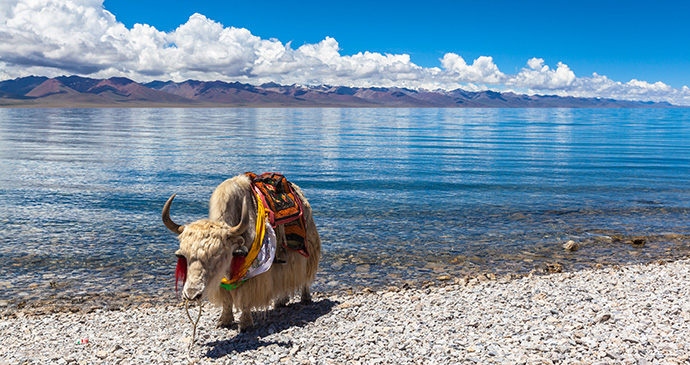 At 1,920km2 in surface area, the salt lake of Namtso is the largest lake in Tibet © Peter Stein, Shutterstock
Namtso is a sacred lake: there are cave-temples, shrines, hermitages and a nunnery for contemplation at Tashi Dor.
Some 40km from Damxung is Lake Namtso, reached by two routes – in a 4×4 you can enter one way (motoring over Largeh La, 5,180m) and leave by another route (over Kong La, 5,150m). At a tollgate near Damxung, a Y120 per person entry charge is levied to enter Namtso Lake Nature Reserve (this tariff drops to Y60 for the November to April period). Driving on the paved road over Largeh La, it takes an hour to reach Lake Namtso: the road runs through a grassland valley, with the odd nomad encampment visible, and herds of yaks, sheep and goats roaming around. For the nomads, life is dependent on yaks: they live in yak-hair tents and use yak dung as their main fuel source. Some travellers trek into Lake Namtso – a tough hike taking 12 hours (one-way).
Overnighting at Tashi Dor is recommended because bus tours from Lhasa can overwhelm the area during the day: if you stay overnight, it's more tranquil when you take in sunset and sunrise. There are several possibilities for basic lodging at Namtso. The area close to Tashi Dor is crowded with tent guesthouses and metal or thin wooden shacks, each charging about Y50 a bed. Some group tours bring their own tents and camp out. Further back from the lake is a more permanent structure where guests can stay. There are some teahouse-type restaurants operating out of tents, selling soup or noodles. Bring extra food, a flashlight and a good sleeping bag if you can – nights are freezing. There is private generator lighting and electrical supply for a few hours at night.
Namtso is a sacred lake: there are cave-temples, shrines, hermitages and a nunnery for contemplation at Tashi Dor. That is, assuming you can get away from the annoying vendors of cheap jewellery and other shoddy wares, and those intent on talking you into posing with various animals for photos (for which you pay, of course). Two large rock towers near the nunnery are considered to be sentinels for the region. It's worth spending a day or more exploring the area, hiking in the hills around Tashi Dor, and poking around the cave-temples. Hermits from the Kagyu and Nyingma sects occasionally occupy the caves in the area. The beautiful turquoise hues of the lake are a source of inspiration, and the vistas will redefine your sense of space. In the distance, to the south, the 7,088m snow cap of Mount Nyenchen Tanglha looms up, along with the range of the same name. A walking circuit of Namtso is a tall order indeed. The lake is roughly 70km long and 30km wide, with a surface area of 1,940km2: it takes nomad pilgrims up to 20 days to circle it. A short walk to the east of Tashi Dor is a site that operates as a bird sanctuary –between April and November there are good chances of sighting migratory flocks, including, if you're lucky, the black-necked crane.