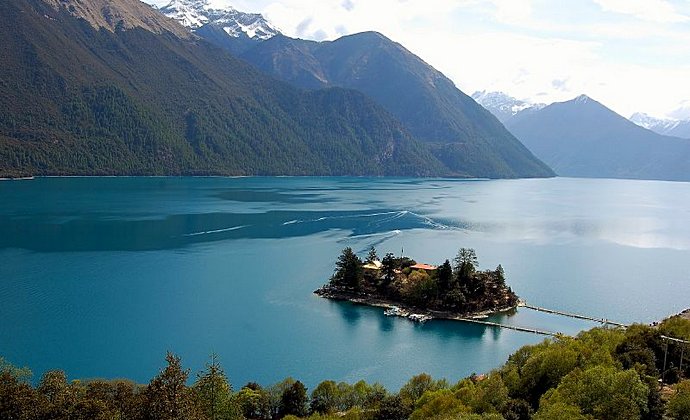 The green area of Lake Basum Tso has been called Tibet's 'Little Switzerland' © Gao CC-BY
Amid beautiful scenery, the ethereal alpine lake of Basum Tso is associated with the legend of King Gesar of Ling, Tibet's epic poem.
About 280km east from Lhasa and 48km east of Kongpo Gyamda is a turn-off northward, leading another 47km on a paved road to Basum Tso (Basong Tso, Draksum Tso; 3,470m). The lake can be reached in 5–6 hours' drive from Lhasa. From the other direction, the lake is 125km from Bayi.
Basum Tso has been granted top-level tourism status by the PRC, meaning it will invariably be flooded with Chinese tourists. This ethereal lake is associated with the legend of King Gesar of Ling, Tibet's epic poem. You can visit enchanting Tsodzong Gompa, on a tiny island reached by a pontoon walkway. This small gompa was rebuilt by Dudjom Rinpoche, the highest-ranking Nyingmapa lama from the Kongpo area. Dudjom Rinpoche died in exile in 1987. Several nuns look after Tsodzong Gompa. The entrance to the lake is located 4km before the actual lake. From here, you can walk or take a shuttle bus to the lake visitor centre, just before the bridge leading to Tsodzong Gompa.
There is a two-day pilgrim circuit around the lake, but modern pilgrims don't bother – they just take a speedboat for an hour to reach the sacred spots up one end of the lake. There is a landing spot up the far end where you disembark and walk inland to a waterfall site where pilgrims rub themselves against revered stones and squeeze into impossible cave crevices.