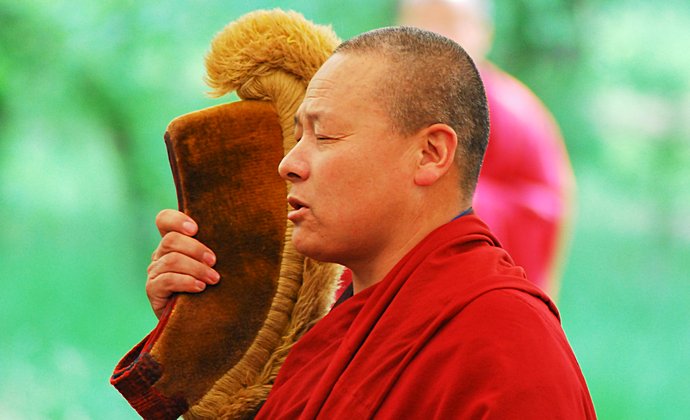 The number of monks at Labrang Monastery fluctuates but there are usually around 2,000 © Shizhao CC-BY-SA
Founded in 1709, Labrang Monastery is the largest in east Tibet and one of the six great Gelukpa monasteries.
Labrang Monastery was founded in 1709 and rapidly grew to become one of the six great Gelukpa monasteries. The main assembly hall was rebuilt after being destroyed by fire in 1985, but most of the other halls survived the Cultural Revolution relatively intact, and contain beautiful works of art. You will most likely see elaborate yak-butter sculptures. The monks' quarters have been rebuilt in recent years and some are spacious and comfortable. A 3km kora lined with prayer wheels surrounds the complex and is well worth the walk. The temples and colleges of Labrang can only be visited on a morning or afternoon official tour. Labrang acts as a major teaching centre and monks come from not only the 108 satellite gompas scattered throughout nearby counties, but also from central Tibet and Mongolia. Thus the number of monks is somewhat fluid, although there are likely to be around 2,000 here. There is also a small nunnery and Nyingma temple on the far side of the complex. You can be sure that with such a large contingent of monks, the Chinese keep a close eye on proceedings. Surveillance was stepped up upon the arrival of the Chinese-appointed Panchen Lama to take up residence in 2011 – in an attempt to legitimise his religious role.
At a cool 2,900m, Xiahe makes an excellent base for hiking. Foreigners tend to stay longer than intended at Labrang, not only because of the monastery and Western food, but also because of the opportunity to see the surrounding hills and grasslands. Bikes can be hired to reach the Sangke grasslands region, where picnics are available in Tibetan-style tents, and where horses can be hired. The nearby hills offer good opportunities for day walks, and you may be offered butter tea and yoghurt if you reach the nomad camps higher up, but beware of dogs! The most vicious dogs are chained up, but some of the others do present a serious danger if you enter their territory unbidden. Carry a walking stick, some stones or a gokor (a lump of lead on a string) if you plan to visit these areas. The dogs around the monastery are generally very docile, but still should not be approached.