Discovered in the mid 20th century, this UNESCO World Heritage Site is wonderfully preserved, allowing visitors to walk through the same doorways that stood there almost 5,000 years before.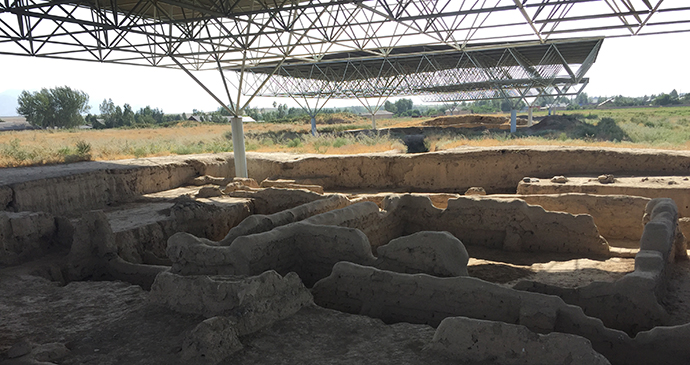 One of the world's oldest cities, Sarazm is definitely worth the trip © Kalpak Travel, www.kalpak-travel.com
Some 15km west of Panjakent, just before the closed Uzbek border, are the impressive ruins of one of Tajikistan's other great archaeological sites: Sarazm. Discovered in 1976 by the Soviet archaeologist Abdullojon Isakov, it is remarkable for both its size and its antiquity. Sarazm is an open-air site so there are no fixed opening times, and no entrance fee. Local people may appear to 'guide' you around the site, in which case give them a small donation for their time.
Known by archaeologists as a 'proto-urban site' because of its status as one of the world's oldest cities, the Sarazm settlement originally spread across 130ha. Carbon dating confirms it was already inhabited by 3500BC, peaking at the start of the Bronze Age when it was likely the largest metallurgical centre in central Asia. It thrived until the 3rd millennium BC and was added to UNESCO's list of World Heritage Sites in 2010 in recognition of its historical significance, the first UNESCO site in Tajikistan. The name 'Sarazm' means 'where the land begins', and for several millennia the settlement served as a great centre of trade and industry, producing handicrafts, tools and other artefacts that were sold and utilised throughout the ancient world.
The archaeological excavation at Sarazm is divided into three main areas, each covered by a corrugated roof to protect it from the elements. The walls of the different buildings are superbly preserved: you can easily still walk through their doorways and follow the grids of streets, imagining that you are bringing agricultural goods to market from your family's farm, or that you're an urbane city dweller taking to the pavements for a bit of socialising.
As with ancient Panjakent, Sarazm's most important archaeological finds have been removed to major museums in Dushanbe and abroad, but a small collection is still housed in the adjoining, almost hidden Sarazm Museum. The artefacts demonstrate this was a well-developed city with sophisticated agriculture, metallurgy (bronze, copper and precious metals) and craftsmanship, and that it had trading partners as far afield as Iran and India.
From Panjakent, minibus #3 can take visitors from any point along Rudaki west towards Sarazm and the now-closed border just beyond. The half-hour trip should cost no more than TJS5. You can see the protective roofs over the site to the north of the road as you approach. It is advisable to plan your trip for earlier in the day, as minibuses returning to Panjakent become scarce in the afternoon.