One of Tajikistan's largest and wealthiest cities, Khujand has an almost cosmopolitan air and it bears the weight of its turbulent history well. Parks and monuments have all been sensitively restored, the bazaar is one of the liveliest in central Asia, and the mighty river, Syr Darya (Jaxartes), is a striking urban centrepiece. The well-paved streets, commercial centres and modern airport all reflect the city's relative prosperity and solid position as an economic engine in the Fergana Valley.
Khujand feels much friendlier and relaxed than Dushanbe, having a compact centre where it's impossible to escape the smell of its infamous shashlik, and many an hour can be whiled away people watching from the pavement restaurants and cafés.
While its most famous monuments are centuries old, they are starting to be rivalled by newer attractions such as the cable car, opened in 2019, and the increasing number of boat trips being offered down the sparkling clear river.
The best things to see in Khujand
Sheik Muslihiddin Mosque
The fairly modern Sheik Muslihiddin Mosque is the city's largest place of worship and cuts a striking figure on the skyline: the intricate portico, tiled minaret and turquoise domes would not look out of place in Bukhara or Samarkand. There is an attractive 19th-century minaret made of baked-mud bricks. It stands 21m tall and is a particularly popular resting place for the local pigeon population.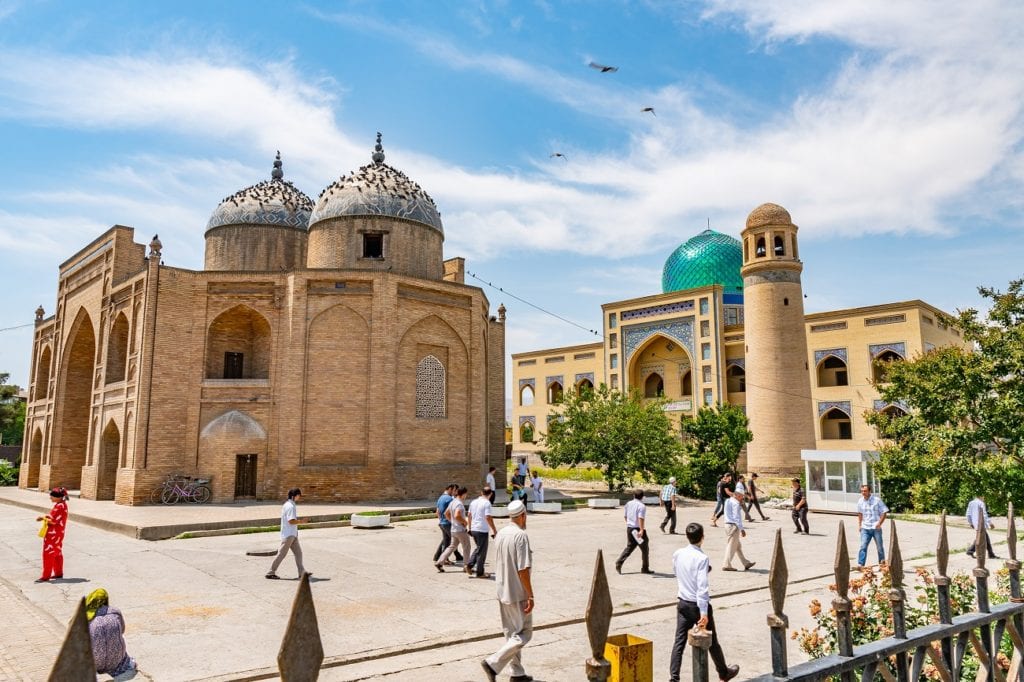 Sheik Muslihiddin (1133–1223) is buried in the 14th-century gilded mausoleum on the same site. He was a holy poet come miracle worker who was revered by local people. Originally buried in the suburbs, his remains were moved here shortly before the Mongol invasion. The mud-brick tomb and its contents were burned by the Mongols and completely destroyed, so the mausoleum you see today dates from two later periods of construction in the 14th and 16th centuries respectively.
Panjshanbe Bazaar
On the opposite side of the square to the mosque is Panjshanbe Bazaar, Khujand's central market. The vast pink edifice with its attractive white plasterwork and central semi-dome looks as if it should be the set for a fairy-tale wedding or an 18th-century royal ball, but it in fact dates from 1964 and was always intended to house market traders and their wares.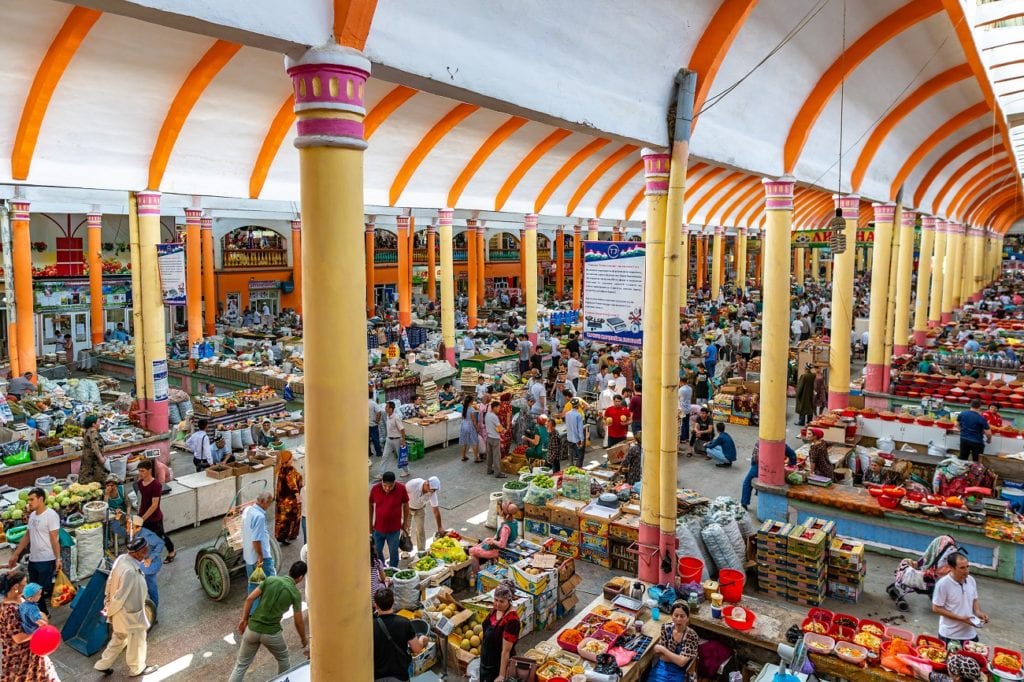 Climbing the stairs to the right of the main entrance enables you to get a closer look at the beautifully painted ceiling, and also offers a good vantage point for photographs across the square. The market itself has a lively atmosphere, particularly in the morning, and you'll scarcely be able to set foot among the fruit stalls before someone will accost you with a slice of melon or handful of pomegranate seeds to try.
Every kind of good is for sale here, and the hours fly by as you rummage around, engage in riotous charades and buy all sorts of things you never knew you needed. It's a great place for people watching, and the market traders are friendly, always keen to chat and pose for photographs.
Khujand Fortress
A short distance west of Ismoili Somoni is Victory Square (also called Pushkin Square) and the historic centre of the city: Khujand Fortress. Archaeological excavations on the site have unearthed Graeco- Bactrian coins, pottery shards and other items which date the earliest parts of the citadel to the 4th century bc. Many of these are displayed in the museum.
The fortress was continually rebuilt and expanded for 2,500 years, however, as every time it was attacked, significant reconstruction was required. It reached its greatest extent in the 13th century, with thick clay walls atop an embankment, a water-filled moat, and a city wall encompassing 20ha of land, but even then it was no match for Genghis Khan. The Mongols completely destroyed the fortress.
Cable car
Kamoli Khujand Park is home to one of Khujand's newest tourist attractions, a cable car taking you on a slow and graceful journey over the Syr Darya, with an optional stop on the north side of the river. VIP carriages offer the opportunity to relax and enjoy the view while sitting on a sofa.
Travelling to Khujand
Khujand's airport is 15km south of the city and can be reached by taking the #80 minibus from Panjshanbe Bazaar. It offers a surprisingly good range of routes, including a regular Somon Air flight to Dushanbe as well as services to Moscow, St Petersburg, Sochi, Orenburg and Yekaterinburg.
Khujand is one of the few cities in Tajikistan to still have a functioning rail service, albeit infrequent. There is a Wednesday train to Moscow, which takes just over three days. There are 21 stops in three countries (Uzbekistan, Kazakhstan and Russia), including a stop in Samarkand. Tickets can be bought at the station in Khujand, and also at stations in Isfara, Konibodom, Spitamen, Panjakent (e-tickets) and Jabor Rasulov, though the train itself doesn't stop there.