Gateway to the mighty Oxus River, this small town boasts one of the most perfect settings in the country.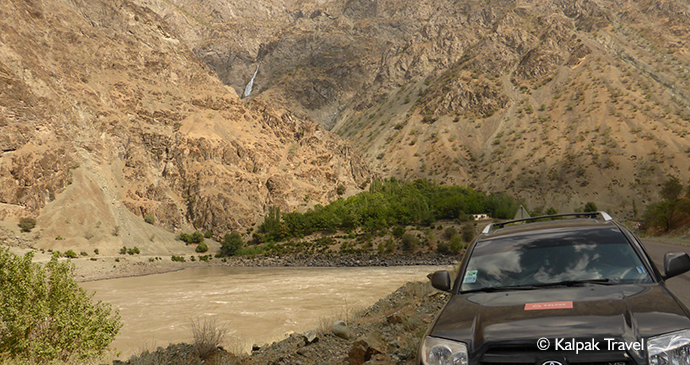 Paddle in the mighty Panj River at Kalaikhum © Kalpak Travel, www.kalpak-travel.com
Kalaikhum's alternative name, Darvaz, means 'gateway', which is fitting as this is undoubtedly the gateway to the Pamirs. The town is at an altitude of 1,200m, and the Panj River changes direction here, making a gigantic U-turn, with Tajikistan to the north and Afghanistan, now just spitting distance away, to the south.
Few people seem to live in Kalaikhum, but everyone passes through. The chaykhona on the bridge, scruffy as it is, has one of the most perfect settings in Tajikistan, poised overlooking the confluence of the Panj and Khumbob rivers. The shashlik is really rather good, and the break from the journey welcome. We've spent several happy hours here watching the waters swirl and small, semi-clad boys dive off the rocks for what must be one of the chilliest baths around. If you need to stay the night, there are several homestays nearby: ask at the chaykhona, or book in advance through PECTA. There is also an MSDSP guesthouse just to the south of the town.