With its natural hot springs, Garm Chashma offers the chance for the visitor to cleanse their body and soul.
Some 30km south of Khorog on the road to Ishkashim is the village of Andarob – the turning-off point for Garm Chashma, the best hot springs in Tajikistan. Legend has it that Ali struck the ground with his sword while fighting a dragon, and hot water spewed forth.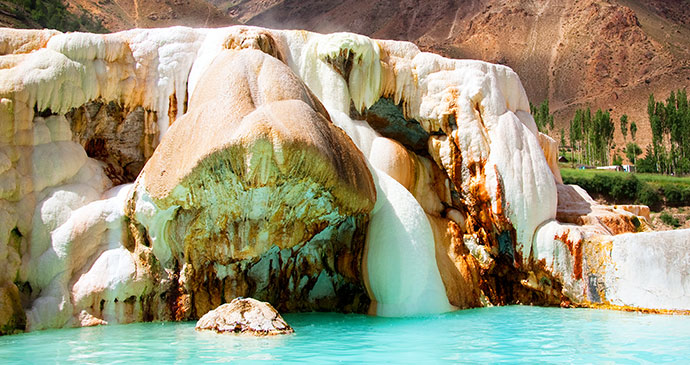 The springs, which are surrounded with a vast, cave-like mineral deposit, are reputed to treat 72 different types of illness, the primary ones being dermatological and orthopedic conditions. They are used in turn by men and women; if you arrive during the other sex's session you can either wait or use the covered (and far less dramatic) side pools.
It is expected that you will bathe naked, and the salts and sulphur leave your skin feeling remarkably soft. At 65°C, it's recommended to stay in the water for only 10–15 minutes, but we were assured by staff at the pool that the waters are safe for everyone. Prices range from TJS2 to TJS25 depending on when you go and whether you use the VIP pool.
It is possible to stay at the site overnight at the Somon-TM hotel, owned by the president's daughter. Rooms are all en suite and expensive by Tajik standards (especially outside Dushanbe), but you do get breakfast and a private session at the VIP pool included in the price.
Close to Andarob, a little off the main road, is the Kuh-i Lal (Ruby Mountain) described by Marco Polo. The mine here still produces small quantities of spinels (also known as balas ruby) and you will occasionally be offered uncut stones to buy.