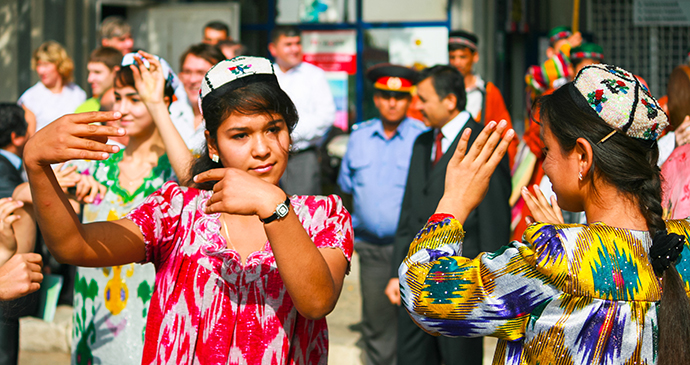 Tajikistan has a rich musical heritage and, for those who are so inclined, there are ample opportunities to experience traditional forms of music and dance © Viktoria Gaman, Shutterstock
January
New Year
During the Soviet period, New Year – rather than Christmas – was the main winter celebration, and this tradition continues in independent Tajikistan. Houses are garlanded with flowers and decorations, and many families decorate a New Year's tree.
February
Skiing
The powder at Takob in the Fann Mountains is light and fluffy: climb by 4×4 up above the village and enjoy uninterrupted views of the peaks as you ski your way back down.
March
Nowruz
Persian New Year falls in late March, and all of Tajikistan stops to welcome the arrival of spring. It's a time for feasting and dancing: look forward to joining the party.
April
Buz Kashi
The Buz Kashi season begins in late spring, so now is the time to catch a game. Matches frequently take place on bank holiday weekends once the ground has thawed underfoot.
(Photo: April is a great time to catch an intense game of buz kashi © Maximum Exposure Productions)
May
Victory Day
9 May is Victory Day across the Former Soviet Union, and remembering those who died in the Great Patriotic War (World War II) is taken very seriously. Tajikistan alone lost 300,000 soldiers in the conflict.
June
Trek on the Murghab Plateau
Trekking in the High Pamirs is only possible for a relatively short period each year due to the snowfall and the biting temperatures. Seize the opportunity from June to September to explore the Murghab Plateau.
July
Roof of the World Rally
If you fancy travelling to Tajikistan overland, consider making a team to join this overland rally from London. It's all for a good cause: charity partner 'Go Help' works in Central Asia to improve access to education and healthcare.
August
At Chabysh Festival
This high-profile central Asian horse festival celebrates horsemanship in all its forms. Although the majority of the event takes place in neighbouring Kyrgyzstan, some dates are scheduled in Tajikistan too.
September
Independence Day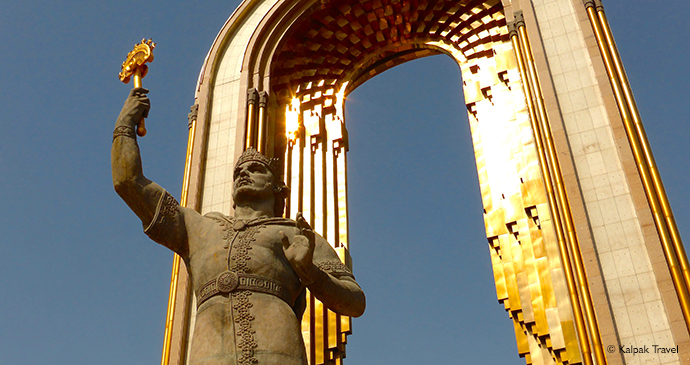 Ismoili Somoni, the 10th-century emir is now considered the father of the Tajik nation and a symbol of independence © Kalpak Travel, www.kalpak-travel.com
Tajikistan celebrates its independence on 9 September: look out for special events, especially in Dushanbe, and enjoy the three-day holiday.
October
Theatre season
The theatre season in Dushanbe runs roughly from October until June and during this time you'll be able to catch occasional performances at the city's theatres, as well as at the Bactria Cultural Centre.
December
Winter weddings
The winter is a particularly popular time for weddings in Tajikistan: a banquet of plov, washed down with vodka, is the perfect way to keep out the cold.