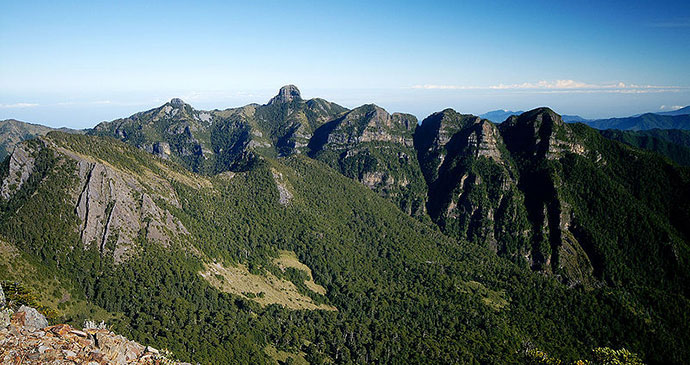 Mount Dabajian forms part of Shei-Pa National Park's beautiful alpine scenery © Peellden, Wikimedia Commons

The sprawling park boasts excellent alpine hiking and is home to Snow Mountain, Taiwan's second-highest peak.
With 51 mountain peaks above 3,000m, Shei-Pa National Park features some of Taiwan's very best alpine scenery. Because this 76,850ha park is entirely in the subtropics and the lowest spot is 760m above sea level, temperatures often go very low. Typically, the mornings are gloriously clear but the weather in the afternoons is often cloudy or wet, while blizzards are a possibility in wintertime.
The park gets its English name from peculiar renderings of its two most notable peaks: Snow Mountain (variously known as Syueshan, Hsuehshan and Mount Xue) and Mount Dabajian (sometimes Dabajian Mountain). The former is Taiwan's second-highest mountain; at 3,886m (12,749ft) it's just 66m shorter than Mount Jade. The latter, which reaches 3,490m, has – from some directions at least – a distinctive cylindrical appearance.
It's also considered a holy spot by Atayal and Saisiyat aborigines. The first recorded ascent was by a team of Japanese climbers in 1927; one of them, Numai Tetsutaro, later described the crest-line between Mount Dabajian and Snow Mountain as a 'holy ridge'. This name has stuck and serious hikers may want to consider spending up to ten days doing what's now called the Holy Ridge 'O' Route. Another popular trek is Snow Mountain West Ridge Trail, which takes six days.