Combined with the affiliated and adjacent Buddha Memorial Centre, it's an excellent place to learn about Buddhism.
A stop on many package tours of Taiwan and for good reason, Foguangshan is one of Taiwan's leading monasteries. Combined with the affiliated and adjacent Buddha Memorial Centre, it's an excellent place to learn about Buddhism. Its founder, Master Hsing Yun (b1927), was already well known in religious circles when he purchased this plot of land in 1967.
Soon after arriving in Taiwan from the Chinese mainland in 1949, he became the first Buddhist monk in Taiwan to use radio programmes to spread his message. The propagation of Buddhism remains one of Foguangshan's main goals and the monastery now operates a television station, worldwide network of Buddhist colleges and several publishing houses, while its charitable efforts include both a children's and a senior citizens' home.
Unlike I-Kuan Tao, Buddhism wasn't suppressed by the government during the 1960s and its followers weren't harassed. However, Buddhists were looked down on by Chiang's pro-Western pro-Christian elite, and because of this many kept their beliefs to themselves.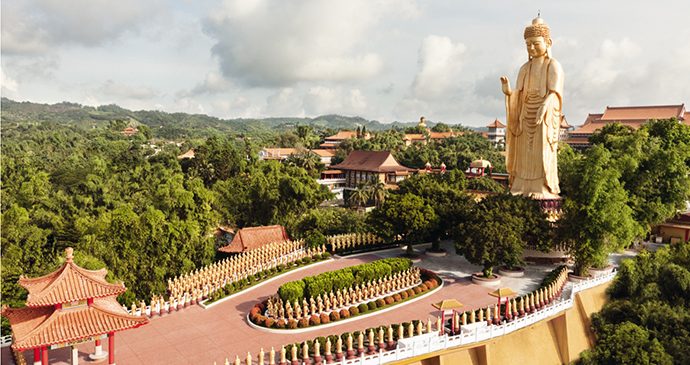 Hsing Yun chose the name Foguangshan, which means 'The Light of Budda Mountain', because he wanted Buddhists to be explicit about their religious affiliation. Foguangshan's overseas arm is known in English as the Buddha's Light International Association.
Monks and nuns who speak English and other foreign languages are available to guide individuals or small groups if given a few days' notice, although if you roll up unannounced you'll still be welcomed and at the very least given an English-language map. The architecture isn't remarkable, but still it's easy to spend half a day here.
Three parts of the monastery are essential viewing. The Main Shrine (07.00–19.00 daily), externally grandiose, is stunning within. The three main Buddhas, each five times the height of a man, project a calming benevolence; 14,800 smaller Buddhas are ensconced in the walls. The other two must-sees appeal in very different ways.
The Cultural Exhibition Hall (09.00–17.00 Tue–Sun; free admission) is a large gallery that hosts new displays every two or three months. Some of the featured artists are world class, and while the works displayed are seldom overtly Buddhist, they are in keeping with Buddhist ideals.
Pure Land Cave (09.00–17.00 Tue–Sun; admission by donation) depicts the paradise described in Buddhist sutras, complete with flashing lights and animatronic figures. The most memorable tableau features zombie-like humans stumbling into the arms of a giant Buddha.
Among the crowd there are Asians, Europeans and Arabs, but no-one of African descent. Pure Land Cave was opened in 1972, which perhaps explains why the Westerners are dressed like 1950s suburbanites.
At meal times, monks and nuns gather with lay people attending retreats. Before and after eating, sutras are chanted, and food is consumed in absolute silence. Casual visitors are permitted to watch and listen through the doorway. For a more conventional dining experience, head to the vegetarian tea house (10.00–19.30 daily) in the basement of the Dharma Transmission Centre. The menu lists tasty rice and noodle dishes, hot pots, teas, coffees and fresh juices.