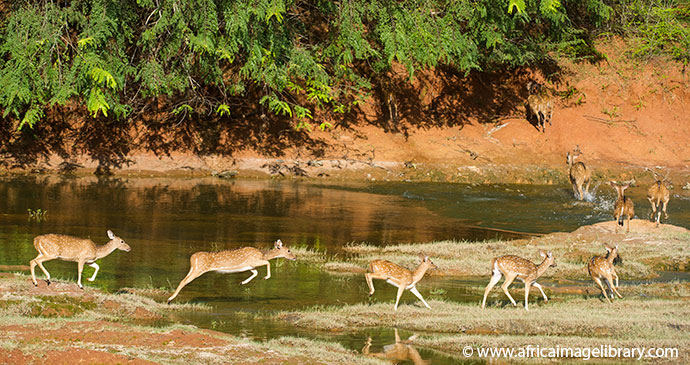 Sri Lanka's most popular and rewarding safari destination is renowned for its dense populations of elephant, leopard and other wildlife, including more than 200 bird species © Ariadne Van Zandbergen, Africa Image Library
Sri Lanka's premier safari destination supports dense populations of elephant, leopard, water buffalo and sloth bear.
Sri Lanka's best and most popular safari destination, Yala National Park protects a vast tract of low-lying dry-zone wilderness which once formed part of the Ruhuna Kingdom, but was populated only by a thin spread of nomadic Vedda hunter-gatherers for centuries prior to being accorded official protection in 1900. Today, the park is renowned for its dense populations of elephant, leopard, water buffalo and to a lesser extent sloth bear, and it also hosts an exceptionally varied avifauna comprising more than 200 bird species. Divided into five blocks, the 978km2 national park, though smaller than Wilpattu, forms the centrepiece of the island's largest conglomeration of protected areas, a 1,750km2 tract of wilderness that also includes the contiguous Kumana National Park, the Yala Strict Nature Reserve (off limits to the public), Lunugamwehera National Park (gazetted in 1995 and accessible through Yala Block V) and three small buffer sanctuaries. Tourist activity is focused almost entirely on the southwesterly Block I (sometimes known as Ruhuna National Park), which extends over 141km2 close to Tissamaharama and Kataragama, and was the first part of Yala to be gazetted as a national park, back in 1938. The rest of the present-day park, though annexed between 1954 and 1973, was practically closed to tourism until as recently as 2016, when the Galge ticket office and a pair of entrance gates opened at the three-way junction of Blocks II, IV and V.
Game viewing is undoubtedly best in Block I, not least because the wildlife is more habituated than elsewhere; but this sector also tends to be overcrowded, especially in the high season, when a dozen or more jeeps are routinely found congregated around a bemused leopard or elephant. For this reason, there's a lot to be said for supplementing a safari to Block I with a visit to one of the lesser-known blocks, which are less reliable for big game but retain more of a wilderness feel.