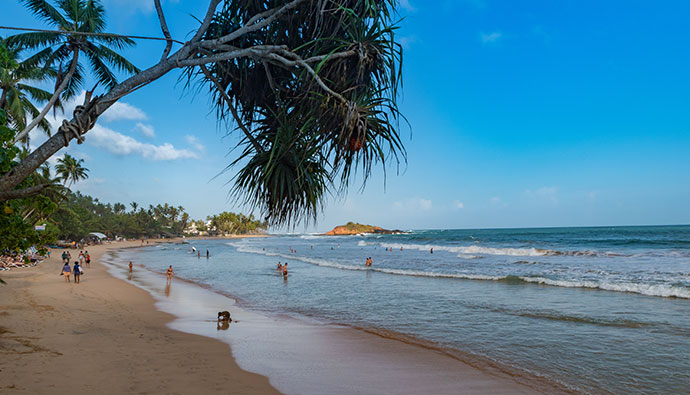 Mirissa is home to some of the best stretches of sand along this part of the coast © dronepicr, Wikimedia Commons
This large oval bay combines attractive swimming beaches and fine surfing with top-notch whale-watching and the iconic sight of stilt fishermen.
Fringing the beautiful northwest shore of the eponymous bay, Weligama amply lives up to its name (literally 'Sand Village'), even if its long golden beach is a more reliable venue for surfing than for swimming. Its most prominent marine feature, tiny Taprobane Island, now a luxury boutique hotel, is hotel, is flanked by a stretch of beach where local fishing vessels are pulled ashore between working excursions. Only 500m inland, carved into an isolated boulder, Kusta Raja Galla is a finely executed 3m-high engraved human figure of mysterious but ancient progeny. But the town's main tourist attraction is its beach, which offers ideal conditions for beginner surfers and is lined with operators offering surfing lessons, board hire and the like. A block or two inland, the town centre – hemmed in to the north by the last U-bend in the Polwatta River before it pours into the bay's northeast shore – is larger and more workaday than the leisure-oriented beachfront might lead you to expect. Weligama is known as a centre of beeralu lacemaking.