The capital of Northern Province, Jaffna is the main historic focal point of Sri Lanka's Tamil population, and the country's ninth-largest city, supporting a predominantly Hindu population of around 90,000. Historically, politically and culturally, this most northerly outlier of Sri Lanka is something of a land apart, owing in part to its location on the Jaffna Peninsula, a 1,000km² not-quite-island connected to the rest of the country by two road causeways, one entirely artificial while the other crosses a narrow natural isthmus called the Elephant Pass.
Unlike most Sri Lankan towns with a comparable population, Jaffna has the bustling, built-up feel of a proper city. Lined with medium-rise buildings, the claustrophobic grid of narrow roads that cuts through the compact commercial centre spills over with chaotic activity: horn-blasting cars and tuktuks, weaving bicycles, and dilly-dallying pedestrians all mingle with a bouquet of spicy aromas and blasting Bollywood tunes which – together with the proliferation of Hindu temples, and occasional traffic-defying cow on urban walkabout – underscore Jaffna's cultural affiliation with the Indian state of Tamil Nadu, only 50km distant on the opposite side of the Palk Strait.
What to see and do in Jaffna
Central Jaffna
Central market
The central market on the west end of Hospital Road is alive and buzzing with mercantile activity, with Jaffna products such as hand-woven palmyrah baskets, sweet blocks of jaggery and juicy tropical fruit being of particular interest. There's also a small fish market down the south end of KKS Road, and no shortage of cheerful little eateries selling fruit juices and all manner of colourful homemade sweets and confectioneries.
Vannai Vaitheeswara Temple
Half a dozen Hindu temples are packed into the city centre, and visitors are welcome, though cameras are best left in your bag during puja services. The oldest and most attractive, Vannai Vaitheeswara Temple is an ancient Shiva shrine whose current incarnation, complete with a prominent five-tier gopuram, was built in 1790, and whose broodingly atmospheric stone-and-wood interior is free of the flamboyant flourishes associated with more modern temples.
It is busiest during the 20-day Shiva Festival and ten-day Ambal Devi Festival, which respectively climax on the full moon of March and July.
Jaffna Fort
The obvious place to start a more directed exploration of the city is Jaffna Fort, a hulking 7ha pentagon that dominates the waterfront immediately south of the commercial centre. Protected by five tall granite buttresses and enclosed by a moat along its four landward sides, the fort as it stands is essentially a Dutch edifice constructed between 1658 and 1680, but it was expanded from the original four-sided Fortress of Our Lady of Miracles of Jafanapatão built by the Portuguese over 1619–25.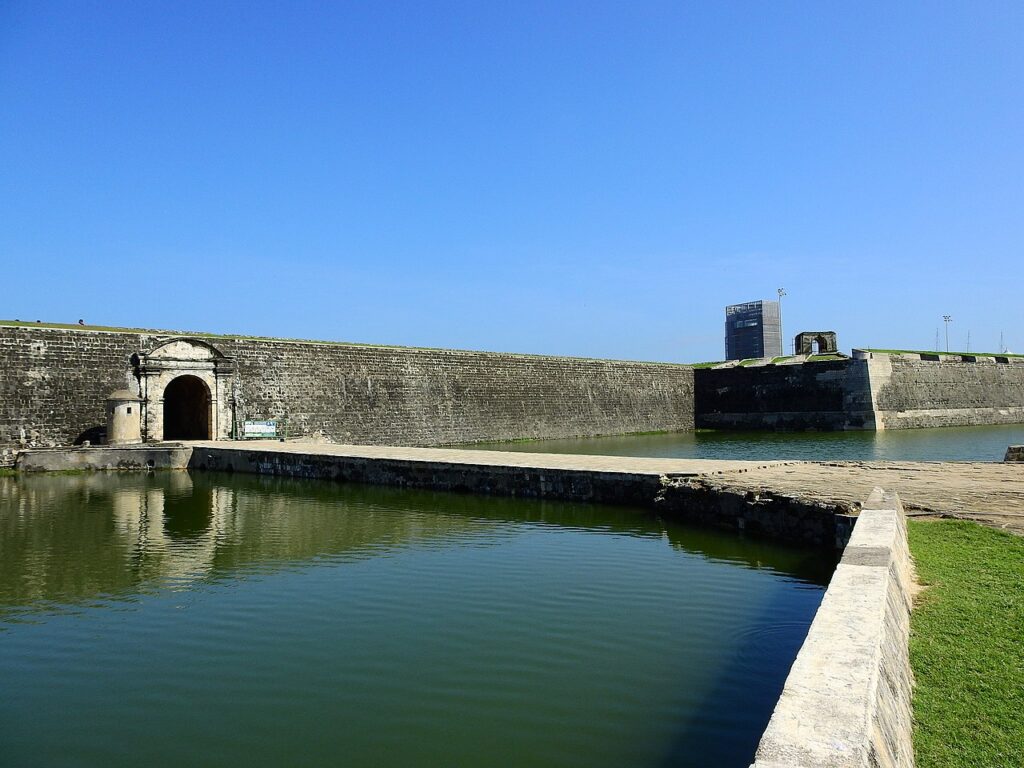 There's not much here in the way of interpretative material, but adventurous travellers might find their appetite for exploration whet by the photographs of some of Northern Province's more obscure archaeological sites displayed in the rooms flanking the main entrance.
Jaffna Public Library
Set in manicured green gardens 200m east of the fort, the Jaffna Public Library started life in 1933 as a small private book collection. By 1959, the collection had expanded sufficiently to be relocated to a handsome multi-domed three-storey Indo-Saracenic building commissioned for the purpose by Alfred Duraiappah, then the city's deputy mayor. The library grew to become one of the largest and most valuable in Asia, housing some 97,000 books and other documents, including many historic and unique Tamil palm-leaf and other manuscripts.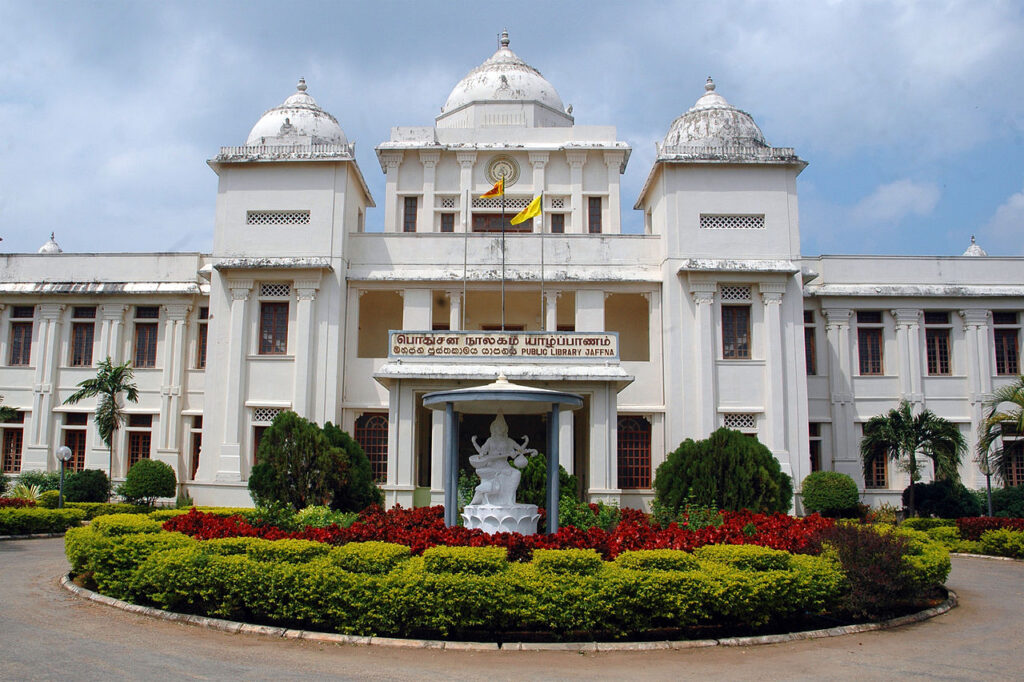 In June 1981, the entire collection went up in smoke when the library was burnt down by Sinhalese rioters, an act of mob violence perceived by aggrieved Tamils to be an indirect government attack not only on their academic traditions but on their very place in modern Sri Lanka. The partially restored building was set on fire again in 1985, this time by LTTE soldiers, after which it stood as a burnt-out shell for almost two decades prior to being restored to its former architectural glory and reopening in 2004. The library's irreplaceable contents are lost forever, but more than US$1 million has been spent on assembling a new collection of mostly Tamil literature.
Jaffna Fishing Harbour
Follow the waterfront east of the fort for 700m, and you'll arrive at Jaffna Fishing Harbour, which runs along Reclamation Road for more than 3km. With hundreds of colourfully painted wooden fishing boats bobbing offshore, the friendly harbour forms a surprisingly rustic appendage to central Jaffna, and it's very photogenic too, especially towards dusk with the sun setting in the background over the Velanai Causeway.
Small Passaiyoor market near the end of Beach Road is one of the most exciting fish markets in the country, with boisterous morning auctions; get there by 07.00 to experience the frenzied calls, and the neighbouring buildings or trees draped with brilliant blue fishing nets.
Nallur
Nallur Kandaswamy Temple
The built-up suburb of Nallur served as the capital of Jaffna for several centuries prior to the arrival of the Portuguese and relocation of the administration to the modern city centre 2km to the southwest. Its principal site, Nallur Kandaswamy Temple is the city's most important and spectacular Hindu shrine, dedicated to Skanda (Kataragama).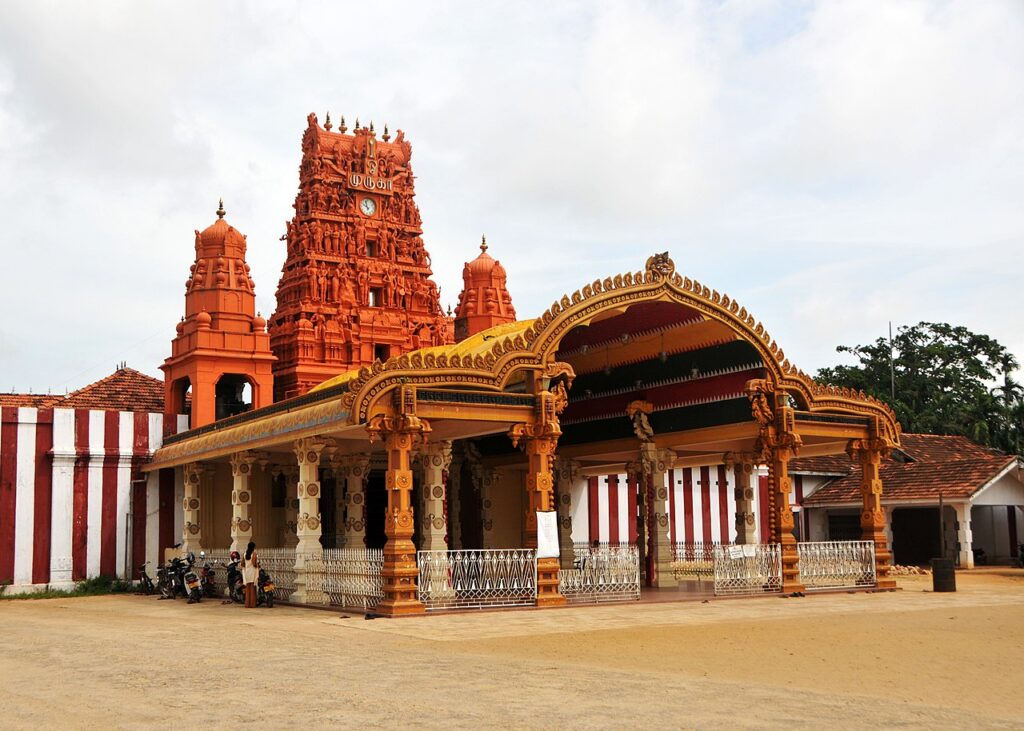 The present-day structure started life in the mid 18th century as a small stone shrine with a palm-leaf roof, and has undergone several expansions over the centuries, most recently with the unveiling of two new nine-storey gopurams – reputedly the tallest and second-tallest in Sri Lanka – in 2011 and 2015. The most interesting time to visit is during the one of the daily pujas, all the better should your time in Jaffna coincide with the latter part of the 25-day annual Nallur Festival, which ends on the last poya weekend in late August or early September.
Jaffna Archaeological Museum
Hidden away behind the Navalar Cultural Hall 1km south of Nallur Temple, the Jaffna Archaeological Museum might initially come across as musty and disorganised, but an eclectic selection of displays justifies the effort of locating it.
Of particular interest is a superb collection of Medieval brass statues and granite carvings excavated at the ancient Hindu temple sites of Nallur and Keerimalai, an intricately carved 17th-century wood temple door frame, a good example of an old palmyrah-leaf manuscript, also dating to the 17th century, and – more macabrely – kavadi skewers, spiked wooden sandals and other items associated with Hindu self-mutilation rituals.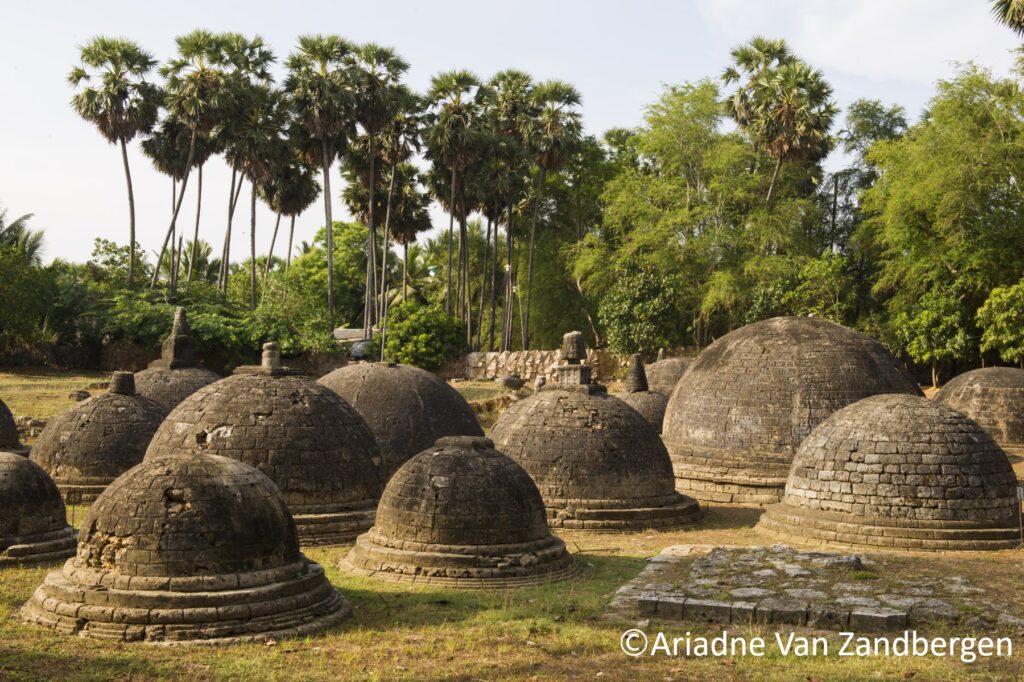 Items that found their way here from Jaffna Fort include a Dutch gravestone complete with skull-and-crossbones, a brass sundial, and a war-scarred 1853 portrait of a 34-year-old Queen Victoria said, rather fancifully, to smile at the viewer at certain angles. The museum reputedly once housed several 2,000-plus-year-old items unearthed during early 20th-century excavations at Kantharodai, but these no longer seem to be on display.
Velanai
The second largest of the eight main islands that comprise the Jaffna Archipelago, Velanai is a 35km² expanse of flat sandy soil, dotted with seasonal pans and palmyrah plantations and separated from the mainland by a gorgeous shallow lagoon. The island is thinly populated by comparison with the built-up Jaffna Peninsula, and far more rustic in feel, though this is partly an aftermath of the civil war, which left the countryside scarred with ruined and abandoned homesteads.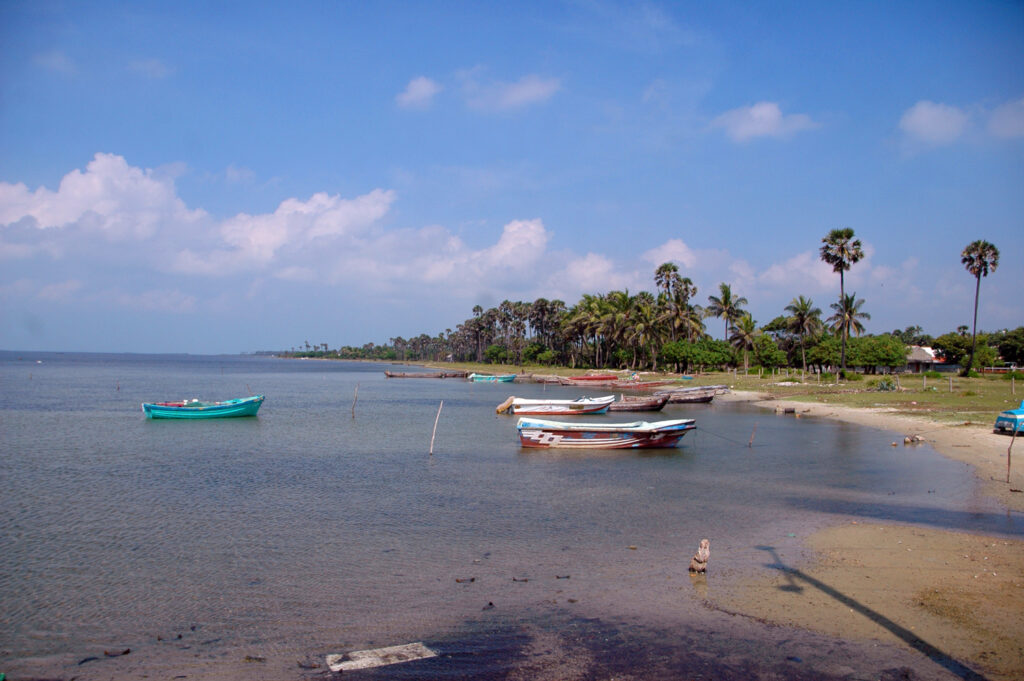 Situated on Velanai's northern shore, the intriguing and unexpectedly substantial town of Kayts (pronounced 'Kites') is separated from Karaitivu Island by a 500m-wide channel serviced by regular ferries. Decidedly backwaterish today, Kayts was an important port during the Portuguese occupation of Jaffna (1619–58) thanks to its good and easily defended harbour and strategic location in terms of maritime access to the mainland peninsula.
It was then that it acquired the name Kayts (a derivative of Caes dos Elefantes, meaning 'Elephants' Quay', in reference to the main item of export) and that a pair of Portuguese forts were built to guard the channel entrance 1km to its west. Kayts retained its strategic significance into the
Travel to Jaffna
By air
Before the pandemic, Helitours flew thrice-weekly between Colombo (Ratmalana), Trincomalee and Palali (also spelt Palaly) airport in the eponymous naval base 15km north of central Jaffna. Flights were on Monday, Wednesday and Friday, and cost around US$100 one way coming from Colombo or US$55 from Trincomalee. The airline also operated a free shuttle bus between the airport and central Jaffna. Its website and social media are years out of date, but Helitours was re-certified in March 2022 and should be bookable through local agencies.
By rail
The 400km railway line from Colombo Fort to Jaffna, via Maho, Anuradhapura and Madawachchi (for Mannar Island), originally opened in 1902, closed in 1990 due to the war, and resumed operations in 2014. Far and away the most pleasant way to travel to Jaffna, the track is now serviced by four trains daily, the most popular being the nippy air-conditioned intercity express that takes around 7 hours in either direction, leaving Colombo Fort at 05.45 or Jaffna at 06.10. This and all other trains between Colombo and Jaffna stop at Anuradhapura to pick up and drop passengers.
By road
Allow 8–10 hours to drive between Colombo and Jaffna, using the 400km inland route through Kurunegala (305km), Anuradhapura (200km) and Vavuniya (145km). The roads are in better shape on this inland route, and on the coastal road via Chilaw and Puttalum, the section bordering Wilpattu is indefinitely closed anyway. Coming from elsewhere, Jaffna lies 320km north of Kandy via Dambulla (250km), Anuradhapura and Vavuniya, and 360km from Batticaloa via Trincomalee (230km) and Vavuniya.
Using public transport, around a dozen private coaches cover this route daily, as do a similar number of air-conditioned private buses, which generally run overnight and leave Colombo from Galle Road near Wellawaya Market, and from Jaffna on the south side of Hospital Road, more or less opposite the private bus station. Recommended operators include PPT Express and Avro.