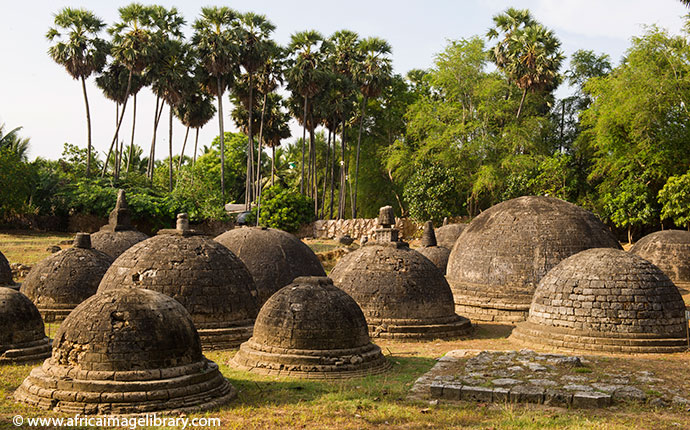 Archaeological excavations around the dagobas at Kantharodai indicate Jaffna's importance as an international trading port since pre-Buddhist times © Ariadne Van Zandbergen, Africa Image Library
The little-visited but vibrant Tamil city of Jaffna is the gateway to a low-lying peninsula and archipelago studded with ancient temples and forts.
Unlike most Sri Lankan towns with a comparable population, Jaffna has the bustling, built-up feel of a proper city. Lined with medium-rise buildings, the claustrophobic grid of narrow roads that cuts through the compact commercial centre spills over with chaotic activity: horn-blasting cars and tuktuks, weaving bicycles and dilly-dallying pedestrians all mingle with a bouquet of spicy aromas and blasting Bollywood tunes, which – together with the proliferation of Hindu temples, and occasional traffic-defying cow on urban walkabout – underscore Jaffna's cultural affiliation with the Indian state of Tamil Nadu, only 50km distant on the opposite side of the Palk Strait. Furthermore, for all the hardships it has endured, central Jaffna today feels adamantly alive and very friendly, modestly prosperous even, while the leafy avenues that extend eastward to the historic suburbs of Nallur and Chandikuli exude an aura of unexpected gentility. For obvious reasons, Jaffna was off-limits to foreign travel throughout the civil war, and while amenities and access have improved greatly over the intervening years (not least with the resumption of train services from Colombo in 2014), it still feels like a destination suited primarily to inquisitive and adaptable travellers. That said, the city and surrounding peninsula are dotted with venerable temples and other attention-worthy historical sites, while the readily accessible islands of the nearby Jaffna Archipelago offer an opportunity for some genuinely off-the-beaten-track exploration.