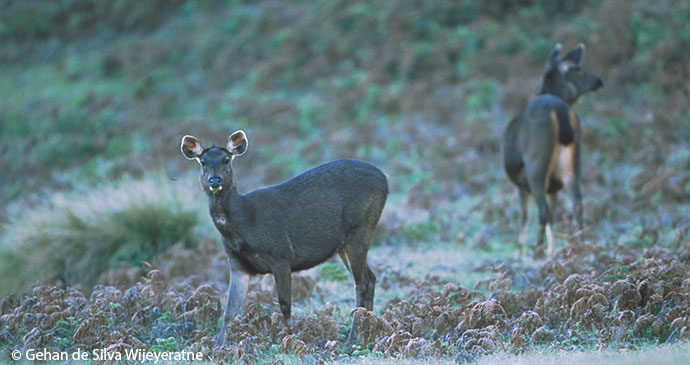 The sambar deer is this national park's most common mammal © Gehan de Silva Wijeyeratne
Day hikes through moorland and dwarf forest lead to the magnificent World's End Viewpoint and two of the country's three tallest peaks.
Gazetted in 1988, the 31.6km2 Horton Plains National Park protects a biodiverse watershed of montane grassland and dwarf forest perched at elevations of greater than 2,100m above the southern escarpment. Its best-known geographic feature is the sheer World's End Viewpoint, which offers a spectacular vista over hills and valleys to the distant south coast, and forms the focal point of a popular 9km walking trail. A UNESCO World Heritage Site since 2010, the national park also incorporates the island's second- and third-highest peaks in the form of the 2,395m Kirigalpotha and 2,357m Thotupola, both of which are accessible to hikers, though neither is as prominent as Adam's Peak 30km to the west. The evocative highland scenery is very different from anywhere else in Sri Lanka: the undulating windswept plains possess a haunting melancholy air reminiscent of Scotland's grouse moors, while interspersing pockets of elfin cloudforest, all gnarled boughs encrusted with oldman's-beard lichen, have the enchanted quality of a fairy-tale setting. Biodiversity is high, with shaggy-coated sambar deer being the most conspicuous large mammal, but the park also supports a large number of endemic birds and other wildlife, most quite difficult to see on a short visit. The national park receives an average annual precipitation of around 5,000mm, with rain falling throughout the year, though October–April are usually the driest months and the best time to visit. Overnight frost is a common occurrence in December and January, the coldest months.