Recognised as a World Heritage Site, this fort is the best preserved colonial sea fortress in Asia.
Galle Fort is a fascinating and enjoyable place to explore, whether you base yourself here for a couple of nights, or just visit as a day trip (easily done by tuktuk or as a formal excursion from any beach resort on the coast between Bentota and Matara). Within the fort's 36ha confines, a grid of narrow roads is lined with Dutch and British colonial houses adapted to tropical living with colonnaded verandas and ornate gables.
There are 473 houses in total, all catalogued by the Department of Archaeology, whose vigorous campaign to restore and preserve has ensured the old town retains the architectural integrity and cohesion that led to its inscription as a UNESCO World Heritage Site. Despite this, the fort's buildings have a diverse pedigree spanning almost 300 years. An estimated 50 pre-date the British occupation of 1796, and a further 104 were constructed before 1850.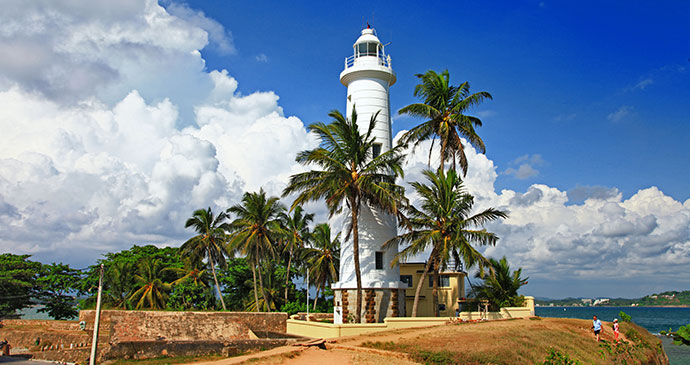 Also represented are Art Deco homes from the 1930s, earlier Art Nouveau styles (with peculiarly Sri Lankan touches), and even a few brash modern houses built before planning regulations were enforced. In recent years, a great many properties have been restored to serve as guesthouses, restaurants, swanky boutique shops or other tourist-related businesses, leading the seedy charm that once characterised Galle Fort to be superseded by a more gentrified feel. Even so, it is these timeworn buildings, with their proud façades and mysteriously shaded interiors, that give the fort much of its intriguing character, while their down-to-earth inhabitants provide its soul.
Extending over 800m from north to south and nowhere more than 600m wide, Galle Fort is easily and best explored on foot, and it is generally more fun to follow your nose than stick to a prescribed route.
That said, the site descriptions below do follow a roughly 3.5km anticlockwise route around the old ramparts, starting at the Old Gate and Black Bastion, travelling west along Queen's Street and north along Church Street to the Main (new) Gate, then running along the northern and western ramparts to Sri Sudharmalaya Temple.
From the temple, the route runs inland southeast along Parawa Street and east along Pedlars Street to the Historical Mansion Museum, then south along Leyn Baan Street to the southern ramparts and Galle Lighthouse, then north along Hospital Street via the Old Dutch Hospital back to the starting point at the Old Gate. Several shorter variations are possible.