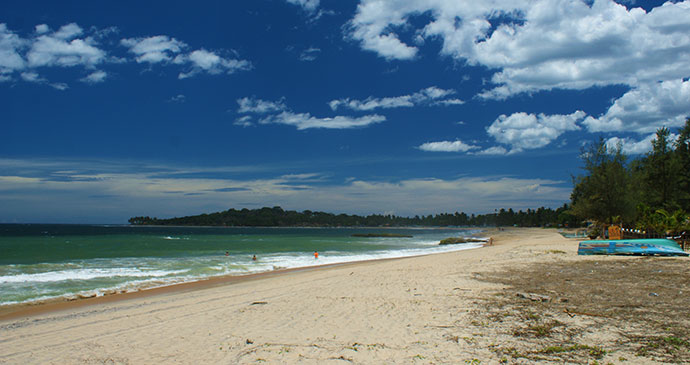 Arugam Bay is Sri Lanka's most popular surfing resort © Kondephy, Wikimedia Commons
The east coast's hippest resort combines a chilled-out vibe with fine surfing and a gorgeous sun-kissed beach.
Sri Lanka's top surfing destination and one of its most popular backpacker chillout venues, the great curving coastline of Arugam Bay is fringed by a wide sweep of surf-kissed palm-lined white sand that runs south from Pottuvil Point. Yet despite its iconic status today, Arugam's rise to prominence has been anything but smooth. The bay first attracted the attention of travellers in the 1970s, and while some of these pioneering visitors would ride out lazily on tyre tubes, they didn't surf as such, but were attracted by the beach's solitude and undiscovered feel. By the early 1980s, the near-perfect waves of A-Bay – as it's known to aficionados – were attracting more serious surfers, and the legend grew during the late 1980s and 1990s, when LTTE activity rendered the east coast unsafe for visitors. By the turn of the millennium, Arugam Bay had started to attract a steady trickle of adventurous surf enthusiasts, prompting a second wave of low-key tourist development, but this was curtailed by the tsunami, which flattened most of the beach resorts and claimed an untold number of lives. Since then, tourist amenities have developed at quite an astonishing pace. Indeed, with its chilled atmosphere, tropical seaside setting, and plethora of backpacker-friendly mom-and-pop restaurants and lodges, A-Bay today feels like an embryonic Sri Lankan counterpart to Goa or Phuket.