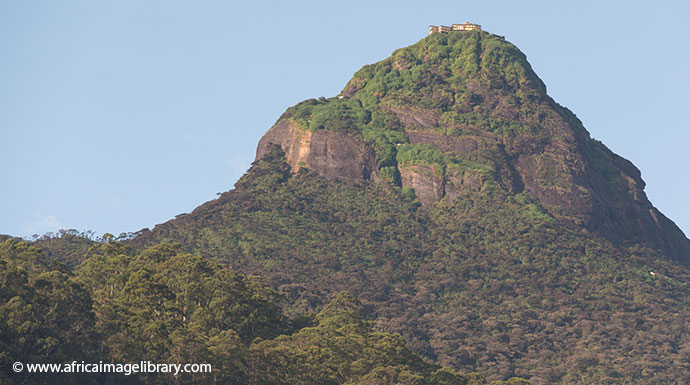 Rising majestically above the surrounding hills, Adam's Peak – Sri Lanka's holiest mountain – attracts hundreds of thousands of pilgrims each year © Ariadne Van Zandbergen, Africa Image Library
The island's most imposing natural feature attracts hundreds of thousands of Buddhist pilgrims between December and May.
A monumental granite prominence that rises in pyramidal isolation above the surrounding hills, Adam's Peak is quantitatively only the fifth-highest summit in Sri Lanka, but few would question its status as the country's most imposing natural feature. As suggested by its Sinhala name Sri Pada (Sacred Footprint), the 2,243m peak is also the island's holiest summit, attracting hundreds of thousands of Buddhist pilgrims between the Unduvap (December) and Vesak (May) poyas, supplemented throughout the year by a relative trickle of fit and energetic tourists. By far the most popular of the four foot trails to Adam's Peak starts at Nallathanniya (also known as Dalhousie, pronounced Dell House), a pretty village set at an altitude of 1,250m above the Kelani River 30km by road from Hatton. Be warned, however, that even this most undemanding ascent route gains almost 1,000m over the course of 7km, and incorporates around 5,200 stone steps, making for a rather challenging workout, particularly as you close in on the mountaintop shrine.
The climb is normally undertaken at night, in order to summit before dusk, when the cloud cover is most likely to lift, offering a fabulous sunrise and long views in all directions, with the mountain casting an unerringly perfect triangular shadow to its west. Ecologically, the countryside around Nallathanniya and Adam's Peak, for all its verdant veneer, is now dominated almost entirely by tea, eucalyptus and other non-indigenous plantations, making for a bleak contrast to the more pristine likes of Horton Plains or Sinharaja. That said, during the pilgrimage season, when any given night might see up to 20,000 local worshippers ascending this Buddhist Mecca, foreign hikers will find themselves swept up into a colourful cultural experience as absorbing and inclusive as it is unique.