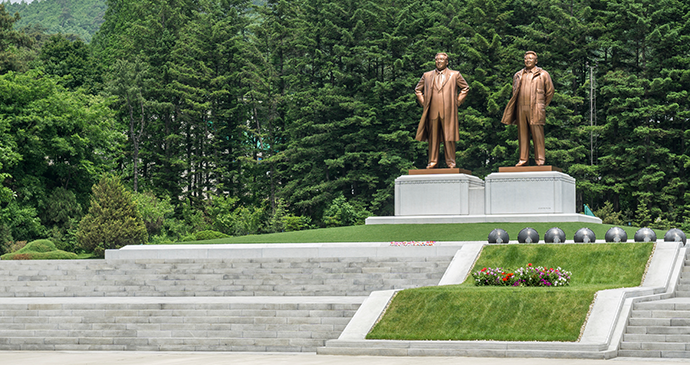 Twin statues are found in every town and city across the country, including here at Pyongsong © Torsten Pursche, Shutterstock
This once-quiet town is now North Korea's answer to Silicon Valley.
Capital of South Pyongan, Pyongsong is a mere 30km north-northeast from Pyongyang and was, for many years, considered little more than a sleepy satellite town. Thanks to its good rail connections with all corners of the country, however, this quiet town has grown over the last few decades to become a typical provincial industrial city and major transportation hub. Indeed, Pyongsong has fared better than many other cities in the post Kim Il Sung years; private enterprise, markets and the transit of all manner of goods has helped keep the city afloat, partly due to the comparative ease for traders to visit here when compared with Pyongyang (remember, freedom of movement in the country, particularly to the capital, does not exist).
Of late, Pyongsong has developed into something of a scientific centre – North Korea's answer to Silicon Valley, with a good deal of modern apartment blocks being constructed recently for the 284,000 people that call it home, many of whom are employed by organisations such as the Space Science Research Institute and the Atomic Energy Research Centre. The city is also alleged to be responsible for a significant portion of the methamphetamine produced in the country, but the good people at the Pyongsong College of Science, one of the institutions accused of being involved in this illicit manufacturing, would of course vehemently deny this.
For many years, all that most people knew of the city was that it was the home of Ponghak, one of the most famous beers in the country; it was only in 2012 when it opened to visitors that they discovered there was more to Pyongsong than the two varieties of pale lager produced by the Ponghak Food Factory. OK – the sights to visit are still a little thin on the ground and similar, or better, examples may be found elsewhere, but Pyongsong has enough to keep visitors busy for half a day or so and will give an insight into life in lesser North Korean cities. Those not venturing further afield to more interesting cities such as Chongjin, Hamhung and Wonsan should well consider a visit.