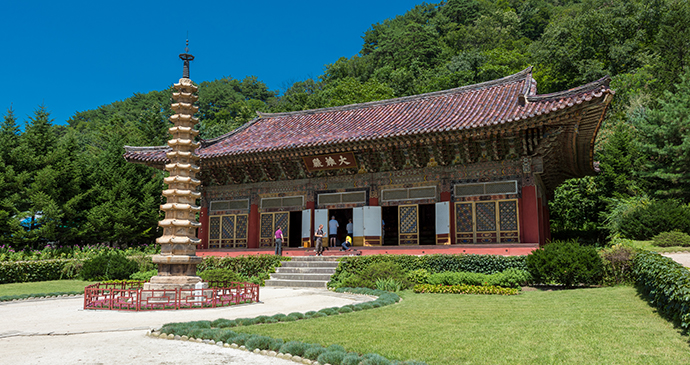 Pohyon Temple is one of the area's most interesting sights © Kanokratnok, Shutterstock
The most accessible mountain area in the country, Myohyang offers an intriguing mix of excellent hiking trails, tranquil temples and bizarre exhibitions.
Mount Myohyang, one of the five celebrated mountains of Korea, is the most accessible mountain area in the country, at only 150km by road from Pyongyang. While just about manageable to visit in a long day trip from the capital, spending one or two nights in this area, which roughly translates as 'the mountain of fragrance', is recommended. Although Mounts Paektu and Kumgang are arguably more attractive, they are of course harder to get to, so if you cannot get to those far-flung corners of North Korea, then it's worth making time to fit in Myohyang.
Rising to 1,909m above sea level, the mountain sits near the confluence of the Chongchon River and the Myohyang Stream, with its long main ridgeline slowly rising from west to east. While the entire peak occupies 375km2, the focus for visitors heading into the hills is on the four key valleys of Sangwon, Manpok, Chonthae and Chilsong, all of which are approached from the Myohyang Stream. Despite this, most visitors to the region will not explore the Myohyang massif in any depth, with the majority of those who venture here focusing on less arduous visits to sites such as the International Friendship Exhibition and the Pohyon Temple.