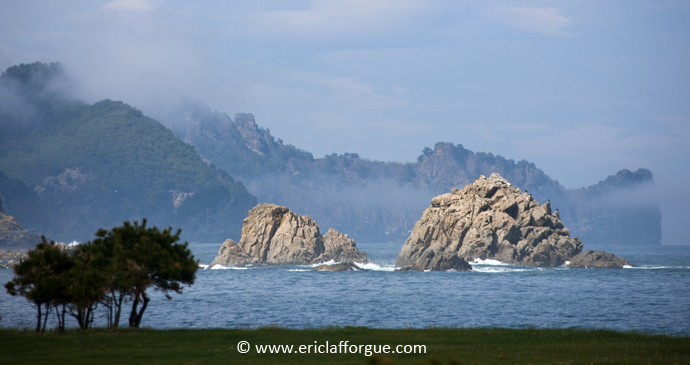 The rugged Chilbo coastline is spectacular for its rocky islands and outcrops © Eric Lafforgue
This UNESCO Biosphere Reserve is a remote and rarely visited area of dramatic coastline, jagged peaks and steep valleys.
Mount Chilbo (or Chilbosan), literally the 'mountain of seven treasures', is a remote and undeveloped area of dramatic coastline, jagged peaks and steep valleys, part of the volcanic Paektu chain that stretches all the way from Mount Paektu to Ulleung Island in South Korea. Millennia of weathering on the basalt, trachyte and other igneous rock has wrought the landscape, the provincial propagandists will tell you, 'into fantastic forms and sheer cliffs, which present beautiful and original scenery in good harmony with the East Sea of Korea'. A bit of a mouthful, but a spot-on description. Like Mount Kumgang, this area is also divided into three parts: Inner Chilbo, Outer Chilbo and Sea Chilbo.
The area, which became a UNESCO Biosphere Reserve in 2014, is best visited from early May to mid-October, but there is something to be said for visiting at the bookends of this window, which allows you to see the very best of the spring or autumn colours. Regardless, as long as it's not shrouded in mist, the scenery in this national park will be memorable: 503km² of craggy mountains that rise to 1,103m above sea level, blanketed in dense forest, save for when the gravity-defying rocks jut skywards.