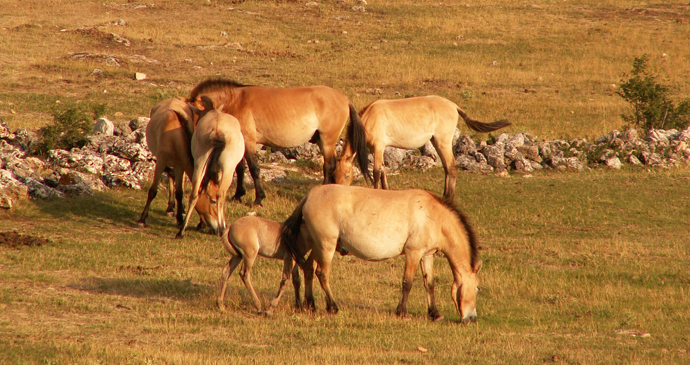 This beautiful national park is home to the takhi, or Mongolian wild horse, reintroduced here after the species went extinct in its native land © Jairo S Feris Delgado, Wikipedia
Located about 100km west of Ulaanbaatar, the Khustain Nuruu National Park is part of UNESCO's 'Man and the Biosphere' reserves included in its World Biosphere listing of Nature Reserves. Its 50,620ha is home to the takhi, the Mongolian wild horse. It is now run as an NGO by the Hustai National Park Trust; formerly run by the Mongolian Association for the Conservation of Nature and the Environment and the Dutch Foundation Reserves for the Przewalski Horse set up by a Dutch couple Mr and Mrs Jan Bouman and their friend Annette Groenveld; and in Mongolia, with the help of the Mongolian scientific researcher Tserendeleg, in 1992. The steppe and forest-steppe environment is also inhabited by maral, steppe gazelle, deer, boar, wildcat, wolf and lynx; there is interesting birdlife including Eurasian eagle-owl, boreal owl and Eurasian nightjar as well as migratory cranes.
Home to the takhi, the Mongolian wild horse, Khustain Nuruu National Park is part of UNESCO's 'Man and the Biosphere' reserves.
The park is easily reached. You can take a local bus to the turn-off for Khustain Nuruu along the main UB–Kharkhorin road, signposted 10km south of the park's entrance. It is best to have your own transport (jeep); cost US$100 round trip. Note that it is worth spending a night at Khustain Nuruu, if possible, as the wildlife is best seen at dusk and dawn. The Takhi Information Centre inside the park has poster displays that tell the story of the wild horses' return to Mongolia. Park entry costs around US$10, less for locals. To see the wild horses in their enclosures you must be accompanied by a park guide; keep to existing tracks.
There is plenty to do, from hiking to horseriding; horse hire costs T14,500 per day; there are Turkic graves southeast of the park which you can ride or drive to see in a day's outing. To go fishing, you will need your own transport to drive 30km (a half-hour's drive) to the River Tuul. A fishing permit, obtainable from the park's office (or the Central Parks Office, Baga Toiruu 44 in UB), costs from US$50–100. Eco-volunteer programmes (of three weeks) help to fund research projects like that of the takhi and other current projects; see http://en.cybelle-planete.org.