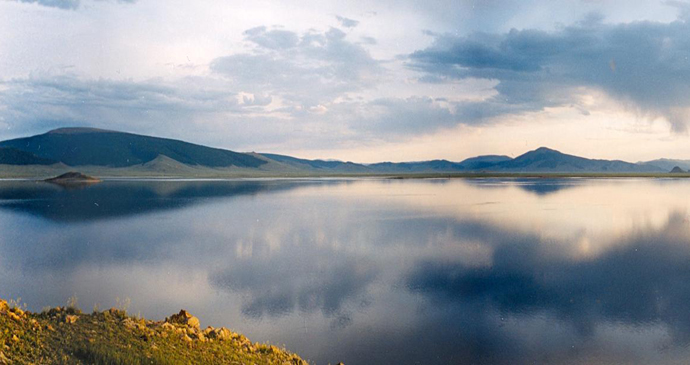 Terkhiin Tsagaan Nuur, located in the northwest part of the province, is a stunning lake surrounded by extinct volcanoes © Doron, Wikipedia
Located 373km southwest of Ulaanbaatar, Kharkhorin is modern, agricultural service town is built near the site of ancient Karakorum, the great Mongolian capital, established in 1235. It offers limited tourist facilities and most groups stay in ger camps around the town, buying picnic and other food supplies in the central market. The indoor market sells clothes, hats and a limited supply of camping equipment. East of the markets there are cafés and restaurants serving simple but edible dishes for around T1,000–1,500. Fresh drinking water can be found on the western outskirts of the town for which you must pay the person who runs the tap a fee of around T500 per 2.5 litres.
This beautiful lake offers excellent wildlife-spotting opportunities in a stunning landscape surrounded by extinct volcanoes.
From Kharkhorin, you can head to the northwest part of the province to Terkhiin Tsagaan Nuur ('White Lake of River Terkh'), a beautiful body of water surrounded by extinct volcanoes. The lake covers 16km x 20km, and is 10m deep. Some parts of its shoreline are sandy and in summer the water is warm enough to swim in. The area offers excellent opportunities for fishing (pike and perch). It is also possible to hike from the northeastern shore to Khorgo Uul Volcano (2,965m). A local guide will help you to find the best route. On the way there are caves worth exploring. You may also spot deer, argali (wild sheep) and wild boar. The lake, the surrounding volcanoes, and the animal and birdlife are now protected within the 73,000ha Khorgo-Terkhiin Tsagaan Nuur National Park. Birdlife includes swan goose, Pallas's fish eagle, saker falcon, hooded crane and common merganser.