Come to this beautiful wetland area where five rivers converge for some of the best fishing in the country.
Khövsgöl Aimag is named after Lake Khövsgöl, one of Mongolia's largest lakes. The lake and its surroundings are spectacular and the area is a natural draw for tourists. Mongolia's northernmost province is situated on the border with the Tuvan and Buryat republics of the Russian Federation. Local minorities include Tannu Uriankhai (Tuvans), Darkhad, Khotgoid and Tsaatan (reindeer people).
The western and eastern parts of the aimag are mountainous with an intricate system of wetlands and lakes in the northwest Darkhad Basin, which includes Lake Tsagaan. Rivers such as the Ider and Selenge cross the southern part of the province, joined by the Delgermörön, which flows from the northwest through Mörön, the aimag centre.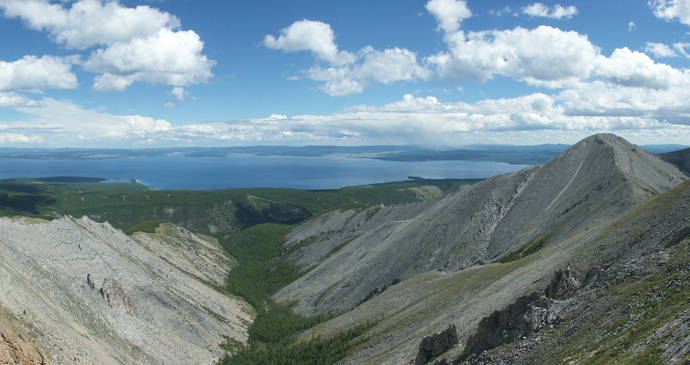 A panoramic view of Lake Khövsgöl, one of the largest lakes in Mongolia © Zoharby, Wikipedia
The Five Rivers area, approximately 50km south of Mörön, on the border with Arkhangai Aimag, is where five rivers (the Ider, Delgermörön, Bügsei, Selenge and Chuluut) converge. The area offers excellent fishing, and specialised companies have set up their own fishing camps here. This is one of the highlights of this aimag and offers some of the best fishing in Mongolia.