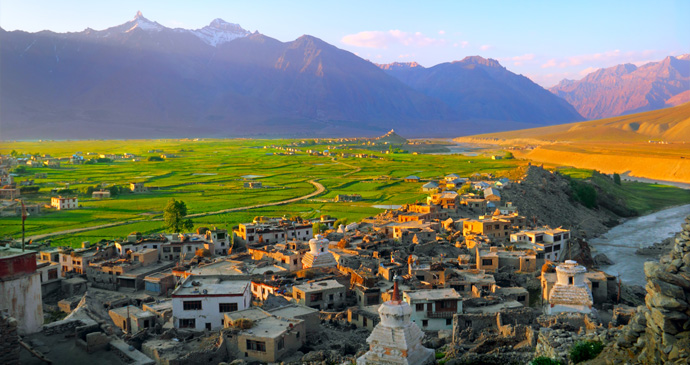 With its perfect location nestled against the mountains, Padum is the main base for treks through the spectacular Zanskar Valley © Natalia Davidovich, Shutterstock
Trek through the epic wilderness of the Zanskar Valley, the perfect antidote to the busier routes through the Himalayas elsewhere.
If you want an easy-to-organise trek in the Indian Himalayas, but are frustrated by the overly popular routes in Ladakh, then Zanskar is the perfect antidote. A subdistrict of Kargil, right in the heart of J&K, it is sufficiently inaccessible that first-time visitors to the region rarely make the effort to get here, preferring the quicker routes into and out of the Markha and Nubra valleys, but providing you are not in a rush, it is well worth the challenging journey.
Treks in the valley vary from easy day hikes, such as the route across the valley floor from Zanskar's administrative centre, Padum, to Karsha, to numerous opportunities to blaze out along remote routes that see no more than a handful of trekkers each year. There are still places where even the trekking guides haven't been, and a single monk may be the only source of information that can supplement your map. In winter when the road is often closed due to snow, the only way in and out of Zanskar is by doing the arduous Chadar Winter Trek along the frozen Zanskar River, providing insight not only into the challenges of living in this landscape but the lengths that local people will go to in order to ensure that the local children receive an education.