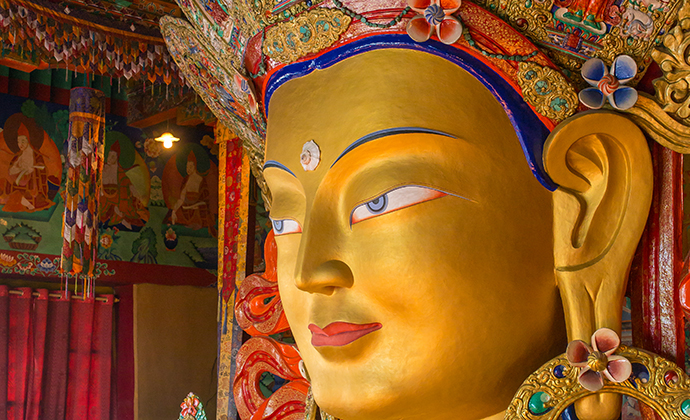 One of the finest Maitreya Buddha statues in Ladakh stands inside Thiksey Gompa © Mazur Travel, Shutterstock
Join monks at their early morning prayers at Thiksey Gompa and admire its beautiful views.
It's easy to overdose on gompas in Ladakh, but if you only visit one, make sure that it is Thiksey. Not only does it have a striking position and staggering views, but you get the sense that you are visiting a living, working monastery: it is much less commercialised than Hemis and although there are other tourists here, you'll feel part of the monastic community.
Thiksey Gompa is certainly one of the most architecturally impressive buildings in Ladakh. If you are approaching by road, it suddenly rises up out of the high desert plateau and looks for all the world like a miniature version of the famed Potala Palace in Lhasa (Tibet). Having left the main road to drive through Thiksey village, the road doubles back on itself and climbs to the foot of the gompa where there is a large and well-ordered parking area, from where you must proceed on foot. You enter the site through a red gateway painted with colourful mandalas. Looking left you have unobstructed views across to Stakna Gompa, then a line of buildings that include public toilets, and the gompa's restaurant and souvenir shop.